Shanghai's public transport resuming
By Cao Yin and Zhou Wenting in Shanghai | chinadaily.com.cn | Updated: 2022-05-22 19:57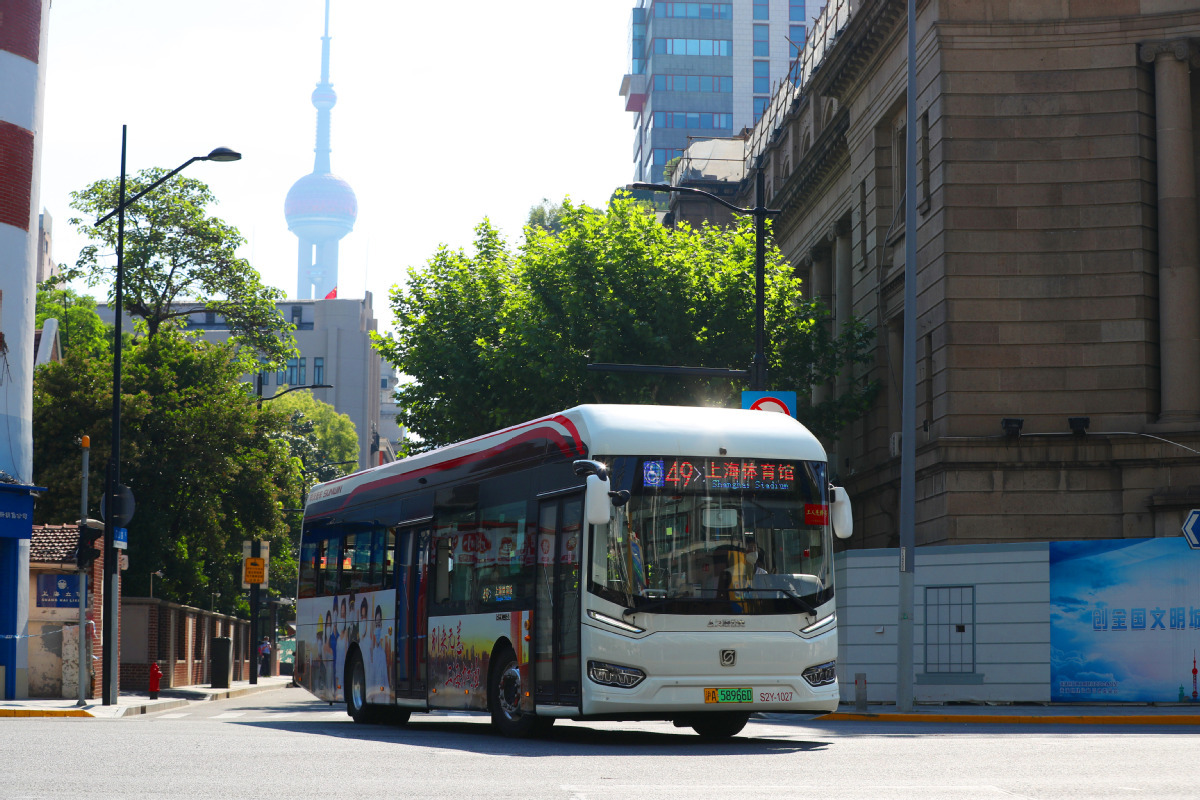 Zhang Junhuan, a Shanghai resident living in the city's downtown Jing'an district, took his first bus trip in nearly two months on Sunday. He made a return visit to Longhua Hospital, affiliated to Shanghai University of Traditional Chinese Medicine in Xuhui district, for a chronic kidney stone condition.
The trip was made possible by the city resuming part of its public transportation services after being suspended for more than a month since early April.
A total of 273 bus routes and four metro lines — 3, 6, 10 and 16 — that form a network covering the urban areas and provide access to the city's airport, railway stations, major hospitals and commercial districts have resumed operations.
Zhang said the trip took him around two hours with one bus transfer, similar to the time it took before the latest outbreak.
While traffic is not as busy as it was before, he said he had to spend more time waiting for the buses, which are currently running at intervals much longer than usual.
Bus 49, whose route covers 15 hospitals, on Sunday ran at intervals of 40 minutes compared with five minutes before the epidemic, according to Zhang.
Strict epidemic control and prevention measures are being enforced on the reopened public transport. Passengers must wear face masks and each has to present a negative nucleic acid test taken within 48 hours and scan a venue QR code to ride.
Zhang said the bus driver scrutinized each test result, and the windows were open to ensure ventilation. He was concerned his trip wouldn't be smooth, "but today's experience has proved that everything is organized".
The four metro lines, which resumed services on Sunday, are running from 7 am to 8 pm at intervals of about 20 minutes.
To prevent passengers from gathering to scan QR codes, subway staff members have posted the code on walls at station entrances, exits and security check areas.
Those wearing a face mask who show a normal health code and body temperature, and have a negative nucleic acid result from with 48 hours is allowed to take the subway, according to Wei Lei, who is responsible for the operation of Metro Line 3.
Each station on the four lines has been ordered to set up a quarantine site, where protective hazmat suits are prepared in case someone is found with an abnormal health code, Wei said.
"We'll transfer the person to the site and ask him or her to put on a protective suit before we reach the center for disease control and prevention for further transfer," Wei said. "Disinfection will occur immediately after the transfer."
To ensure passengers safety and the smooth resumption of services, trains and stations have undergone daily preventive disinfections in line with the epidemic control and prevention requirements, Wei added.
Shanghai registered 52 local COVID-19 confirmed cases and 570 asymptomatic infections on Saturday. All the infections were found inside quarantine and locked-down populations, according to the Shanghai Health Commission.
As of Saturday, the number of residents in locked-down zones in the city with a population of 25 million had further shrunk to 510,000.