Couriers, logistics, supply chain ... new lifelines for society
By Ma Si | China Daily | Updated: 2022-05-23 09:27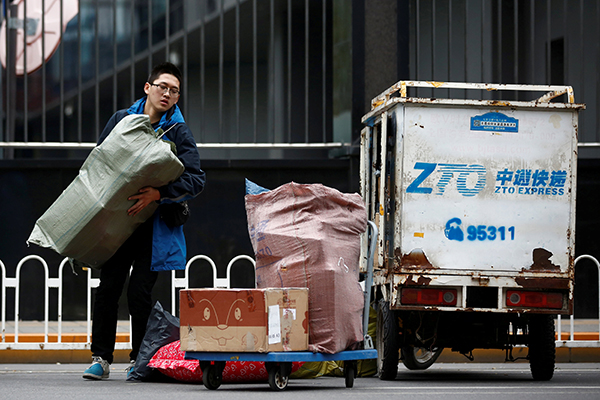 Asked who figure in their "most popular men" list, most Chinese women will likely say it is the deliverymen or the couriers who bring home the goodies-all those well-packed boxes and bags containing stuff bought online, be it the latest fashion or the sinfully sweet and creamy imported chocolate.
COVID-19 and the attendant contact-free requirements have only made the deliverymen even more popular, in spite of the disruptions to logistics caused by the recent outbreaks in Beijing, Shanghai and other parts of the nation. A package from Hangzhou, Zhejiang province, which would have taken no more than three days to materialize in the normal course, took almost 20 days to reach me in April, giving me endless moments of anxiety.
Now, that highlights the importance of logistics in our daily lives. Amid the pandemic, urgent delivery of products is of prime importance. Certain products can provide timely relief for those in need. It is also crucial to stabilizing industrial production and economic growth, as industrial product logistics accounts for 90 percent of China's total logistics.
"Transportation is a key link in logistics, and logistics is a key part of the supply chain. Obstructed traffic and poor logistics will gradually affect the stability of the industrial chain and supply chain as well as the smooth operation of the national economy," said He Dengcai, vice-president of the Beijing-based China Federation of Logistics and Purchasing.
"The logistics system should be treated as important as urban power supply and water supply," He said.
But, due to a string of reasons, including situations such as COVID-19, the logistics industry in China is still facing some challenges.
An industry expert who declined to be named said barriers to cross-regional flow of goods still exist in China, and management problems like inconsistent rules and inconsistent implementation of policies have led to a gap between the cost and efficiency of China's logistics industry and that of developed countries.
As shown during the pandemic, certain restrictions on movement of people and goods have threatened to disrupt supply chains. In some places, highway exits and service stations were shut down, leaving freight truck drivers stranded for days on the highway. Some of them lamented they had never been to any medium- or high-risk areas.
The central authorities have worked in a timely manner to resolve the problems. Last month, they convened a teleconference to emphasize the importance of smooth freight transport nationwide. They also unveiled a national unified pass system to ensure key supplies. The government issued sufficient travel permits that are recognized across the country and made sure that nucleic acid test results received within 48 hours can be used in different regions.
That helped ensure smooth logistics. For long-term smooth circulation of goods, the nation unveiled a guideline to build a unified domestic market that called for efforts to optimize the layout of commercial and trade circulation infrastructure, and remove market segmentation and local protectionism.
Fu Shaochuan, a professor of logistics systemic analysis and planning at the School of Economics and Management at Beijing Jiaotong University, said the courier and delivery sector has made, and will continue to make, significant contributions to China's development. Last year, the sector grew 17.5 percent year-on-year with its revenue hitting 1.03 trillion yuan ($152.4 billion).
There is a need to build a comprehensive and modern logistics system. And the courier sector-it plays a key role in the resources and commodity services market, joins the production and consumption links and thus boosts development-has become an integral part of the modern logistics system, Fu said.