Passing on the baton
By Wang Ru | China Daily | Updated: 2022-05-24 07:36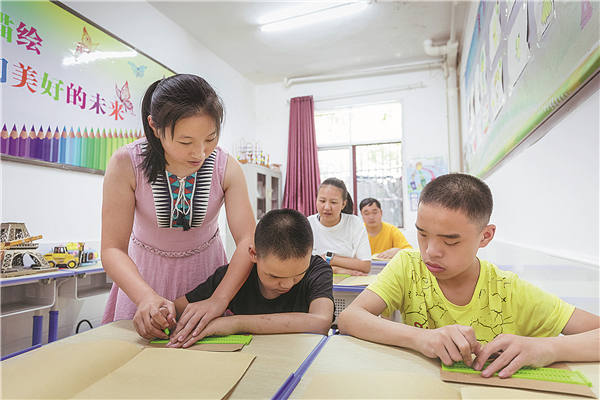 Retired Paralympic relay champion Jia Juntingxian has dedicated herself to giving young visually impaired people better opportunities in life through special education, Wang Ru reports.
It was about 17 years ago, during a freezing winter with bitterly cold winds. Jia Juntingxian, a visually impaired athlete was practicing the long jump. She listened carefully to the sound of clapping from her coach in order to judge direction, then she started to run. As she gathered speed, she heard the coach shout for her stop, but it was too late-the howling wind had interfered with her judgement, and she ran in the wrong direction, into a guard rail.
During the following long period of recovery, her head would ache every time she tried to train, she often felt dizzy, which would cause her to vomit, and she suffered from tension in her eye sockets.
When Jia stood on the podium of the 2016 Rio de Janeiro Paralympic Games as a champion of the 4x100-meter relay race and a world record breaker, she recalled that moment, and all of the painstaking effort she had put in over the years. She was extremely excited, and felt that the struggle had been worth it.
Born in Pingxiang city, Jiangxi province in 1986, Jia was found to have sight problems when she was 10 months old. Despite visiting specialists in cities across China, her parents were told that, unless there was a major medical breakthrough, their daughter's eyesight would not improve.
At grade one in primary school, when the teacher told students to look at the blackboard, Jia followed but could not see anything. "That was the time I realized I was different from others. I had never felt that before. I had always believed I was ordinary," says Jia.
Since that moment, she would often feel sad, and every time her mother noticed, she would embrace Jia, rub her cheek with her own, and whisper comforting words. "My baby girl, as long as you put in enough effort, you can do anything other people can do," she would say. Jia still remembers she used her hand to touch her mother's face, and it felt wet.
From the age of 3, Jia was required to do things on her own, like washing her clothes, or cleaning her bowl after meals. She also learned to sew, and even won a button sewing competition at primary school.