Flying Tigers pilots call for US-China cooperation
By YIFAN XU in Washington | chinadaily.com.cn | Updated: 2022-05-24 22:20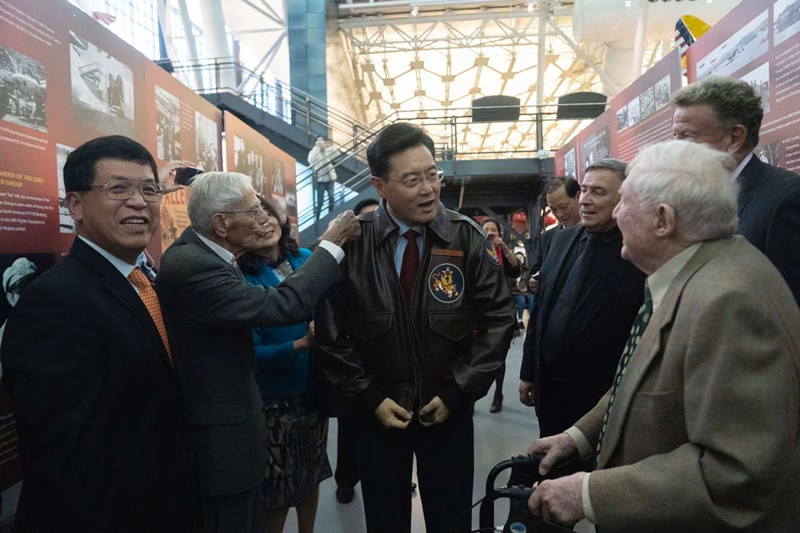 The United States and China should continue their unique bond formed years ago, set an example for the world and work together for peace and survival, two veteran Flying Tigers pilots wrote to the Chinese ambassador to the US.
The American Volunteer Group of the Chinese Air Force, more widely known as the "Flying Tigers", was formed in 1941 by US General Claire Lee Chennault. A group of Volunteer American pilots went to China, standing shoulder to shoulder with the Chinese people to fight the invading Japanese troops.
Harry Moyer, 101, was a veteran 14th Air Force P-40 Fighter Pilot and Robert Moore, 98, was an Air Transport Command C-46 Hump Pilot.
"Friendly and cooperative relations between our two countries is essential to world peace and survival," said Robert Moore in his letter to Ambassador Qin Gang.
Moore said that "the world faces even more dangers" than he had imagined. "I am thinking of dangers that will affect every human on earth," he wrote, mentioning climate change, which is far from "treaties or boundary disputes that may affect two or three nations".
"That is why we must work together, cooperatively and in the spirit of friendship," said Moore. "The most important goal that everyone in authority has is to work for peace. I believe that China and the United States, two countries with a friendship, can be an example for the rest of the world."
In Moyer's letter, he said that Flying Tigers means much more than those two words. Moyer recalled how the Flying Tigers and Chinese troops and people fought against invaders together.
"China and America were allies then, great friends, and together drove the invaders from the land and sky," said Moyer in the letter.
"So too should we look at that relationship as an example of how our two countries worked together to overcome a great challenge," he said.
On April 9, the Remembering Heroes-Commemorating the 80th Anniversary of the Flying Tigers and the History of the US Air Force in China during World War II photo exhibition was held at the National Air and Space Museum.
The event was organized by the Sino-American Aviation Heritage Foundation, the US-China Friendship Association, and the Asian Pacific American Public Affairs Association. It was co-sponsored by the Chinese embassy in the US.
Qin attended the opening ceremony and delivered a speech. He said that the story of the Flying Tigers is a tribute to the feat of China and the US in fighting side by side; the Flying Tigers, together with the Chinese military and civilians, fought for the cause of justice and fate of humankind, and their bravery and sacrifice will always be recorded on the flag of victory in China's war against Japan.
Moyer and Moore presented Qin with custom-made Flying Tiger pilot leather jackets at the event.