Village histories, traditions preserved in multivolume set
By LI WENFANG in Guangzhou | China Daily | Updated: 2022-05-25 09:17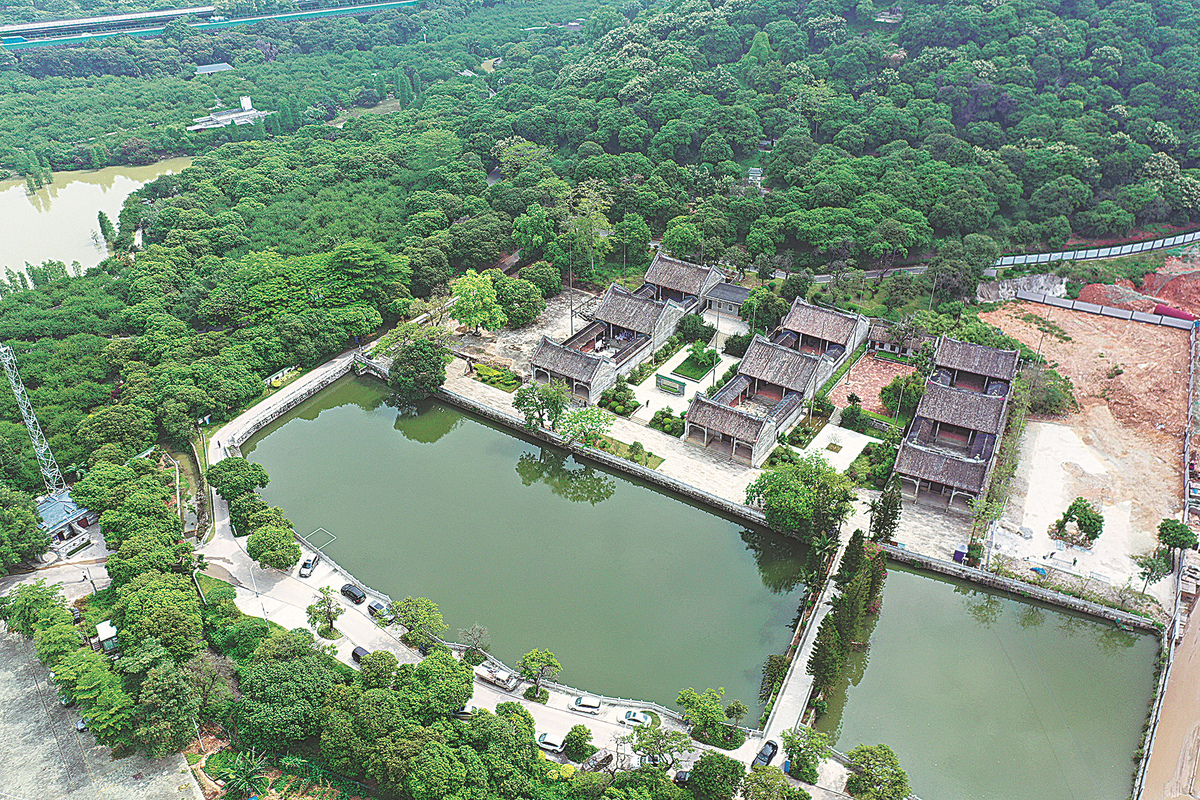 Guangzhou's Huangpu district has become the first area in Guangdong province to compile a historical account of all of its villages.
The 33-book series on the history of all 346 of Huangpu's villages extends to more than 5 million Chinese characters and over 1,100 pictures. "The series provides an excellent account of rural matters and will be a significant planning reference for the future development of Huangpu," said Hu Qiaoli, deputy director of the Guangzhou government's history office.
"It helps preserve the historical and cultural wealth of Guangzhou and the nostalgia of the past," she added at a recent news conference at the Zhong Clan Ancestral Hall, which was built more than 500 years ago.
Now a manufacturing powerhouse, Huangpu was previously an important agricultural area and is home to 454 immovable historical relics and 32 intangible cultural heritage items. It has the largest number of ancient trees-5,208 in all-on the city's protection list.
With villages disappearing as a result of urbanization, the Huangpu Party committee was prompted to launch the compilation of village histories in February.
Existing information was collected and new content added. More than 1,200 people took part in the project, 90 percent of whom were villagers.
In Luogang subdistrict, some residents shared oral histories, which were recorded. According to Bian Wenge, a subdistrict official, it was not only the elderly and better-educated villagers who took part in the project, but other residents with stories, ideas and experiences to share.
Zhong Jintian, a retired primary school headmaster, visited over 100 elderly residents to determine whether Kengcun village really was the birthplace of Zhong Yuyan, an early ancestor of Zhong clan.
He only succeeded a week before the deadline for the book when he found a genealogical tree at the home of a man in his 80s and discovered that Zhong Yuyan had moved to Kengcun at age 8.
"Village histories are meant to prevent memories of the past and of the culture passed from generation to generation from being forgotten. They are really helpful," Zhong Jintian said.
In Wenchong subdistrict, 17 elderly people, aged over 80 on average, volunteered to help at the community office for nearly a month.
They offered a great deal of information about the construction, renovation and architectural features of ancient ancestral halls and buildings, the development of private schools and the contribution to local development by contemporary celebrities, said Luo Liumin, Party secretary of Wenchong.
New findings uncovered in the process include more information about Shenjing village, historically one of the first places in the country to open up to the outside world.
"We have undertaken human and historical surveys in villages in the province before, but each was written up in about 3,000 characters," said Zhao Fei, deputy dean of the Department of History at the South China Agricultural University.
"In this compilation, each village gets between 10,000 and 20,000 characters, if not more. The history of Changzhou subdistrict, which only has seven villages, gets nearly 300 pages. Knowledge has been significantly increased."