21 killed in school shooting; gunman dead
By AI HEPING in New York and MAY ZHOU in Houston | chinadaily.com.cn | Updated: 2022-05-25 11:08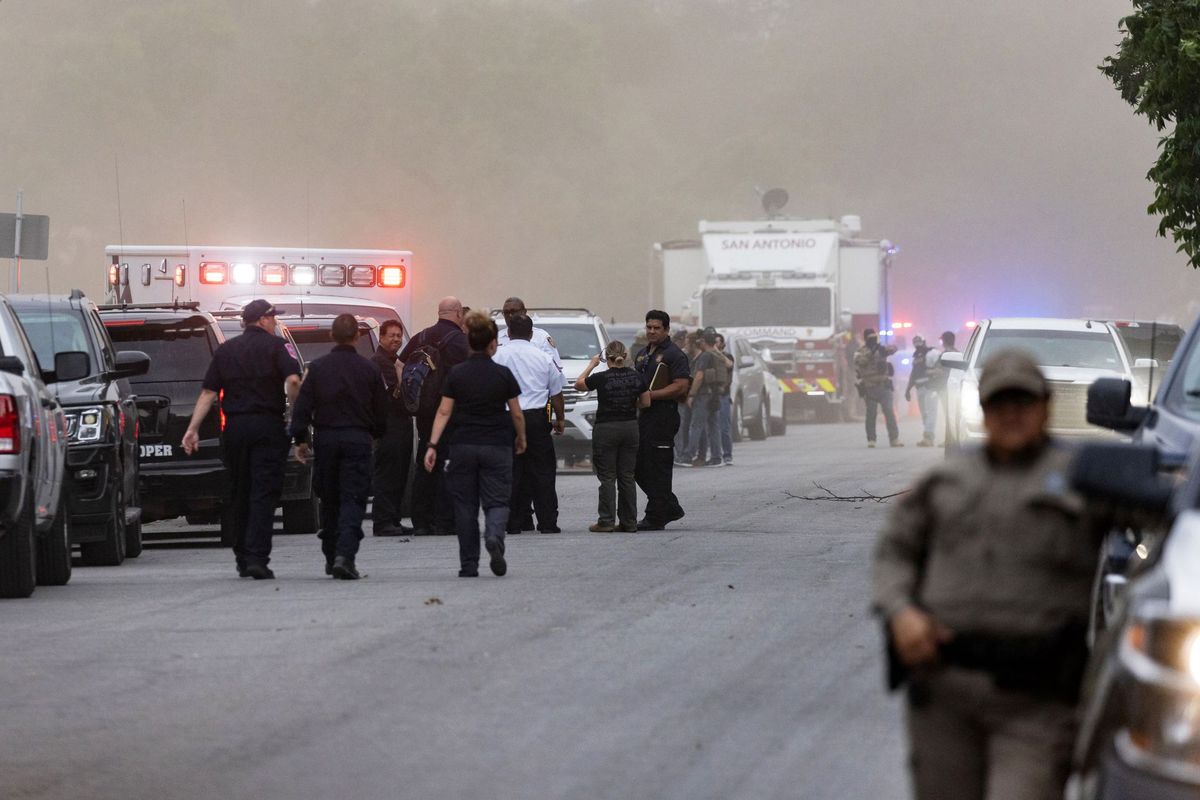 Eighteen children and three adults were killed Tuesday morning at a Texas elementary school by an 18-year-old gunman who was killed by responding officers at the scene, state officials said.
The shooting was at Robb Elementary School in Uvalde, a town of about 16,000 people and about 85 miles (135 kilometers) west of San Antonio.
Governor Greg Abbott said the gunman — identified by authorities as Salvador Ramos — was a student at Uvalde High School. Abbott said the gunman had a handgun and also possibly a rifle.
"He shot and killed, horrifically, incomprehensibly, 14 students and a teacher," said the governor before the higher death toll was announced, adding that two officers were shot and wounded but were expected to survive.
State Senator Roland Gutierrez, who reported the latest death toll, said he was briefed by state police on the fatalities, according to The Associated Press, although it was not immediately clear whether that number included the assailant.
In an emotional televised address from the White House, US President Joe Biden said, "To lose a child is like having a piece of your soul ripped away." He asked, "Where in God's name is our backbone?" when it comes to addressing gun violence, noting that no other countries have such mass shootings. "We have to act."
"When parents drop their kids off at school, they have every expectation to know that they're going to be able to pick their child up when that school day ends. And there are families who are in mourning right now," Abbott said. "The state of Texas is in mourning with them for the reality that these parents are not going to be able to pick up their children."
The suspect also allegedly shot his grandmother before entering the school, Abbott said. The governor didn't say anything further about her condition.
"At this point, the investigation is leading to tell us that the suspect did act alone during this heinous crime," said Pete Arredondo, the chief of police for the Uvalde Consolidated Independent School District.
Uvalde Memorial Hospital had said 15 students were being treated in the hospital's emergency department. Two patients were transferred to San Antonio for treatment, while a third was pending transfer, the hospital said. A 45-year-old was also hospitalized after getting grazed by a bullet, the hospital said.
University Health in San Antonio said it had two patients from the shooting, a 66-year-old woman and a 10-year-old girl, both in critical condition.
Two adult victims of the school shooting were being treated at Brooke Army Medical Center in San Antonio, according to an Army official, who didn't have an update on their conditions.
The school has an enrollment of just under 600 students in the second, third and fourth grades. About 90 percent of students are Hispanic and about 81 percent are economically disadvantaged, school data shows.
Thursday was set to be the last day of school before the summer break.
The school was placed on lockdown around 11:43 am local time after gunshots were heard in the area, the school wrote on Facebook.
The school informed parents shortly after 2 pm that students had been transported to a civic center and could be picked up.
Ryan Ramirez told San Antonio ABC affiliate KSAT he had gone to the civic center and the elementary school trying to find his fourth-grade daughter in the wake of the shooting.
"[I'm] just confused and worried. I'm trying to find out where my baby's at," he told the station.
The Texas shooting is the deadliest US school shooting since the Marjory Stoneman Douglas High School shooting in Parkland, Florida, in February 2018, when 17 people were killed.
It is the deadliest school shooting in Texas history and occurred four years after a gunman fatally shot 10 people at Santa Fe High School in the Houston area.
It was at least the 30th shooting at a K-12 school in 2022. Excluding Tuesday's shooting, so far in 2022 there have been at least 38 shootings in K-12 schools, colleges and universities, resulting in at least 10 deaths and 51 injuries, according to CNN.
Abbott is a staunch gun rights defendant, and the state passed a law last June to allow Texans to carry handguns without a license or training. The law took effect in September 2021.
The Texas shooting comes less than two weeks after 10 people, all African Americans, were killed at a Buffalo, New York, grocery store by a white gunman who was taken into custody. Three people were wounded, one of them black and two white, in what officials have described as a hate crime.
It occurred one day after the FBI released a report that showed active-shooter incidents in the US increased by more than 50 percent in 2021, and they took the lives of 103 people, nearly triple from the previous year.
Federal authorities define an active shooter as an "individual actively engaged in killing or attempting to kill people in a confined or populated area". The report excluded cases caused by gang violence, self-defense or "contained residential or domestic disputes".
Until Tuesday's shooting in Texas, the upstate New York shooting rampage was the 198th mass shooting this year, according to the Gun Violence Archive (GVA), an independent data collection organization. As of Tuesday, there have been 211 mass shootings in the US, leaving more than 220 people dead and 897 injured, according to the GVA.
The number of mass shootings in 2022 averages out to about 11 such attacks a week, according to the GVA. The group defines a mass shooting as an incident in which four or more people are shot or killed, excluding the shooter.
Contact the writers at aiheping@chinadailyusa.com