Italian pilot unfurls wings in Southwest China
By TAN YINGZI and DENG RUI in Chongqing | China Daily | Updated: 2022-05-26 09:33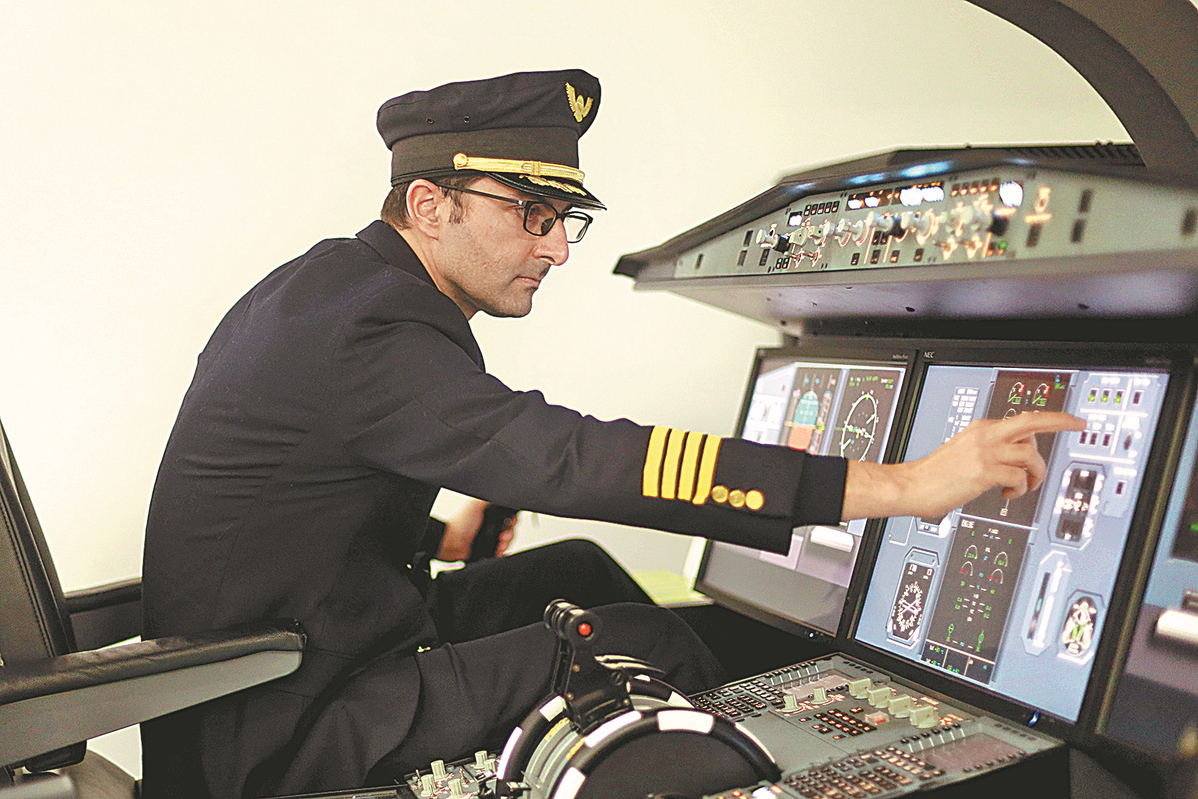 Glancing out the left window of the cockpit of his West Air flight as it approaches the airport in Chongqing, the captain-who is from Italy-gets a familiar feeling. It's the feeling of coming home.
The instruments have 39-year-old Captain Fabio Farinon's full attention as he confirms that the plane is on course to land and that it's in the right configuration given current weather conditions.
With 18 years of experience, Farinon is living his flying dream and landed with his family in the southwestern municipality.
Nearly four years ago, Farinon and his wife, Huang Ting, left work at an airline in Singapore to settle in Huang's hometown of Chongqing. Farinon became a captain with West Air, a low-cost carrier headquartered in the city.
Born in Cacio, a beautiful, 5,000-strong town in Bergamo, Farinon said his home is known for its history and its 500-year-old murals and is located between Milan and Verona, the city where Shakespeare's tale of Romeo and Juliet takes place.
Before joining West Air, Farinon flew for airlines in Italy and Singapore, but as China develops, its civil aviation sector is expanding.
"Working and living in China is a good option for me," he said.
"Both the flying environment and living conditions are safe."
He said that compared to other airlines he worked with before, West Air pilots spend much more time on simulators and theory.
"We fly the safest airplane, updated with the latest technologies. The engineers work hard to make sure the airplanes don't have faults. The airplanes are always in excellent condition."
Despite the severe effects of the pandemic on the global aviation business, Farinon said that China has done a good job in fighting COVID-19, which makes domestic flights easier. "I appreciate that I have been able to live a kind of normal life for the last two years," he said.
He noted that he has heard that some airlines plan to spend a lot and even double their fleets, which is a big opportunity for foreign pilots.
"The market here is huge," he said.
According to West Air, as a result of the shortage of qualified pilots, the airline started recruiting abroad in 2012. It now employs 39 foreign captains and pilots, mostly from Russia, South Korea, Mexico, Italy, Spain and Norway with an average age of 46.
"Fabio is very serious and has a passion for flying," Farinon's co-pilot Dai Haimeng said, adding that the well-rounded captain tries to understand every aspect of the aircraft.
Dai said that recently, the airline encountered a technical problem on one of its Airbus 320s that Farinon was able to solve through research and consulting the manufacturer.
"Finding a problem on the ground means that later, the problem is not in the air," Farinon said. "Safety is always the priority in aviation."
Before taking off, he checks everything in detail, including the company's notice, the condition of the airplane and the weather, to ensure everything is safe for flying.
Although he has plenty of experience, Farinon said he needs to continue to train and accumulate as much experience as possible. For example, weather, like the strong winds in China in the summer, needs to be studied.