Specter of school shootings frightens parents across US
By MAY ZHOU in Houston | China Daily Global | Updated: 2022-05-26 11:02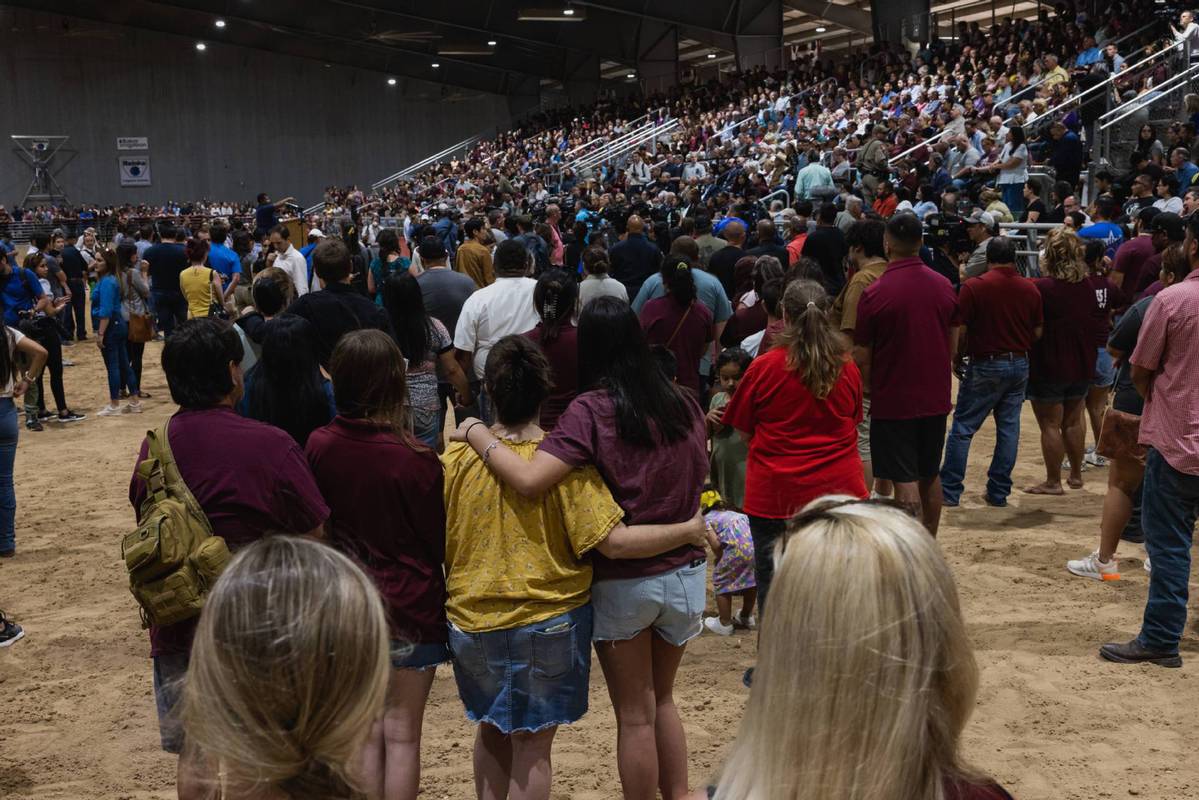 Wen Zhang, a stay-at-home mother in Massachusetts to a 7-year-old elementary school child, said she felt pain, anger and helplessness when she heard that an 18-year-old man opened fire Tuesday at a Texas elementary school and killed 21 people — 19 students and two teachers.
Seventeen people were injured in the shooting at Robb Elementary School in Uvalde by a dropout student at the town's high school. He also shot his grandmother.
"We as parents feel that school has become very unsafe for our child. I am constantly worried when my kid is in school, and my worry will probably last even after he goes to college," Zhang told China Daily.
"You can teach your child not to speed, not to get drunk, not to run with the wrong crowd, yet this kind of worst nightmare could still happen to your child!"
Zhang said she is at loss on what to do to keep her son safe, especially with school shootings seeming to become more frequent.
According to K-12 School Shooting Database at the Center for Homeland Defense and Security at the Naval Postgraduate School, in 2006 there were a total of 59 school shooting incident, a historical high since 1970.
The number of shooting incidents jumped to 117 in 2018, and 2021 saw another dramatic increase, to 249. That was more than double the number of school shootings in 2020 or 2019.
Less than six months into the year, 2022 has seen a total of 139 school shootings. It also has proven to be a more deadly year than last year: So far, 47 have been killed, while the toll for 2021 was 42 dead.
Jessie Jia, a mother to three children in elementary school and junior high school in the Houston area, happened to have organized a "Parents and Kids Safety" lecture on Tuesday night, the day of the Uvalde shooting.
"This is exactly why we invited a police officer to show us how to keep ourselves and our children safe," she said of the two events.
Jia, a small-business owner, told China Daily that the idea came when a few schools in her neighborhood went to lockdown a couple of weeks ago.
"Many parents thought it was a gun shooting in school. I was so nervous and scared for my kids," she said.
Fortunately, it turned out to be a minor incident involving a car break-in in a high school, but Jia realized that many parents including herself didn't know how to respond in a situation like that. So she invited the police officer to give tips on how to stay safe.
The in-person event was booked, so many parents attended through Zoom, Jia said. Part of the talk was about how to survive a school shooting.
"I learned three tips: First, try to escape the scene and run toward the opposite direction of the shooting; if that option is out, try to hide; if those two options are out, fight for your life with anything at hand," Jia said.
Jia said she doesn't believe gun control will help solve the mass-shooting problem in America because there already are so many guns out there.
"The bad people can always get guns from the black market," she said, adding that she, currently not a gun owner, has decided to get a gun for herself this year.
Zhang said that when people are forced to buy guns for self-protection, it would only lead to more guns in the society: "It will only escalate the situation, and the whole thing becomes a vicious cycle."
While gun control isn't making any progress in the US, some experts are trying to find solutions by looking at the motives of mass shooters.
James Densley, professor of criminal justice and department chair at Metro State University in Denver; and Jillian Peterson, associate professor of criminology and criminal justice at Hamline University in St. Paul, Minnesota, conducted research and published a book, The Violence Project, last year to profile mass shooters in an effort to prevent such shootings from happening.
The project examined 180 cases and found that of all the perpetrators of mass shootings, 98 percent are male, more than 80 percent were in a noticeable crisis — in agitation, exhibition of abusive behavior, in isolation and such — prior to their shootings, and 71 percent were suicidal.
The Uvalde gunman, identified as Salvador Ramos, fit that profile.
The Washington Post reported that friends and relatives of Ramos described him as a lonely 18-year-old who was bullied over a childhood speech impediment, suffered from a fraught home life and lashed out violently against peers and strangers.
A former friend of Ramos' told the Post that Ramos had cuts all over his face. He first said the cuts were scratches from a cat, but later admitted that he cut his own face with knives repeatedly.
Stephen Garcia, who considered himself Ramos' best friend in eighth grade, told the Post that Ramos had a rough time in school.
"He would get bullied hard, like bullied by a lot of people," Garcia said. "Over social media, over gaming, over everything," Garcia said.
However, not everyone believes that a better understanding of the perpetrators of mass shootings would help to prevent such tragedies, and the problem is the prevalence of guns, said Zhang.
"Even in a good school district, there are people with psychological problems or antisocial personalities. The key problem is the easy access to guns. The prevalence of guns, especially assault weapons with magazines, has become a cancer to the society," she said.
That prevalence not only leads to indiscriminate mass shootings, but also other problems, such as police overreaction when facing a criminal situation, Zhang said.
"I don't think that the law on gun rights from more than 200 years ago cannot be changed. If certain rights constantly lead to the death of innocent people, we have to re-evaluate such rights," Zhang said.