Another bloodbath, another rush for firearms
By MINLU ZHANG in New York | China Daily | Updated: 2022-05-27 09:24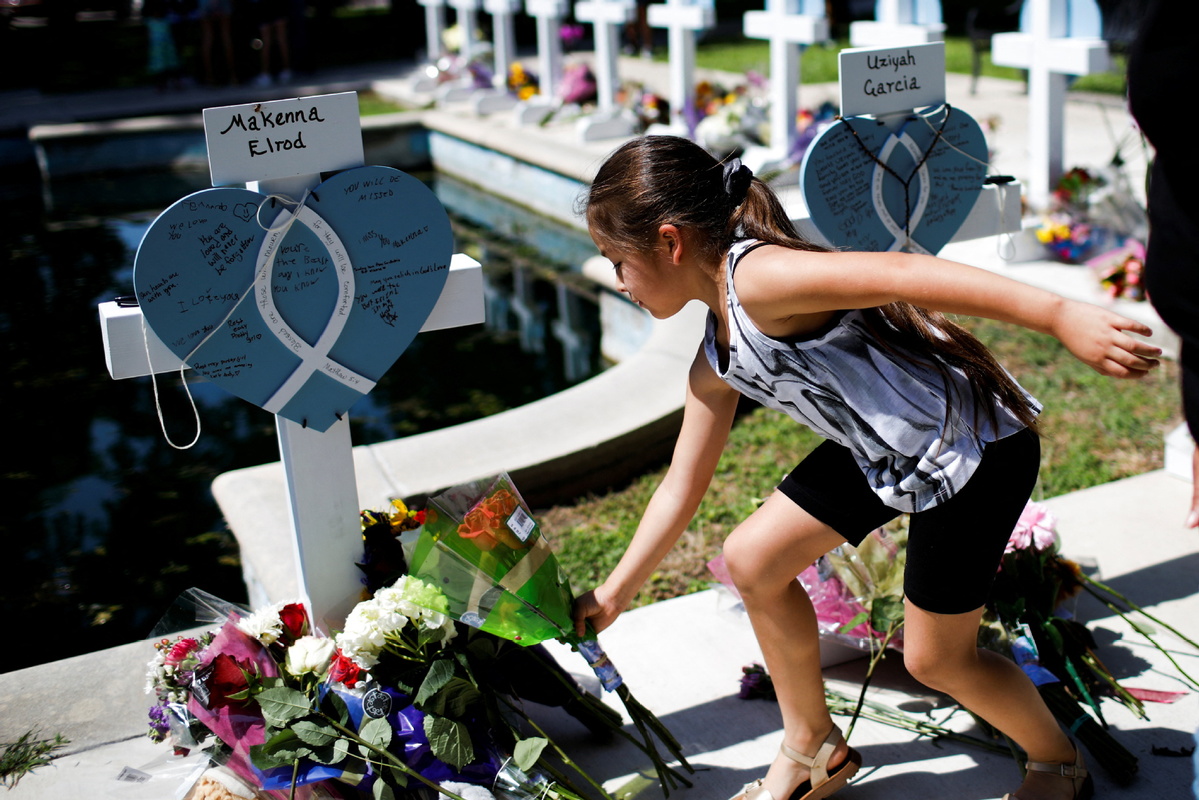 One day after the elementary school shooting in the Texas town of Uvalde, a gun store owner in the city said he is seeing "lots of traffic" with more people buying guns.
"Lots of traffic, increased volume, more purchase." That is how Jonathan Hirsch, president of Adelbridge and Co Firearms, described the situation at his store, about 130 kilometers from Uvalde where 19 students and two teachers died in the mass shooting at Robb Elementary School. Police said they shot and killed the gunman whom they identified as Salvador Ramos, an 18-year-old student at a nearby high school.
Hirsch told China Daily that he also noticed gun sales had been going up before the shooting in Uvalde, with most people buying guns out of self-defense.
Gun sales typically spike sharply after calls for new gun restrictions in the wake of violent and terrorist attacks.
A record 2 million guns were sold one month after the shooting at Sandy Hook Elementary School in Newtown, Connecticut, in 2012. A gunman killed 20 small children and six adults at the school before taking his own life. The Texas shooting is the second-deadliest shooting at an elementary, middle or high school on record in the United States after Sandy Hook.
Sales surged again in 2015 after then-US president Barack Obama tried to make it harder to buy assault weapons after a terrorist attack in San Bernardino, California.
There was a big surge in gun buying in 2020 when the pandemic started. By the middle of the year, national protests over racial justice pushed firearm purchases up again. That increase carried into 2021, with a Democratic president and the violence at the Capitol on Jan 6, according to data analyzed by The Washington Post.
Shares of gun makers often rise in the wake of mass shootings, with investors anticipating a spike in sales ahead of calls for stricter gun laws.
On Wednesday, shares in Sturm, Ruger and Company, the maker of Ruger handguns and rifles, rose about 5 percent. Firearms manufacturer Smith and Wesson was up more than 7 percent, and shooting sports company Vista Outdoor gained nearly 9 percent.
"Stocks are going up because people think there is going to be a spike in gun sales, not because they think there will be new restrictions," Alex Barrio, director of advocacy for gun violence prevention at the Center for American Progress, told The New York Times.
"It's a bet on fear."
In March 2020, more than 2.58 million guns were sold, which equates to a more than 85 percent increase from the prior year, according to Small Arms Analytics and Forecasting, a Swiss-based research project. This month, that same group said fewer guns were purchased compared to last year, but acknowledged that sales are far higher than they were pre-pandemic.
The average number of firearms per 100 US residents is 120.5, up from 88 per 100 in 2011.The ratio far surpasses that of other countries around the world, according to the Small Arms survey.