Ambassador: Bilateral relations need people who understand China
By MINLU ZHANG in Garland, Texas | China Daily Global | Updated: 2022-06-01 10:56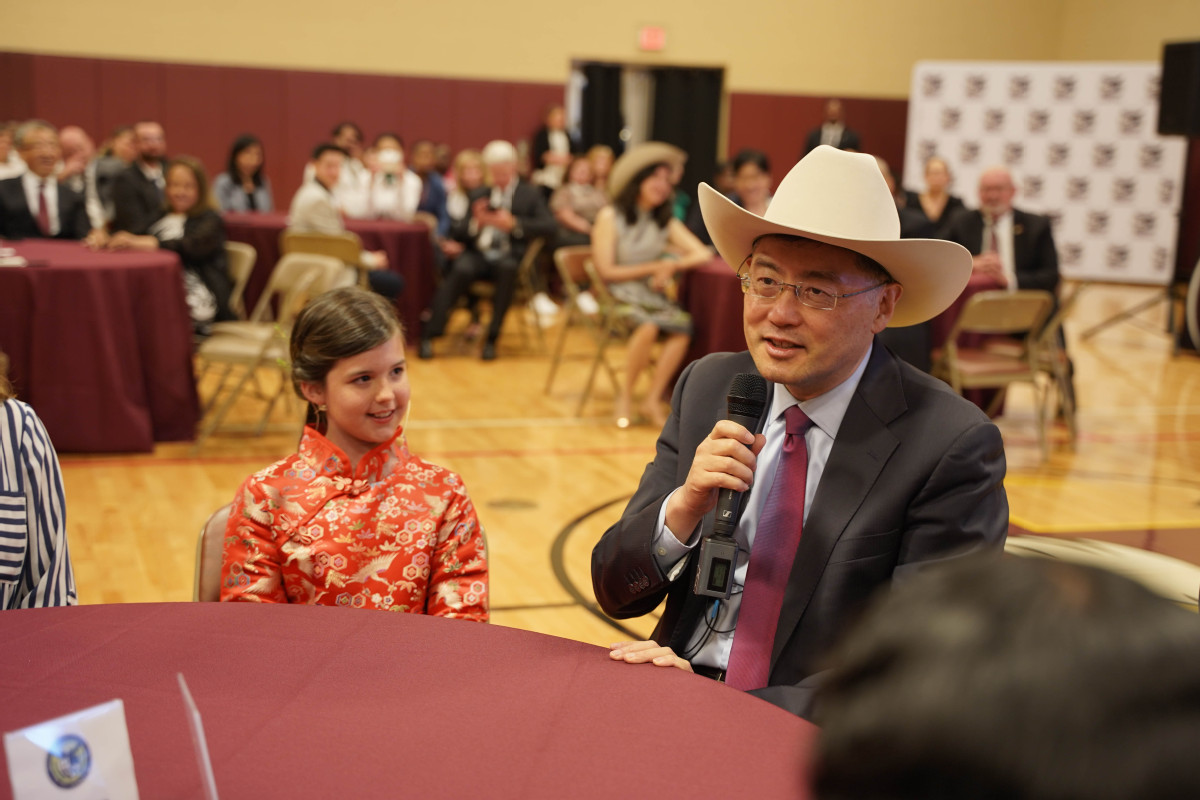 The Chinese ambassador to the United States on Tuesday encouraged American students to learn Chinese because a healthy bilateral relationship between China and the US needs people who really understand China and the Chinese language.
"For China-US relations, to realize long-term, stable and healthy development, and for the US to formulate correct China policies, there need to be people who really understand China, who are proficient in the Chinese language," said Ambassador Qin Gang.
Qin was warmly welcomed by students and teachers at an international school oustide Dallas, Texas, where Mandarin Chinese is a compulsory course for students.
"I encourage you to learn Chinese, just as how Chinese students are learning English. Language creates communication, and communication leads to understanding and trust. With mutual understanding and trust, there can be better bilateral relations," Qin told students of the International Leadership of Texas, Garland High School.
In the past decades, China-US cooperation has "come a long way", said Qin. "We have not only promoted both countries' economic and social development but also made important contributions to world peace and development.
"But we are facing more complexities and challenges today, such as climate change, the Ukraine crisis, COVID-19. Countries must stand together and work together, and cooperation between China and the US is particularly important," the ambassador said.
Unfortunately, in the past few years, China-US relations have encountered unprecedented difficulties, he said.
Misunderstandings and misjudgments have led to the decline of mutual trust, Qin said.
"The important reason is that very few people in the US government and academics have mastered the Chinese language. Some China experts cannot speak Chinese at all. They know very little about China. They only rely on second-hand information and even disinformation," said Qin.
"So our relations had been deeply misled by the lack of understanding as a result of widespread disinformation, second-hand, even third-hand information."
Qin also recalled Deng Xiaoping's trip to the US in 1979. When Deng took an ice-breaking trip to the US, Texas was one of the stops during the trip.
Kitty Van Dries, who was 15 at the time, had been picked to present a white cowboy hat to Deng as a gift.
After 43 years, Van Dries on Tuesday presented another white cowboy hat as a gift to Ambassador Qin.
The cowboy hat "worked as a symbol of a friendship between Chinese and Americans. It is unbelievable that 43 years ago the girl who presented the hat to Mr Deng Xiaoping now is here with us," said Qin.
"I was very honored," Van Dries told reporters. She said Tuesday's event was "a little overwhelming, a little bit emotional". "Communication is what it's all about, no matter what. … Deng Xiaoping had an interpreter. It'd have been neat if I would've known a little Chinese, that would have been something. If I had it to do all over again, that's a language I would learn," Van Dries said.
"We hope that what we'll be able to do is in the future, there will be plenty of Americans and especially the Texans who can visit the businessmen and government officials and speak the Chinese language," said Eddie Conger, the school's founder and superintendent.
"Our relations between the United States and China have gone through several different transitions. The more that we can speak in each other's language, the better this world is going to be," Conger said.
There are about 21,000 American kids learning Chinese at the International Leadership of Texas, Conger told China Daily. By learning the language and more importantly the Chinese culture, "it only draws us closer together to be able to solve very important problems," he said.
China and the US, the two biggest economies in the world, two most powerful countries in the world, "if we can speak with each other's own languages…it helps us to be closer, has a better understanding. So there can always be friendly competition," Conger said.