Tourism recovers on back of three-day holiday
By Tan Xinyu | chinadaily.com.cn | Updated: 2022-06-06 15:40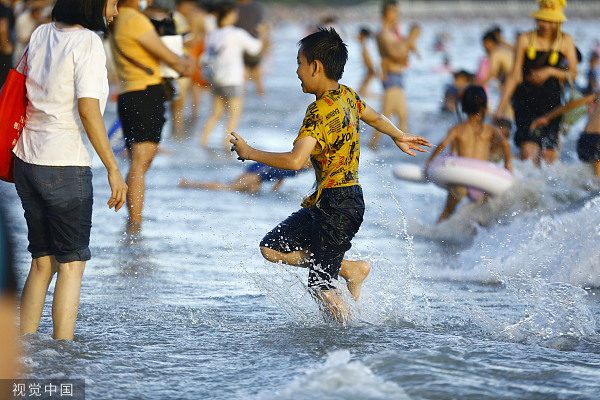 The number of domestic tourists and tourism revenue during the three-day Dragon Boat Festival this year have recovered to more than 80 percent and over 60 percent in the same period in 2019, news portal Jiemian reported on Sunday.
According to the Ministry of Culture and Tourism, a total of 79.61 million domestic trips were made during the festival, falling 10.7 percent year-on-year. But the figure reached 86.8 percent of that in 2019. And 25.82 billion yuan ($3.88 billion) was recorded in tourism revenue during the holiday ending on Sunday, down 12.2 percent from 2021 but recovering 65.6 percent from 2019.
The situation was better than that of this year's Qingming Festival holiday, which was also three-day long, but did not register the numbers seen at the Dragon Boat Festival last year.
As the pandemic situation improved in Beijing and Shanghai, tourism began gradually picking up.
The data from Beijing Municipal Commerce Bureau showed that during the Dragon Boat Festival, Beijing's department stores, supermarkets, specialty stores, catering and e-commerce companies achieved sales of 4.33 billion yuan, a year-on-year increase of 6.3 percent.
Online travel platform Ctrip's data showed that on the first day of the Dragon Boat Festival holiday, over 40 scenic spots in Shanghai resumed operation, with a total sales of more than 40,000 tickets, equivalent to 28 tickets sold per minute.
Meanwhile, data from major online travel platforms also showed that both travel and hotel booking in the Dragon Boat Festival were much more than that during the Qingming Festival and Labor Day holidays.
According to Ctrip data, as of Saturday, the total number of orders during the Dragon Boat Festival holiday rose by more than 30 percent compared with Qingming Festival, and the number of hotel and ticket bookings increased by double digits from that of Qingming Festival.
Data from another online travel agency, TravelGo, showed that hotel reservations rose by 31 percent compared with the Labor Day holiday, and the average flight ticket price also increased by 48 percent from the Labor Day.
Shenzhen, Guangzhou, Chengdu, Xi'an, Chongqing, Changsha, Beijing, Guiyang, Hangzhou, and Shanghai were the top 10 most popular travel cities during the Dragon Boat Festival, TravelGo's data showed.
Movie theaters also recorded better recovery rate than this year's Qingming and Labor Day holidays. Online ticket platform Dengta data showed total box office in the Dragon Boat Festival was 22.3 percent of the same period in 2019, compared with 17.5 and 19.4 percent during Qingming Festival and Labor Day, respectively, Jiemian reported.