Partnerships are focus of Pacific tour
By KARL WILSON in Sydney, XU WEIWEI in Hong Kong and MO JINGXI in Beijing | CHINA DAILY | Updated: 2022-06-07 07:21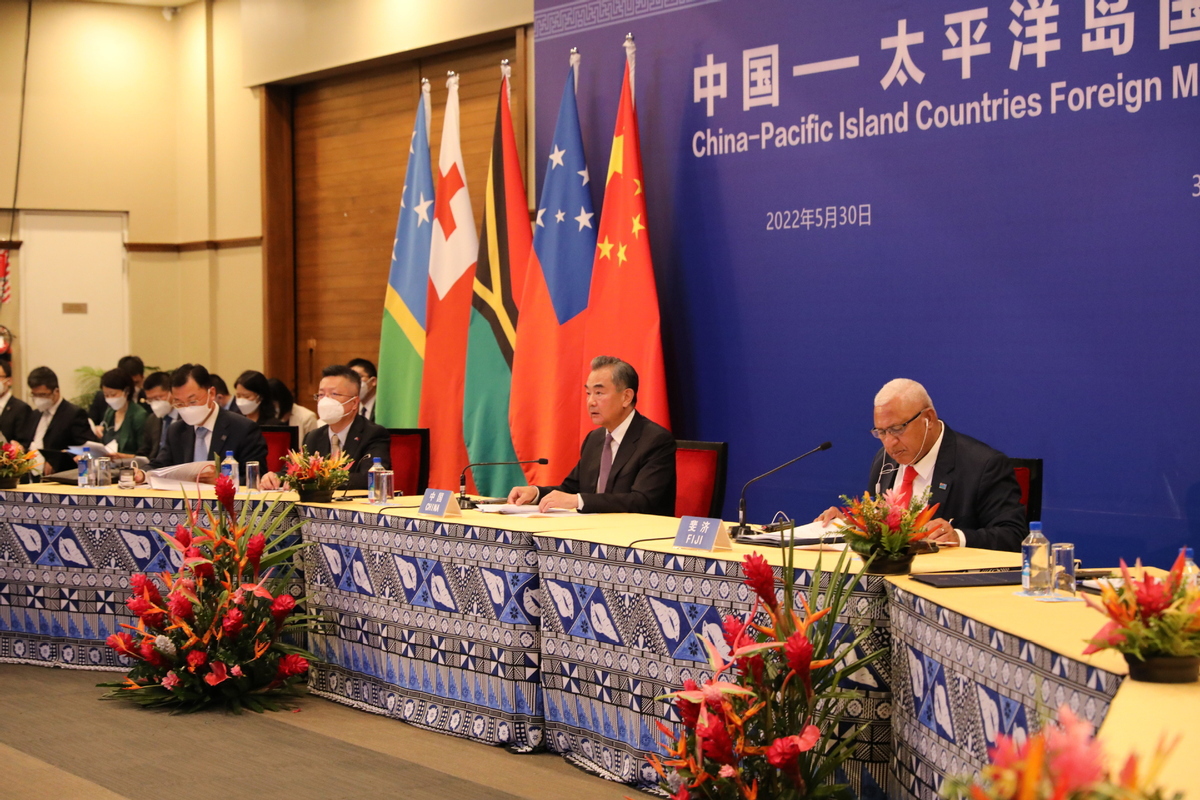 Experts: Foreign minister's trip to island nations intended to foster cooperation
An eight-nation Pacific tour by State Councilor and Foreign Minister Wang Yi was not an exercise to drive a wedge between the Pacific Island states and their Western partners as claimed by some Western media reports, but a big effort that underlined China's resolve to build partnerships and foster cooperation in the region, experts said.
During the 10-day trip, which concluded on Saturday, Wang carried out in-depth communications on a wide range of issues with 17 leaders and more than 30 ministers of all 10 South Pacific Island countries that have diplomatic relations with China, reaching broad consensus on pragmatic cooperation. He also visited Timor-Leste.
Speaking in an interview on Sunday, Wang said that China is not "a newcomer" for Pacific Island countries, but "an old friend" of them for years, and the comprehensive development of China's relations with these countries is the natural result when conditions are ripe.
China has no intention of competing for influence and is not interested in engaging in geopolitical competition, Wang said, adding that China respects the existing connections that Pacific Island countries have established with other countries as well as their traditional bonds with Australia and New Zealand.
According to Wang, the tripartite cooperation that China has started with Australia and New Zealand in Pacific Island countries has gained good results and is welcomed by the island countries.
He also said that in accordance with Pacific Island countries' will, China is open to more three-party or four-party cooperation with Australia and New Zealand in the region to forge greater development.
Zhu Ying, director of the Australian Centre for Asian Business at the University of South Australia, said the United States, Australia and, to a lesser extent, New Zealand, worry about China's role in the Pacific because "they view the Pacific as their own territory" of influence.
Colin Mackerras, professor emeritus at Griffith University in Queensland and one of the country's leading Sinologists, said many Western commentators and politicians viewed Wang's tour with "disapproval", saying it was aimed against Australia, with some describing it as an act of "aggression".
"I don't see it that way," Mackerras said. "The point is, these are sovereign nations able to do business with whoever they want. The ultimate decision is on the countries themselves."
James Laurenceson, director of the Australia-China Relations Institute at the University of Technology Sydney, said China has spent several years paying regular attention to the Pacific.
"So, in that sense, Wang Yi's trip to the Pacific is a continuation of that," he told China Daily.
In Suva, Fiji, on May 30, Wang co-chaired, with Fijian Prime Minister Frank Bainimarama, the second China-Pacific Island Countries Foreign Ministers' Meeting.
During the meeting, Wang outlined a wide-ranging package on boosting China's cooperation with Pacific Island countries in various fields including economy, climate change and people-to-people exchanges.
While Wang's trip attracted worldwide attention and received positive responses from Pacific Island countries, it also aroused some discussions, suspicion and even disinformation. Media reports that China plans to sign a regional security agreement with Pacific Island countries have been dismissed by China as fake news.
When meeting with reporters in Papua New Guinea on Friday, Wang said that China has come to the South Pacific region to build roads and bridges and improve people's lives, not to deploy troops or establish military bases.
China is willing to work with Pacific Island countries to expand consensus on regional cooperation, not to sign any regional security agreement, Wang said.
David Goodman, director of the China Studies Centre at the University of Sydney, said he did not see the trip as a "prelude" to China's building military bases in the Pacific.
"China does not want confrontation and is genuine in wanting to help Pacific Island states develop," he said.
Jane Golley of the Crawford School of Public Policy at Australian National University in Canberra, suggested looking at the positive benefits that China's engagement with the Pacific can bring "rather than focusing on a one-sided narrative which only increases geopolitical tensions".
"There could be environmental, economic and even security benefits to be gained by engaging with the world's second-largest economy," she said.
Hans Hendrischke, professor of Chinese business and management at the University of Sydney, said the "exclusive geostrategic focus on China's motivation for intensifying its relations with the Pacific is one-sided and overlooks the long-term economic motivations".
He said China is already the largest trading partner of a number of Pacific nations, and the Belt and Road Initiative provides the necessary infrastructure to serve as a development model.
Jason Young, director of the New Zealand Contemporary China Research Centre at Victoria University of Wellington, said Wang's tour demonstrates that China is making a "big effort to do a number of different types of agreements and to strengthen its relations with Pacific Island countries".