Man dedicates self to greening Gobi Desert
By YUAN HUI in Hohhot and LI HONGYANG in Beijing | CHINA DAILY | Updated: 2022-06-07 10:03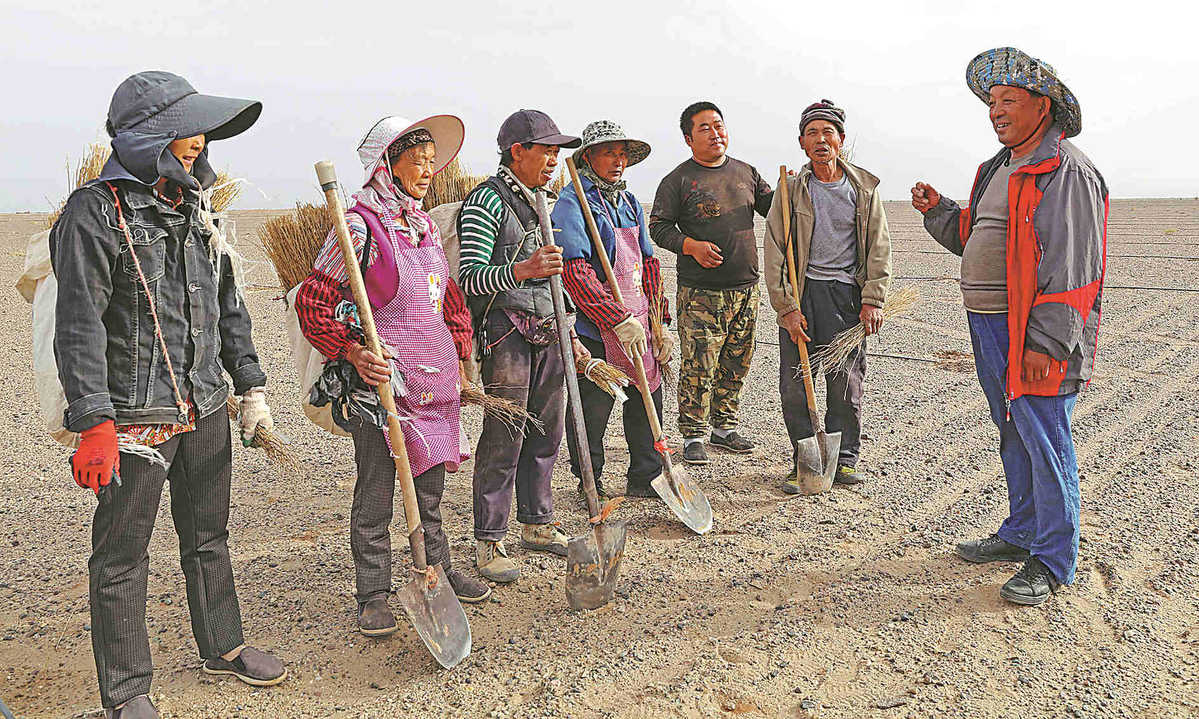 Most men in their 50s enjoy nothing more than a bit of peace and quiet. Not so for one farmer from Beijing who instead chose to plant trees in the Gobi Desert.
Wang Jiangang, 59, has lived in the desert in the Inner Mongolia autonomous region for nearly seven years. He said he has everything that a man could want-an apartment, a car, a successful career and a happy family.
"I've always wanted to achieve something bigger, that's why I decided to build greenbelts in the desert.
Planting trees in the desert prevents desertification-the process of sand blowing over fertile land and spreading the desert further, making it unsuitable for agriculture.
"At the beginning, I was just 50 so I supposed that I could work for 10 more years and plant 6,667 hectares of forest. Human life is short but trees can live for up to thousands of years, benefiting generations," he said.
In 2013, Wang started looking online for desert areas suitable for afforestation. He narrowed it down to Inner Mongolia because the other candidate, the Xinjiang Uygur autonomous region, is farther from his home in Beijing.
He chose Ejine Banner because "it is too desolate for trees to grow on their own and a real challenge".
In June 2015, Wang went to Ejine with some partners to conduct a survey. The surface temperature during the day was between 60 and 70 C.There was nothing, no road, no grass, he recalled.
The banner crosses into part of the Gobi Desert, which means waterless and rocky in Mongolian. The desert spans China and Mongolia.
"On the day we arrived, a sandstorm caught us. The dark yellow sand blurred the sky. We hid in our cars that were slammed hard by sand and stones," he recalled.
"The more desolate it is, the more attractive and challenging it is to me."
Three months later, Wang signed contracts with local farmers and herdsmen under the supervision of the local government. He didn't pay rent on the land but instead planted trees and desert ginseng, a herbal plant, and paid 10 percent of the income generated from selling desert ginseng for the first 10 years. After that, the profit sharing will increase to 15 or 20 percent.
Wang selected suosuo, a drought and salinity-resistant tree, as the major plant he'd use in the desert. A single tree can grow to 2 meters in height and can fix 10 square meters of sand and prevent it from being disturbed by the wind.
The harsh desert landscape presented Wang with quite some difficulties.
Sandstorms were so heavy that he couldn't set up tents, so he and his team dug a ditch to sleep in.
"In the past few years, we never took off our clothes while sleeping because the wind would blow sand into the ditch. Mice ran around. Also, we didn't have enough water.
"The equipment to dig tree pits broke down often due to sandstorms and we'd have to drive to the nearest county, about 200 kilometers away, to buy parts," Wang said.
So far, Wang's team of about 100 workers has planted 20,666 hectares of suosuo in the desert.
Since 2015, he has invested more than 100 million yuan ($15 million).The money came from his savings accrued from rental properties in Beijing, his restaurant's income and compensation from the government for allowing some of his properties in the capital to be demolished to make way for new developments.
"Since I came to Ejine, I feel happy every day and have a great sense of accomplishment. The first group of trees has grown 2 meters high. In autumn, tens of thousands of birds fly to eat tree seeds. Although we have been through hardships, the meaning of it is very powerful," he said.