At 55, man still fights for college dream
By Yan Maoqiang and Ma Chi | chinadaily.com.cn | Updated: 2022-06-08 10:41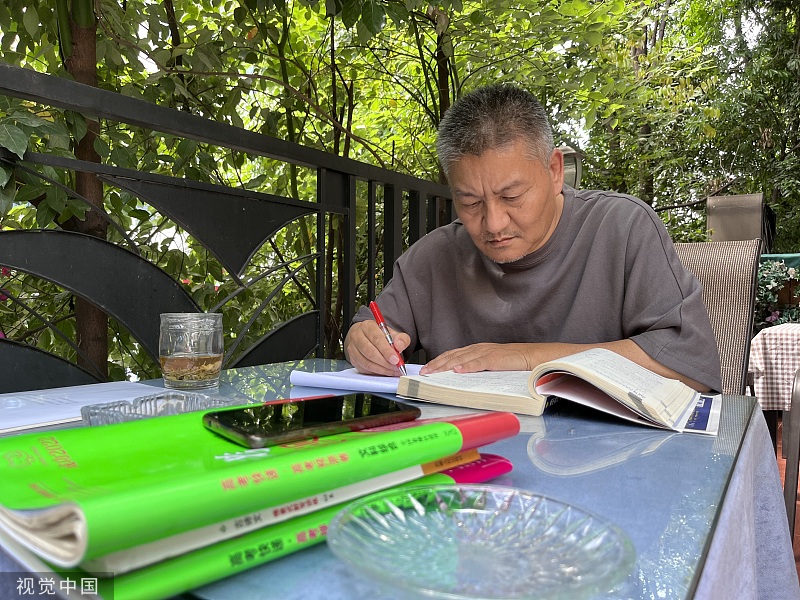 For Chinese students, gaokao, or the national college entrance examination, means a once-in-a-life opportunity to change their fate and a path to a successful career and life. But for Liang Shi, a 55-year-old man who sat the exam for the 26th time this year, gaokao is more like a passion that never fades.
"In the era when I was a school student, every time I heard someone was admitted to university, I felt like a current of electricity run through my scalp," Liang recalled of the admiration and awe he felt toward gaokao winners in the 1980s, when only a small proportion of candidates could pass through the test and college graduates were regarded as the elites of the society.
Liang, who was a native of Meishan, Southwest China's Sichuan province, first took the gaokao in 1983 when he was 16. But his score was not good enough for him to be accepted by any college. In the subsequent two years, he also failed the exam.
In 1986, he enrolled in a technical school, but he soon dropped out, believing he deserved to go to a university. In the following several years, he worked part-time while preparing for the exam.
In 1991, Liang became a full-time worker of a timber company and he married in the same year. Just as his family thought he would begin to settle down and start a life like most people, Liang defied their expectations and continued to apply for the gaokao.
That year, Liang was 24. Due to the age limit of gaokao, it was his last chance to sit the test, but he failed once again.
He tried his hands in various enterprises in the following years and started selling building materials in 1995 from which he made a good fortune.
Despite his success in business, his zeal for higher education stuck with him.
In 2001, China canceled the age limit on gaokao candidates (25 years old), and Liang's college dream was reignited.
Since then, Liang has been taking part in the exam every year except for a few years when he was too busy to sit for the exam.
Liang once scored marks good enough to be enrolled by a university, but he gave up the opportunities offered because he aimed higher: he wanted to study at the prestigious Sichuan University.
This year, Liang has taken the national college entrance exam for the 26th time. This time, Liang took the test as a liberal arts student instead of a science student, believing that would help him perform better.
Some netizens questioned his motivations and believed Liang is taking the exam only to grab fame. But Liang has dismissed the distractions and focused on reaching his goal.
"Though I am more than 50 years old now, I still feel like I am a middle school student," he said. "I am confident that this year I will achieve a good result."