Ganyu LNG terminal in Jiangsu eyes 2026 start
By ZHENG XIN | CHINA DAILY | Updated: 2022-06-11 09:37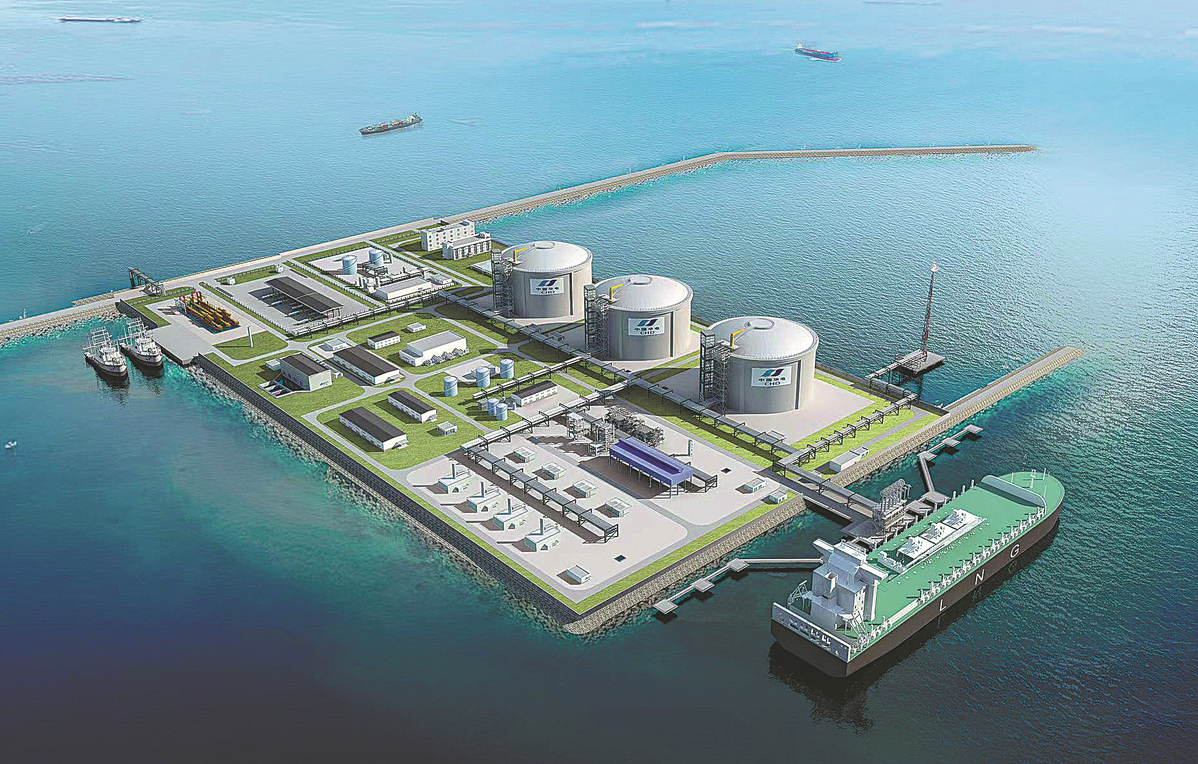 The illustration of the Ganyu liquefied natural gas terminal in Lianyungang, Jiangsu province. CHINA DAILY
The Ganyu liquefied natural gas terminal in Jiangsu province is expected to start operations by 2026 with a maximum annual production capacity of 6 million metric tons, according to China Huadian Corp, whose subsidiary is a co-owner of the project.
Entailing a total investment of around 6.4 billion yuan ($956.8 million), the project was recently approved by the National Development and Reform Commission. Besides the terminal, the project will include a receiving station and an export pipeline, construction for which will start during the second half this year, it said.
The project is jointly owned by China Huadian Jiangsu Energy Co Ltd, Lianyungang Port Group Ltd, Prism Energy International Pte Ltd, JERA Power International and BP. It will ensure sufficient energy supply while ensuring China's transition to green energy.
Huadian said the project will be a major part of the country's natural gas production, supply and storage system. It will be Jiangsu province's major LNG terminal base. The project will further ensure the gas supply in not only Jiangsu province but also the Yangtze River Delta region.
According to BP Energy Outlook 2022, growing trade in LNG plays a central role in increasing emerging Asian economies' access to natural gas, helping support economic growth and facilitating their shift to lower-carbon fuels.
According to the outlook, Asian countries, including China and India, are witnessing increasing consumption of natural gas as they shift away from coal. LNG imports are the main incremental source of this increased use of gas, and will account for 70 percent to 75 percent of the increased gas consumption in emerging Asian economies till 2030.
The Economics & Technology Research Institute, which operates under the aegis of China National Petroleum Corp, a State-owned oil and gas company, said earlier that China signed a record number of term contracts for 22.7 million tons of LNG in 2021, up 516 percent year-on-year, with some contracts starting delivery this year, which will boost LNG imports in coming years.
The current installed capacity of natural gas power generation of Jiangsu exceeds 13 gigawatts, making it China's second-largest province in gas power generation after Guangdong. The Ganyu LNG terminal will play a key role in the province's economic development, said an analyst.