Pharmas lauded for aiding global pandemic fight
Share - WeChat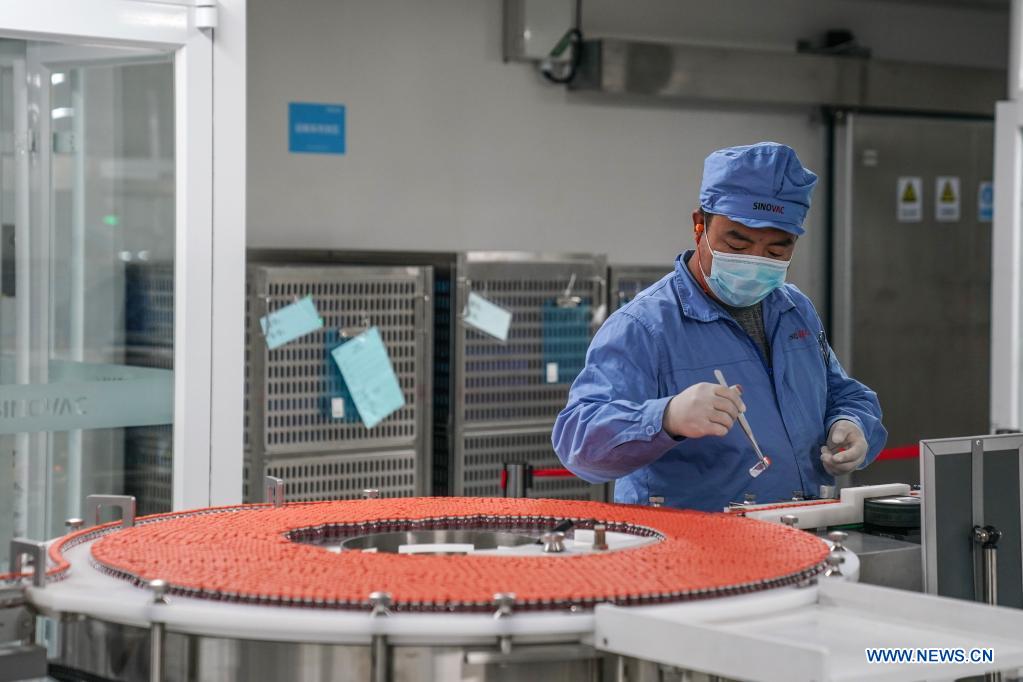 Great progress
Liu Yong, founder and chairman of Jiangsu Recbio Technology, said, "The research and development (R&D), production and commercialization of the Chinese pharmaceutical industry have made remarkable progress in recent years thanks to a supportive regulatory environment.
"Policy measures that attract high-end overseas talent, or enable high-tech enterprises to expand financing, have also provided strong support for domestic pharmaceutical enterprises to grow."
Data from the China International Development Cooperation Agency show that the nation has provided more than 2 billion doses of COVID-19 vaccines to a total of 120 countries and international organizations. China has also transferred vaccine manufacturing technologies to more than 20 nations, resulting in an overseas annual vaccine production capacity of 1 billion doses.
Sinovac Biotech, which has been granted access licenses by more than 60 countries, international organizations and regions in total for its COVID-19 vaccine CoronaVac, has supplied more than 2.8 billion doses of it worldwide.
The company also plans to establish vaccine factories in at least 10 countries, including Egypt, South Africa, Chile and Indonesia, to strengthen international cooperation.
It is helping Egypt build a fully automated cold storage facility to accommodate 150 million doses of vaccines.
On completion, the facility will be the largest vaccine storage center in Africa, greatly improving cold chain storage on that continent.
Sinovac Biotech helped with construction of the BRICS Vaccine Research and Development Center's branch in China and is also cooperating with universities, research institutions and industries in BRICS nations (Brazil, Russia, India, China and South Africa) and other countries.
Gao Qiang, the company's chief operating officer, said, "In order to play a better role in the global pharmaceutical industry, Chinese enterprises must advance innovation-driven development and strengthen global cooperation."
Sinopharm Group, a State-owned pharmaceutical company that produces nearly 100 vaccine products and more than 200 bio-products, spent more than 20 billion yuan ($3 billion) on scientific research during the 13th Five-Year Plan period (2016-20).
The company, which is increasing investment for the R&D, is the only one worldwide to independently develop not only vaccines, but also test kits and treatments for the disease. It has produced four COVID-19 test kits, four antivirus therapies, and four titles for vaccines or potential vaccines.
In total, more than 119 countries, regions and international organizations have approved the use of COVID-19 vaccines made by Sinopharm's subsidiary CNBG, which has produced more than 3 billion doses of such vaccines at home and overseas.
Sinopharm chairman Liu Jingzhen said, "Having been approved for use in a large number of countries and regions, our COVID-19 vaccines are the most widely used in the world, and have the largest inoculation population, the best safety record and the most efficient production capacity.
"We are proud to have contributed to the global containment of the disease and to have increased the worldwide presence of pharmaceutical products developed in China."
Shi Lichen, founder of medical consulting company Beijing Dingchen Consultancy, also spoke highly of the contribution to global anti-pandemic efforts made by Chinese enterprises that manufacture medical devices, especially as the Omicron variant has increased demand for rapid and convenient tests.
"Thanks to their solid manufacturing capacity and impressive efficiency in organizing the development and production of these urgently needed products, Chinese producers have been making COVID-19 test kits on a large scale to meet demand at home and abroad," Shi said.