Asia-Pacific nations urged to respect China's rise
By YANG HAN in Hong Kong | CHINA DAILY | Updated: 2022-06-13 10:08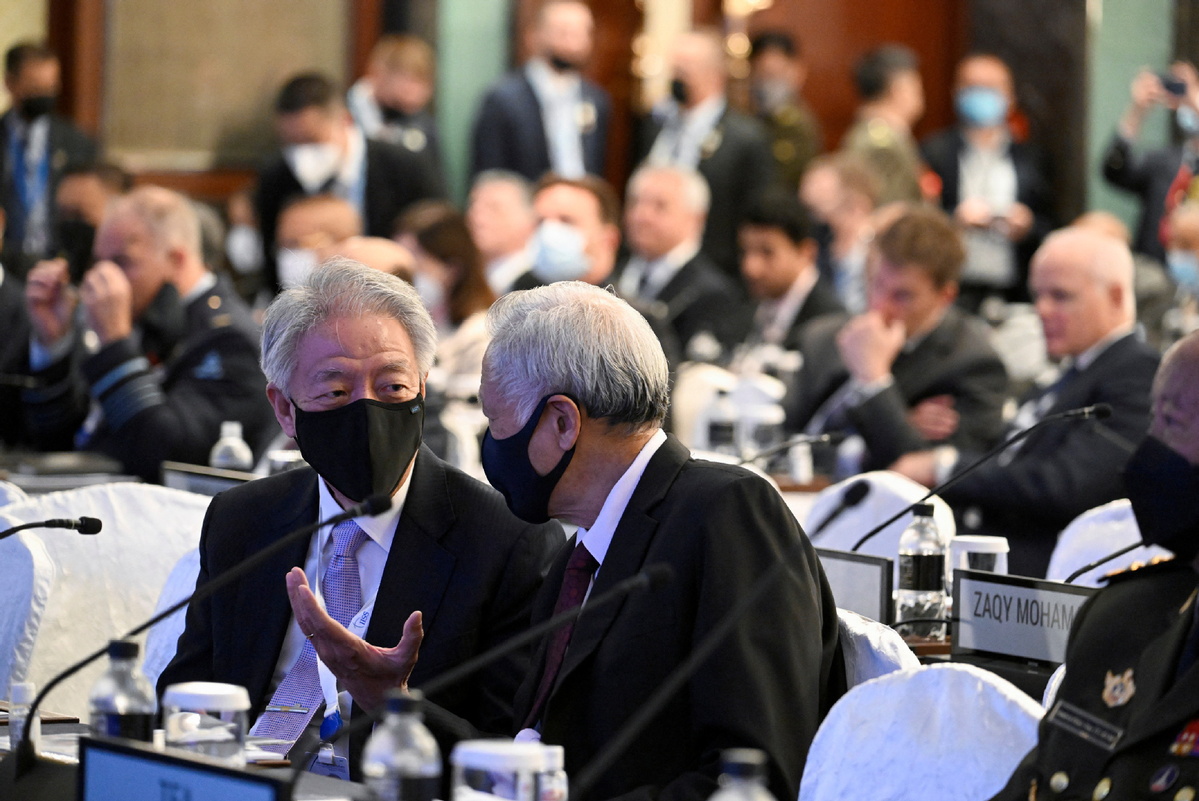 Leaders at Shangri-La Dialogue focus on climate change and capacity building
While the United States and its allies try to hype the so-called China threat in geopolitics, other countries in the Asia-Pacific are urging to show due respect for China's rightful development and cooperative action against climate change, the top existential threat of the region.
During the Shangri-La Dialogue held in Singapore from Friday to Sunday, participants from the region sought cooperation on a range of important issues. However, speakers from the US and its allies including the United Kingdom, Canada, Japan and even the Netherlands, as well as those in the audience who raised questions on their behalf, emphasized issues of tension related to China, apparently eager to prop up the US-led "Indo-Pacific" strategy.
"It's not an exaggeration that we now stand at a potentially dangerous point in our history," Ng Eng Hen, Singapore's defense minister, said on Sunday at the dialogue, citing risks such as expansions in defense spending and higher-pitch joint military exercises in the Asia-Pacific.
China is the top trading partner for almost all Asian countries, Ng said. "For Asia, the core issue is about the interdependency that is far more developed, productive and mutually beneficial than Russia and Europe."
He said that Asia has effective confidence-building mechanisms and operational guidelines for the military, and that the region can strengthen existing establishments and step up engagements within and with other extra-regional powers.
Asian neighbors have disputes, Indonesian Defense Minister Prabowo Subianto said on Saturday, but "we will strive to solve those differences in an amicable and in a mutually beneficial way", and that is the Asian way of resolving differences.
He said Indonesia values cooperation with all partners but "we must always consider and respect the national interest and the rightful interest of the People's Republic of China".
Addressing a plenary session on managing geopolitical competition in a multipolar region, Prabowo said China has been a leader in Asia for thousands of years and that the nation's rightful rise back to its position as a great civilization should be respected.
Inia Batikoto Seruiratu, Fiji's minister for defense, national security and policing, spoke on Sunday at a session on new ideas for securing regional stability. He said: "China is a key development partner. That is a known fact and that is accepted as well in the region."
Facing a series of questions on Fiji's cooperation with China, he responded that the Pacific Islands region respects what China has done in terms of its cooperation. Noting the creation of fear about the region through disinformation and misinformation, he said. "We all have the sovereign right to make our own decisions."
At the same time, "we also see benefits from all these relationships that we have, including China," added Seruiratu, who cited a Christian oath on marriage to underline the need for trust between partners.
Richard Marles, the Australian deputy prime minister and minister for defense, also noted that China's economic success is connected to that of the region.
"Australia values a productive relationship with China. China is not going anywhere. … We will be steady and consistent, looking for avenues of cooperation where they exist while recognizing China's growing power and the manner in which that is reshaping our region."
On questions regarding the Ream Naval Base that is being upgraded, Tea Banh, Cambodia's deputy prime minister and minister for national defense, said it is necessary for Cambodia to have a proper naval base to enhance its capabilities.
Cambodia has the right to seek assistance in order to build a base for its own use to protect its sovereignty, he said. Speculation that the project means giving exclusive use to China is not true because any ship from any country that needs emergency repair in the territorial sea is welcome to visit Cambodia's ports.
Ng from Singapore said his country's naval base also welcomes vessels from many countries in and outside the region.
Countering claims that Chinese naval forces are increasing tension in the Indian Ocean, Biswajit Dasgupta, flag officer commanding-in-chief of the Eastern Naval Command of the Indian Navy, said China's navy has expanded in the past few years, but "at the moment I really don't see that as a major challenge to the Indian Navy".
"I will not be surprised that, in case there is a requirement, the PLA Navy could send more ships into the Indian Ocean to safeguard (China's) trade in whatever manner they wish to," he said.
Delfin Lorenzana, Philippine secretary of national defense, said in response to questions about the South China Sea: "Since 2016 there has been stability in the region, and I'd like to keep it that way."
Mariya Ahmed Didi, minister of defense for the Maldives, said that in the security realm, people rarely speak of existential crisis. "For small, low-lying island states, climate change is an existential crisis," she said, noting that the cost of failure is unfathomable as it could "effectively erase a nation-state".
Though talk of the challenge is not new, "what may be new is our level of despair," she said.
Didi's anxiety was shared by Fijian minister Seruiratu, who emphasized that climate change is a pressing, current danger for people's lives, citing deaths and losses from extreme weather in recent years.
"We can only combat climate change together," said Peeni Henare, New Zealand's minister of defense. For the world, and for our children and grandchildren, he added.
Moreover, "cooperation against climate change should not come with political price tags," said Tobias Lindner, German minister of state in the Federal Foreign Office.