Buoyant A-share market ducks global downtrend
By SHI JING in Shanghai | CHINA DAILY | Updated: 2022-06-15 09:02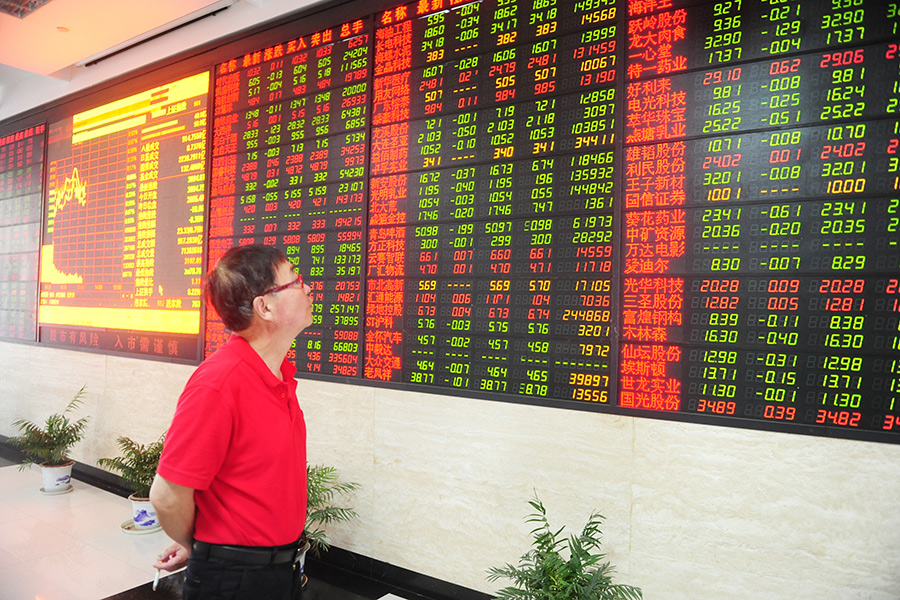 Although widespread headwinds roiled major global stock markets on Monday, China's A-share market ducked the downtrend on Tuesday with the benchmark Shanghai Composite Index and the Shenzhen Component Index climbing 1.02 percent and 0.2 percent, respectively.
The average 5.58 percent rise of securities firms, 4.17 percent increase of carmakers and 3.83 percent gain of oil companies, most of which are large-caps, led to an A-share market rebound late on Tuesday, pushing the total trading value at the Shanghai and Shenzhen exchanges beyond 1 trillion yuan ($148.8 billion).
This suggests domestic investors remain confident in the A-share market despite the headwinds in markets elsewhere.
Their buying offered a contrast to Monday's dismal US market scene where the S&P 500 plunged 3.88 percent to 3749.63 points, the lowest level since March 2021. Dow Jones dropped 2.79 percent while Nasdaq fell by 4.68 percent. Technically, there were unmistakable signs of heightened bear activity after Monday's fall, said industry insiders.
That meant foreign capital continued to chase China stocks, which are now perceived as decent assets for international investors during this time of global uncertainty.
Also, the A-share market received net inflows of about 6 billion yuan from the stock connect mechanisms that link Hong Kong to the Shenzhen and Shanghai bourses.
In the US, industry big names were not immune to the downtrend. Apple shares fell by 3.83 percent to a 12-month low of $131.88. Tesla plummeted 7.1 percent and Facebook's parent company Meta closed 6.44 percent lower.
The US market seemed to track the gloomy European stock market where Germany's DAX dropped 2.43 percent, the CAC40 in France slipped 2.67 percent and the UK's FTSE 100 closed 1.53 percent lower.
Experts from UBS Global Wealth Management wrote to their clients on Tuesday that the soaring inflation in the United States, which will lead the Federal Reserve to tighten its monetary policy, has impaired market sentiment and caused the Monday slide.
Data from the US Department of Labor on Friday showed that the country's consumer price index jumped 8.6 percent year-on-year in May, the biggest surge since December 1981. Wall Street experts thus expect the Fed to raise interest rates by 75 basis points by the end of this week.
The Chicago Board Options Exchange's Volatility Index or VIX, often called the "fear index", rose to 34 on Monday from 26 on Friday. Therefore, the US stock market may show higher volatility in the following days and investors should be prepared for that by shifting to value stocks, making defensive strategies or even looking for alternative investment opportunities, suggested UBS experts.
Tilmann Galler, JPMorgan Asset Management's global market strategist, considered Chinese equities "a good diversifier for the stock portfolio". While admitting that uncertainties may not be avoided in the Chinese market in the short run, Galler said the major disadvantages are mainly cyclical rather than structural. In this sense, the long-term growth drivers for China are still valid.
The price-to-earnings ratios in the A-share market are 20 percent below the long-term average, showing that a significant part of negative elements is already "priced into Chinese equities", he said.