Drought forecast spells misery in Horn of Africa
By EDITH MUTETHYA in Nairobi, Kenya | China Daily | Updated: 2022-06-15 09:27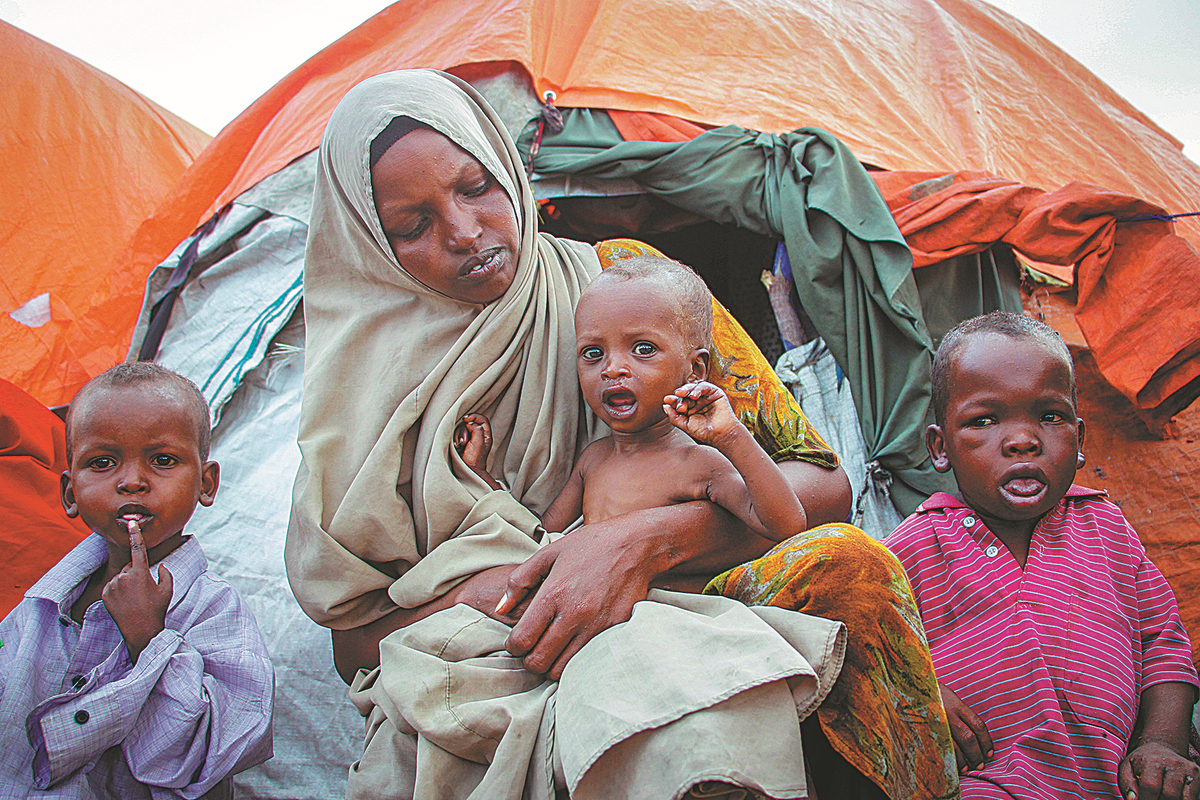 Hope of an imminent end to the devastating drought across Kenya, Somalia and Ethiopia has dwindled after experts have warned of a fifth-straight failed rainy season.
The Famine Early Warning Systems Network said in a statement on Monday that the upcoming rainy season in October, November and December is also likely to fail, threatening to make an already dire situation catastrophic.
The network said the current four-season drought, which has been compounded by the effects of ongoing conflicts, COVID-19, price spikes and desert locusts, could leave millions of people in the eastern Horn of Africa facing starvation.
At least 18.4 million people across the three countries are experiencing severe food insecurity, including more than 7.1 million children who are acutely malnourished, said the United Nations Office for the Coordination of Humanitarian Affairs.
The UN agency said 4.1 million Kenyans are facing crisis- or emergency-level food insecurity, up from 3.5 million a few months ago.
Malnutrition cases
In addition, cases of malnutrition are increasing at an alarming rate, with at least 942,000 children under the age of 5 and some 134,000 pregnant or lactating women in urgent need of treatment.
In the face of the worsening food shortages, humanitarian organizations have called for an urgent and immediate increase in funding.
The UN agency said that just over one-third of people targeted in Ethiopia have received food aid in the latest round of distributions, which began in October.
Global and regional meteorological groups have described this year's failed March-April-May rainy season in the region as unprecedented and likely to be the driest on record due to the combination of persistence, intensity, extent and heat.
"From a climatic perspective alone, this drought has been exceptionally intense," said Kiersten Johnson, team leader at the Famine Early Warning Systems Network.
Factoring in all of the other concurrent shocks, including regional conflicts and the rising global costs of food, fuel and fertilizer as a result of the conflict in Ukraine, the impacts are devastating, she added.
A joint statement last week from the Climate Prediction and Applications Center, Joint Research Centre of the European Commission, Food and Agriculture Organization, Famine Early Warning Systems Network, and the World Food Programme said a multiagency assessment had found that below-normal rains are likely in October, November and December.
The forecast relates to an east-west temperature gradient in the Indian Ocean and an east-west temperature gradient in the Pacific Ocean, associated with La Nina conditions. It said nearly 1.5 million livestock, particularly cattle and sheep, had died in Kenya between October 2021 and March this year.
In Somalia, over 3 million livestock have died since mid-2021, and livestock mortality rates are projected to reach at least 10 to 30 percent by September.