AMCs urged to better deal with risks
By JIANG XUEQING | CHINA DAILY | Updated: 2022-06-15 09:30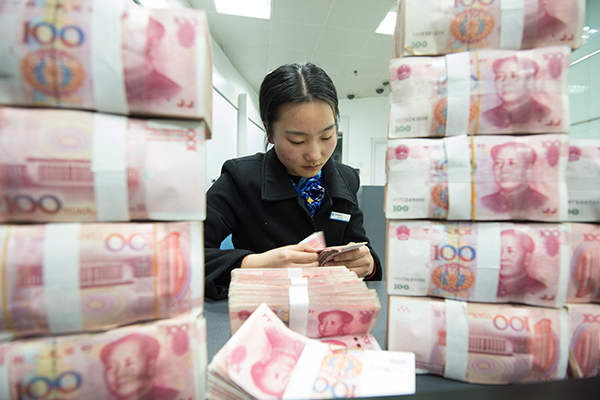 New guideline in place to step up NPA disposal at small, midsize institutions
China recently issued a guideline to encourage financial asset management companies to actively participate in the reform and risk mitigation of small and midsize financial institutions.
With asset managers accelerating actions to engage in nonperforming asset disposal and high-risk small and midsize bank bailouts, the banking sector will further speed up efforts to dispose of NPAs, experts said.
Abiding by market principles and the rule of law, AMCs should ramp up efforts to acquire, manage and dispose of NPAs at small and midsize financial institutions, as well as enhance the efficiency and benefits of NPA disposal, said the China Banking and Insurance Regulatory Commission in the guideline.
The regulator encouraged AMCs to actively participate in risk mitigation at small and midsize financial institutions via the adoption of an asset-light strategy, provide market-based evaluation and pricing, solution design and consulting services, and fulfill their responsibilities after they were entrusted by local governments and financial regulators with risk mitigation at these financial institutions.
China's banking sector has been accelerating steps of NPA disposal in recent years. It handled 3.13 trillion yuan ($464.71 billion) of NPAs last year, reaching a record high.
In the first quarter, banking institutions disposed of NPAs worth nearly 600 billion yuan, increasing almost 30 percent from the previous year. They wrote off nonperforming loans worth 204.1 billion yuan, up 18 percent year-on-year, the CBIRC said.
"Despite this, the banking sector is still facing fairly huge bad loan risks due to the rising complexity, severity and uncertainties of the real economy. Small and midsize banks in particular are under the pressure of a rebound in nonperforming loans, and the pressure cannot be ignored. Therefore, China should improve the efficacy of NPA disposal by further using various channels to dispose of NPAs," said Li Yelin, a researcher with the BOC Research Institute.
There were 128 city commercial banks across China by the end of the first quarter and 3,902 small and midsize rural commercial banks nationwide by the end of last year.
City commercial banks handled 1.8 trillion yuan in nonperforming loans from 2017 to 2021, 5.2 times the amount between 2011 and 2016. Some of them have accumulated fairly serious problems over the years and may have hidden dangers, CBIRC officials said.
As of May 20, the regulator had handled financial risks at 627 high-risk small and midsize rural commercial banks since 2018. During the same period, rural commercial lenders disposed of NPLs worth 2.6 trillion yuan, exceeding the total amount in the previous 10 years, officials said.
The country supported and encouraged local governments to promote the reform and restructuring of financial institutions under the jurisdiction of local governments and optimize the regional financial institution system.
The guideline also allowed financial institutions to transfer five types of risk assets, which were not included in the scope of NPA acquisitions previously, to asset management companies. The assets include debtors' projects that have entered bankruptcy proceedings, assets such as principal and interest that have been overdue for more than 90 days, and loans which are past due again after payments on loan principal and interest have already been deferred due to the impact of COVID-19.
Drawing on the experience of five State-owned national financial AMCs, this solution is conducive to improving their initiative to defuse risks at small and midsize banks, Li said.
"In addition, the guideline also encouraged banks to acquire debt and capital instruments issued by AMCs and lower the risk weight of banks' holdings of financial bonds issued by asset managers. This will significantly enhance AMCs' capabilities in NPA disposal and financial risk mitigation and form the ecosystem of mutually beneficial risk assets disposal," Li said.