Guizhou company has just right touch
By FAN FEIFEI in Beijing and YANG JUN in Guiyang | China Daily | Updated: 2022-06-16 09:59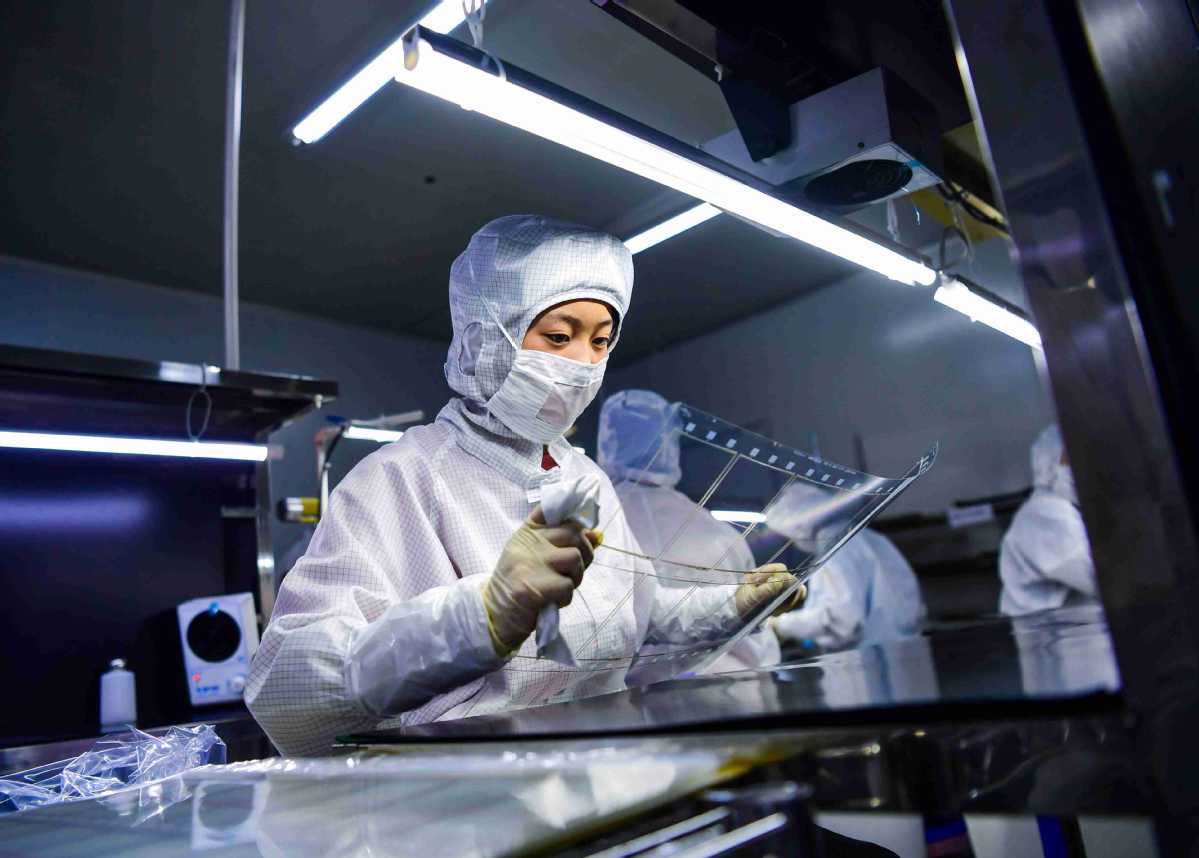 Guizhou Touchworks Optoelectronics Co Ltd, a leading Chinese touchscreen maker, is accelerating steps to expand its presence in upstream and downstream sectors of the industrial chain and introduce intelligent manufacturing equipment to enhance production efficiency.
The company mainly produces capacitive touchscreens of 1 inch (2.54 centimeters) to 100 inches. A capacitive screen is a touch-sensitive control display that uses the conductive touch of a human finger or a specialized device for input.
Chen Kabin, chairman of Guizhou Touchworks Optoelectronics, said the company has 12 intelligent production lines covering small, medium-sized and large electronic glass cover plates and touchscreens.
The company has the first large, seventh-generation, fully automatic capacitive touchscreen production line, with 30,000 touchscreen panels of 75 inches and larger manufactured each month.
It has three factories in Guizhou province, including four production lines at its plant in Huaxi district in Guiyang, capital of Guizhou, that began operating in early April. Annual revenue is expected to reach 600 million yuan ($89.3 million).
Founded in 2012, Guizhou Touchworks Optoelectronics is a primary supplier for electronic component manufacturers including Guangzhou Shiyuan Electronic Technology Company, Shenzhen, Guangdong province-based phone maker Transsion Holdings Ltd and home appliance giant TCL Technology Group Corp.
The company has signed partnership deals with Huawei Technologies Co, Hangzhou Hikvision Digital Technology Co, Haier Group, Hisense Group, US manufacturing company 3M and other renowned enterprises across the globe. Its products have been widely used in smart wearable products, mobile phones, tablets and vehicle-mounted devices as well as in the fields of finance, healthcare and education.
The company has become the world's largest capacitive touchscreen provider. "About 30 percent of our products are sold in South Korea, Germany and the US. We plan to establish offices in Europe, the US and Japan," Chen said.
In January, Chinese officials issued a guideline to support Guizhou in breaking new ground in the country's pursuit of rapid development of its western regions. The guideline, released by the State Council, China's Cabinet, clarified Guizhou's strategic role as a demonstration area for comprehensive reform in the development of western China.
The guideline underscored the importance of promoting the construction of an inland open economy pilot zone while strengthening regional cooperation.
It highlighted the importance of a modern industrial system led by the digital economy, urging efforts to enhance scientific and technological innovation and the upgrading of traditional industries.
Chen said the company is taking advantage of its strengths in automated manufacturing and leveraging the industrial internet to upgrade its production lines covering mobile phone touchscreens and mid-sized and large touchscreens.
"We will also continuously optimize production processes and introduce intelligent manufacturing equipment and big data management platforms in order to improve production efficiency, reduce operational costs and enhance our competitiveness," Chen said, adding that the company hopes to bolster the transformation and upgrading of the province's big data and electronic information industry.
The global market for touchscreen displays has gained significant momentum over the past few years, according to Transparency Market Research, a market intelligence company. That has happened thanks to technological advancements and the subsequent shift of consumers toward the newest technology, the research company said.
Revenue generated by the global touchscreen display market is projected to reach $121.1 billion by the end of 2027, with a compound annual growth rate of 8.9 percent between 2019 and 2027.
About 80 percent of touchscreens are used in consumer electronics devices, such as smartphones and tablets, said Shenzhen-based Qianzhan Industry Research Institute, adding that the shipments of touchscreens in China are forecast to reach 1.8 billion units in 2027, with sales revenues surpassing 210 billion yuan.
Liang Zhenpeng, an independent consumer electronics analyst, is upbeat about the prospects of the country's touchscreen industry. It is expected to see substantial growth in the next few years, driven by the popularity of portable electronic devices and smart wearable products, Liang said.
Touchscreens have many uses, including education, conferencing, training, healthcare and automotive companies.