Young engineer pilots path toward new national achievement
By YANG CHENG in Tianjin | China Daily | Updated: 2022-06-16 10:17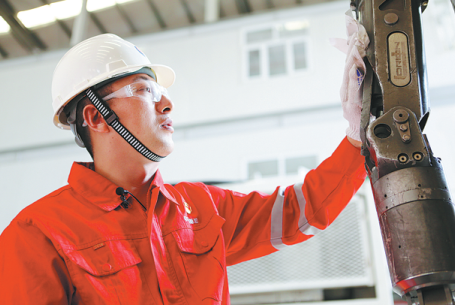 Remotely operating a vehicle belonging to China's leading offshore oil company, Han Chao used both hands to quickly move the submersible, eyes glued to all nine display screens.
"Thanks to swift operation, we were able to succeed within 90 seconds," he said as the risky, critical moment was broadcast live on national television in early May.
With both success and failure decided in a matter of seconds, these kinds of deep-sea operations are equivalent to millions of yuan of national investment, one nameless industry insider noted.
The 36-year-old Han was piloting China's recently launched offshore oil engineering project - Haiji-1, Asia's first 300-meter deep-water jacket - which was designed and built by Offshore Oil Engineering in Tianjin, part of China National Offshore Oil Corp.
The project, which marks a breakthrough in the design, construction and installation of ultra-large offshore oil and gas platform jackets in China, successfully installed the main body of the platform in the South China Sea in late April, and Han is now devoted to continuing the work. As one of China's first remotely operated vehicle (ROV) pilots, Han contributed greatly to the project's success.
Before Haiji-1, Han hit national headlines last year for leading ROV engineering on the Shenhai-1 project, a large, ultra deepwater gas field. It was the first time China conducted deepwater oil exploration between 300 and 1,500 meters.
In another first, the team was composed of all-Chinese operators, ending the country's previous dependence on foreign specialists.
Han graduated from the Shandong Vocational College of Industry and joined the Offshore Oil Engineering branch in Tianjin in 2007. Training to become an ROV pilot was not without its difficulties, and leading an ROV project was not easy for an engineer fresh out of college.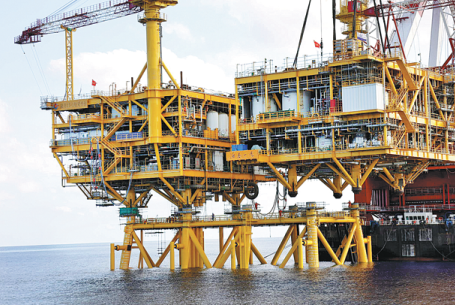 His first job was located in the deep waters off Shenzhen, Guangdong province.
During the operation, Han was forbidden from entering the control room, which was being run by foreign specialists who did not answer his questions.
Han didn't give up and dreamed one day of leading Chinese engineers in this kind of project.
He attempted to master ROV piloting in five years, a process that generally takes an average of eight years of experience and practice.
At the age of 31, he got his ROV superintendent certificate, issued by an associate member of the International Marine Contractors Association's ROV & Offshore survey divisions. He became the first ROV superintendent in China and the youngest in the world.
By studying tirelessly in his spare time, Han eventually completed his degree at the University of South China in 2016.
The foreign specialists he worked with were impressed by his persistence and daily diligence. "When they examined the devices, I would stand to one side watching and asking them questions while passing them tools. When I was off duty, I would use a mouse and a pen as controllers to simulate what I'd seen, and when they were out of coffee, I would get them refills," Han said.
According to CNOOC, Han devised a new pipeline connection procedure that saves several hours and tens of millions of yuan.
The job often requires Han to spend months offshore. When he is off duty, he plays video games with his peers.
However, the way he plays is different. Believing the game could improve team collaboration, he said that playing it was similar to ROV.
"In a sense, we were practicing while playing," he said.
Han hopes to help professionalize the ROV industry in China.
To this end, he has conducted extensive market research to clarify the development of equipment localization, as well as joint research with domestic manufacturers to carry out application tests for several domestically-produced components.
As one of the first ROV pilots in China, Han hopes the job will become a profession and attract more talented young people to create a world-class team of fellow pilots.