HKSAR braving elements and doing well all the way
By Andrew K P Leung | China Daily Asia | Updated: 2022-06-20 08:49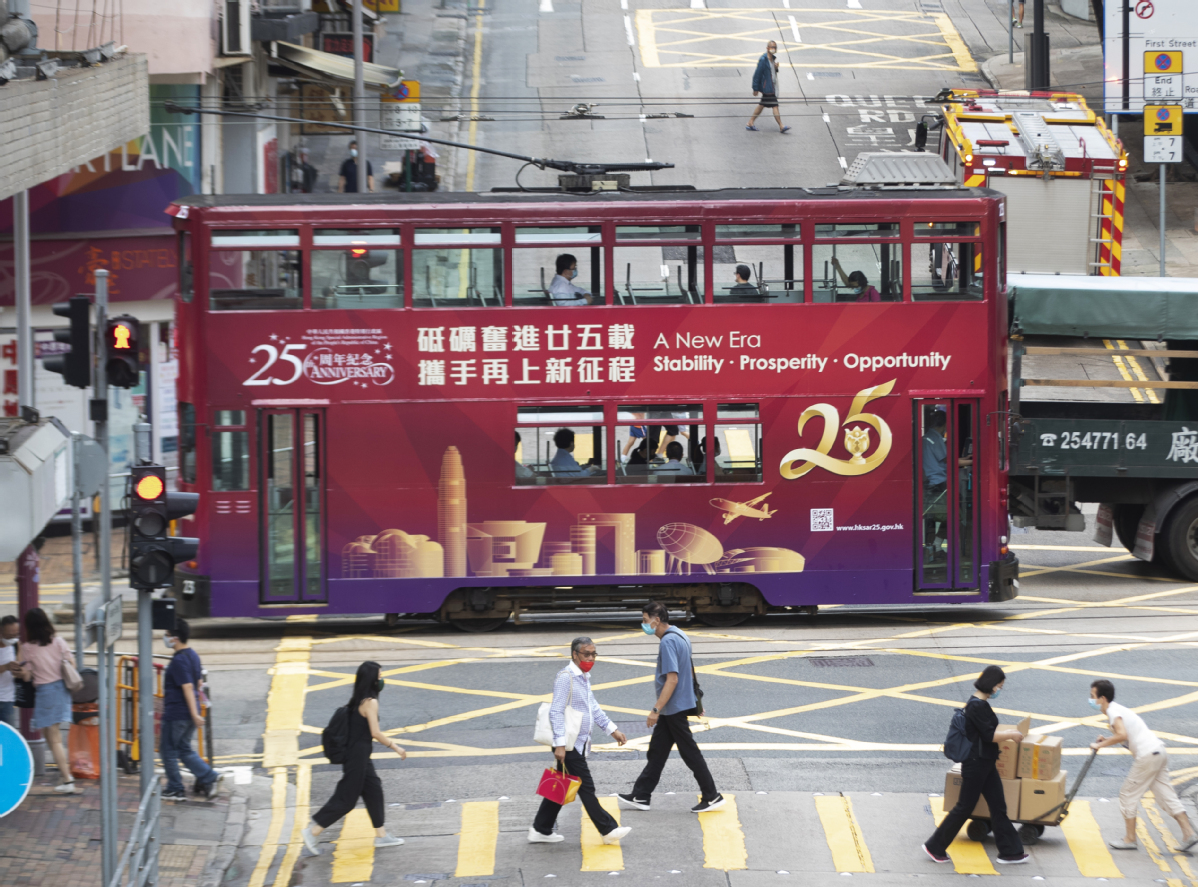 The 25th anniversary of Hong Kong's return to China is being celebrated with much fanfare and cautious jubilation. Standing in stark contrast in some foreign quarters, however, is a sense of foreboding or outright assertion of "one country, two systems" demise after the introduction of the National Security Law for Hong Kong in June 2020 and the revamp of Hong Kong's electoral system in March 2021.
As an invited contributor to The Rise of China: Fresh Insights and Observations, a collection of essays published by the United Kingdom's Paddy Ashdown Forum in October 2021, after delving into the whys and wherefores of Hong Kong's recent fiery breakdown of law and order, my chapter, One Country Two Systems Revisited, concluded that the report of Hong Kong's death seems greatly exaggerated.
The cornerstone of "one country, two systems" is Hong Kong's common law system, dating back to the 15th century. This is enshrined by Article 8 of the Basic Law, China's national law on "one country, two systems". Hong Kong's judicial independence is constitutionally guaranteed by Articles 2, 19 and 85, which expressly provide for an independent judiciary, including final adjudication, free from any interference.
Over the years, Hong Kong's legal and judicial systems have been fortified and enriched by much foreign talent and expertise. To date, in Hong Kong's highest court, the Court of Final Appeal, eight out of the 10 remaining overseas judges have agreed to stay on.
In its 2021 World Competitiveness Ranking, Switzerland's Institute for Management Development ranked Hong Kong eighth place globally on fair administration of justice, ahead of Britain at 15th place, and the United States, ranked 23rd.
The same institute ranks Hong Kong seventh on world competitiveness, with top rankings in "business legislation", "international trade", "tax policy", "finance", and "management practices".
According to Hong Kong's American Chamber of Commerce business sentiment survey report of Jan 19, 2022, pandemic and political concerns notwithstanding, businesses remain optimistic about Hong Kong's business outlook, with plans to expand in investments for the next 24 months. Hong Kong is seen by the majority to be competitive as a global hub. Only 5 percent of global/regional headquarters have definite plans to move their headquarters out of Hong Kong.
As a unique bridge between East and West, "one country, two systems" is becoming even more important to China, with a quickening trajectory to realize the Chinese Dream of national renaissance. Recent emigration waves notwithstanding, let's not forget the example of some 300,000 Hong Kong residents with Canadian passports eventually returning to live in Hong Kong after the 1997 handover.
Nevertheless, turbulent storm clouds are gathering. President Xi Jinping has alluded multiple times to an era of unprecedented challenges and opportunities calling for the nation, including Hong Kong, to brave the elements.
At the 18th National Congress of the Communist Party of China, President Xi referred to the three existential traps that China faces — the "Tacitus Trap", the "Thucydides Trap" of superpower rivalry, and the "Middle Income Trap" before becoming a moderately well-off nation. In 2017, Harvard Professor Joseph Nye added a fourth — "The Kindleberger Trap" of lacking capacity for global governance.
Cooperative relations with United States have now totally evaporated. The US is cajoling allies and ambivalent nations across the globe to confront, contain, and retard China's rapid rise, using all measures short of war. These include squeezing China's technology bottlenecks like high-end semiconductor chips, indiscriminate tariffs, delisting of Chinese enterprises, and ideological blowback, including sanctions, on the Xinjiang Uygur and Tibet autonomous regions, Taiwan, and Hong Kong. A US-led persistent campaign to demonize China has inflicted damage on China's global image.
Recently, the Russia-Ukraine conflict has been used as a proxy to tar China as a "silent accomplice", rallying Western allies to pressure China into dancing to the American tune. Meanwhile, the resultant chaos in the energy and food supply are fueling global inflation, triggering a possible world recession, rattling many of China's trading partners, though, to a lesser extent, China itself.
Meanwhile, US President Joe Biden, with an eye on the autumn midterm elections, is creating an Indo-Pacific Economic Framework (IPEF), rallying nations in the region into a US-led anti-China coalition, reminiscent of an "Asian NATO". Absent substantial economic benefits, the ambivalence of many participants was revealing. His recent Summit of the Americas to round up support in America's backyard turned out to become a lackluster embarrassment.
All these are happening as China is trying to transform itself with technology self-reliance, "dual circulation", innovative productivity to overcome aging demographics, and "common prosperity" to ease tensions of acute inequality.
On the brighter side, unprecedented opportunities are beckoning. In more or less a decade, China's nominal GDP is set to exceed the United States' to become the world's largest economy. China's military capacity is advancing by leaps and bounds, challenging American dominance in the South China Sea. In space technology, China is on track to complete building its own space station, while the existing US-led "International Space Station" (which has excluded China from the start) is near the end of its useful life. China is also leading in many game-changing dimensions of 5G, big data, and the internet of things, technologies set to change how businesses and lives are conducted in a "Fourth Industrial Revolution" of the 21st century.
Meanwhile, China has firmly embedded itself at the heart of the global supply and value chain. This centrality does not appear to budge by US across-the-board decoupling as 130 nations have China as the largest trading partner, compared with 57 for the United States. Decoupling notwithstanding, China's international trade in 2021 expanded by 25 percent, including trade with US up by 20 percent (Center for China and Globalization data).
When the Ukraine war eventually ends one way or another, an ostracized Russia and a devastated Ukraine are likely to turbocharge trade with and investments from China, offering many opportunities for a more-enlightened Belt and Road Initiative connecting Europe.
In terms of green energy capacity, China is already leading the world in solar, hydro and wind renewables, along with breakthroughs in nuclear fusion technologies. The nation seems on track to realize its pledge for carbon neutrality by 2060.
One way or another, Hong Kong will be impacted, for better or for worse. Much, however, remains to be tackled within Hong Kong itself.
Twenty-five years after the reunification has seen the loss of a whole generation of Hong Kong youths in patriotism and even Chinese nationhood. Deep-seated socioeconomic contradictions are coming to the fore, including housing, inequality, lack of economic diversity, insufficient upward mobility, and aging demographics. The National Security Law for Hong Kong notwithstanding, remnants of subversive elements, including hostile foreign influence, remain lurking in the corner.
Under "one country, two systems", Hong Kong has had no lack of policies. What the city needs now are concrete results.
That's why it's opportune for Hong Kong to have John Lee Ka-chiu soon as the chief executive. He is rising to the challenge by forming a results-oriented administration. Policy secretaries and their heads of departments may be held accountable for delivery of respective key performance indicators.
Hong Kong should redouble on its role as an international financial center par excellence for renminbi internationalization, including RMB-bond issuance, RMB bilateral trade settlements, RMB-based wealth management services, and the development of China's digital sovereign currency — the e-RMB — which may help to counter dollar weaponization.
Hong Kong should partner with Shenzhen as the Guangdong-Hong Kong-Macao Greater Bay Area's center for innovation and technology, capitalizing on Hong Kong's world-class universities and common-law-based rule of law under "one country, two systems".
Hong Kong should also make the most of its world-class West Kowloon Cultural District to become an Asian cultural paradise, partnering with the world's best cultural metropolises as well as those on the Chinese mainland.
Lifting Hong Kong up as the world's best place for East and West to meet and do business would rally more people behind the government. Above all, it would boost Beijing's confidence in renewing "one country, two systems" well beyond 2047.
The author is an international and independent China strategist; he was previously the director-general of social welfare and Hong Kong's official chief representative for the United Kingdom, Eastern Europe, Russia, Norway and Switzerland.
The views do not necessarily reflect those of China Daily.