Rail strikes 'start of wider industrial unrest' amid cost crisis
By JULIAN SHEA in London | China Daily Global | Updated: 2022-06-20 10:39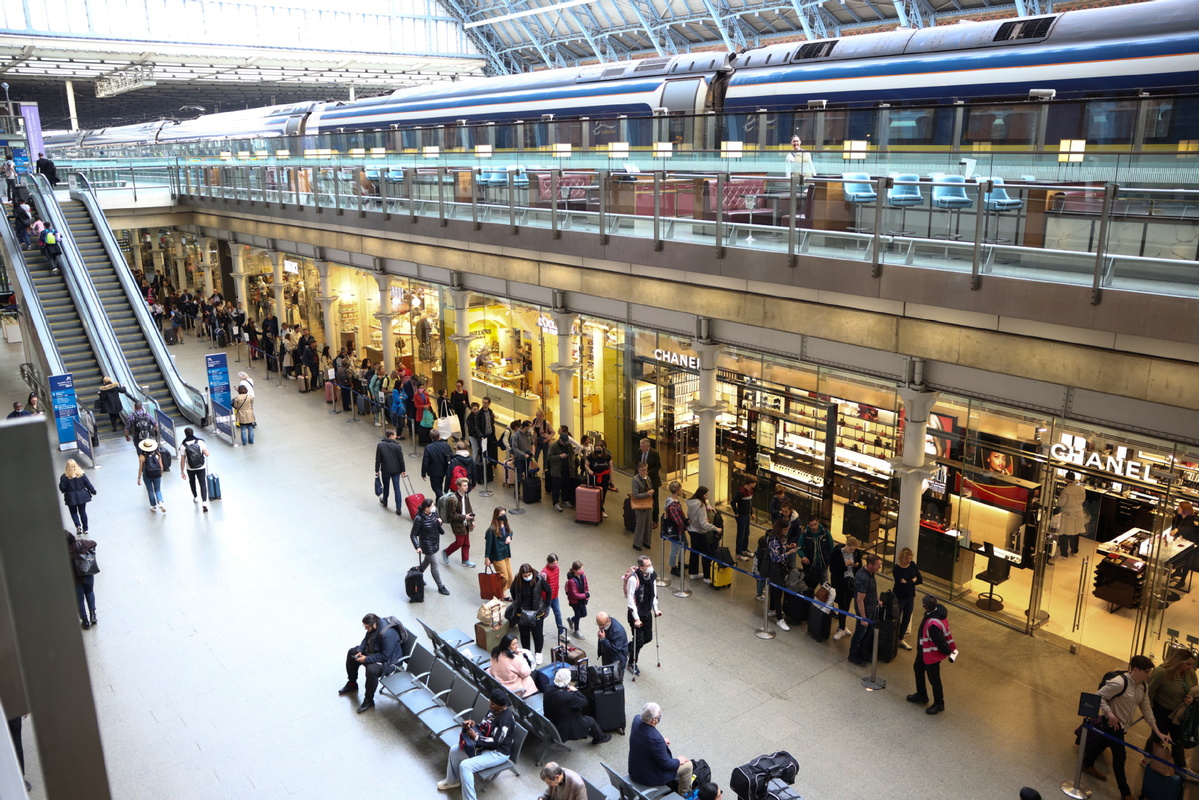 The general secretary of the union representing railway workers has warned that the United Kingdom could face a summer of strike action across the board because of people being pushed to breaking point by the cost of living crisis.
This week, members of Mick Lynch's National Union of Rail, Maritime and Transport Workers, known as the RMT, will stage three days of nationwide walkouts, which are expected to cripple the transport network for six days, in a dispute over jobs and pay.
Speaking on Sky News, Lynch said that he could see the mood of industrial anger spreading wider.
"I think there are going to be many unions balloting across the country, because people can't take it anymore," he said. "We have got people who doing full-time jobs who are having to take state benefits and use food banks. That is a national disgrace."
Rail passenger figures collapsed during the darkest days of the novel coronavirus pandemic, and the sector had to rely on significant government funding to keep going.
There are now plans to recoup some of that lost revenue through restructuring, which unions oppose, which has led to a situation where the country faces its biggest industrial action on the railways in more than three decades.
Lynch said his workers did not want to cause disruption to so many people's lives, but with inflation on course to hit 11 percent later in the year, the union had a duty to fight the corner of its members.
"If we don't play our hand, thousands of my members will lose their jobs, railway services will be cut back, the safety regime that has been in place for a good deal of time will be cut back," he said. "We have to fight for this."
Transport Secretary Grant Shapps hit back at his claims, saying the unions were "gunning for this strike action" that he said would be "disastrous".
The unions have repeatedly called for the government to intervene, but Shapps called this a "stunt ...even though this last month they told me they wouldn't be seen dead negotiating with the government".
"The trade unions know that only the trade union and the employer can settle this," he added. "I will not cut across that. I will not undermine the employer's works."
Keir Starmer, leader of the opposition Labour Party, accused the government of wanting the strikes as an opportunity to sow division and score political points.
"They want the country to grind to a halt so they can feed off the division. Instead of spending their time this week around the negotiating table, they are designing attack ads," he said in a speech to the Labour Local Government Association.
"Instead of grown-up conversations to take the heat out of the situation, they are pouring petrol on the fire. Instead of bringing people together in the national interest, they are stoking division in their political interest."