US pilot shortage strands many
By HENG WEILI in New York | chinadaily.com.cn | Updated: 2022-06-21 09:52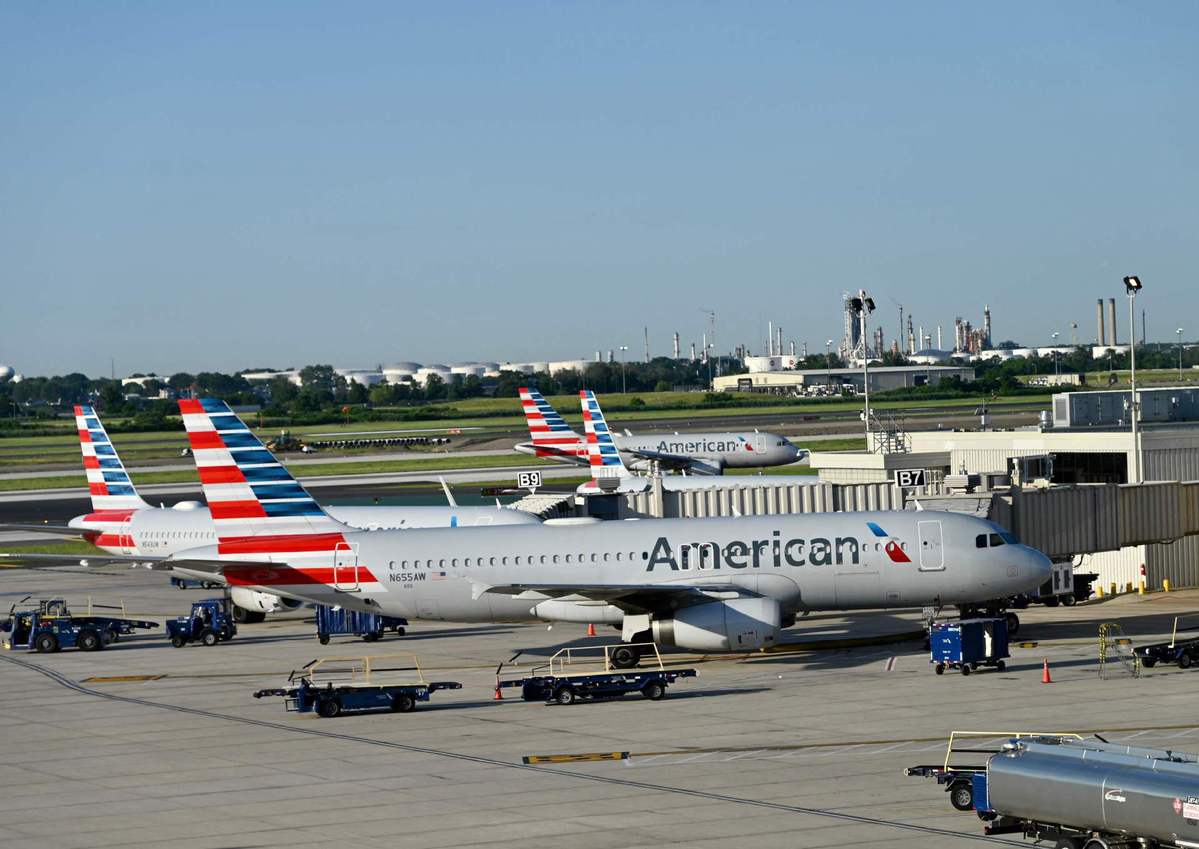 A shortage of commercial airline pilots is a root cause of the chaotic travel situation at US airports, as flight delays and cancellations surged over the holiday weekend, creating apprehension about the busy summer season.
On Monday, American Airlines announced it was dropping three small airports from its schedule, citing a shortage of pilots, The Dallas Morning News.
American Airlines, based in Fort Worth, Texas, will stop flying to Toledo, Ohio, along with Ithaca and Islip, New York, on Sept 7, making cuts to three airports serviced by regional carriers that have been hardest hit by a pilot shortage rippling across the industry, the company said.
American Airlines is the only commercial carrier that provides service to Toledo, in northwest Ohio.
"In response to the regional pilot shortage affecting the airline industry, American Airlines has made the difficult decision to end service," American Airlines spokeswoman Andrea Koos said in a statement.
Carriers are facing a severe shortage of pilots due to thousands of retirements — some stemming from vaccine requirements, along with buyouts during the COVID-19 pandemic.
Travel slowed to nearly a halt at the outset of the pandemic early in 2020 and then furiously rebounded, leaving some airlines ill-prepared.
"The biggest issue is they don't have the capacity. They have not been able to bring back full capacity in terms of pilots, TSA checkpoints, vendors at the airport, baggage handlers, ground staff or flight attendants," New York Times Travel Editor Amy Virshup said to CBS News.
The shortage of pilots has hit regional carriers the hardest.
Pilots from regional carriers are often recruited to major carriers, where pay, benefits and schedules are better, along with opportunities to advance faster and fly international routes, the Morning News reported.
Around the US, thousands of flights were canceled and tens of thousands delayed since Thursday through the holiday weekend. Sunday was Father's Day, and Monday was the federal holiday for Juneteenth.
On Monday, 2,215 flights were canceled and 3,445 delayed as of 7:15 pm ET, according to FlightAware, which tracks flights in real time.
On Sunday alone, total delays within, into or out of the United States were 6,294; total cancellations were 2,703.
"This has been another travel Armageddon weekend," James Ferrara, co-founder and president of InteleTravel, told USA Today. "But it's not isolated, or really a surprise." He said that the loss of skilled positions, such as pilots and crews, is "really what's driving" all of the airline issues.
"Hey. Did anyone fly this weekend and NOT have it turn into a complete mess? It seems like everyone on here is dealing with flight delays, canceled flights, and lost luggage," Twitter user "Marielle" posted Sunday.
"We are exhausted! After flight cancellation and huge delays for lack of crew, missing luggage. I finally get home 50h after my original check in, 54h after leaving home. This is so disrespectful @AmericanAir," tweeted "Danielle Maracaja, MD" on Sunday.
Airports that were experiencing the most problems included John F. Kennedy International Airport and LaGuardia Airport in New York City, and Hartsfield-Jackson Atlanta International Airport, according to Flight Aware.
The busiest airport on Sunday was Chicago's O'Hare International.
Captain Casey Murray, the president of the Southwest Airlines Pilots Association, said it is "going to be a challenging summer".
When asked what is causing delays and cancellations, Murray told Fox & Friends on Sunday that "we're having problems connecting pilots to airplanes".
In April on a quarterly earnings call, United Airlines CEO Scott Kirby said, "The pilot shortage for the industry is real, and most airlines are simply not going to be able to realize their capacity plans because there simply aren't enough pilots, at least not for the next five-plus years."
Friday was the busiest day for air travel this year with more than 2.4 million people passing through US airport security checkpoints, according to the Transportation Security Administration (TSA).
Delta and United had the most cancellations, with 7 percent and 3 percent, respectively, not including flights on regional affiliates, according to USA Today.
"If @Delta delays my flight one more time or cancels at this point tonight, they're gonna see a side of me not many people have ever seen," podcaster Bill Neville posted on Twitter on Thursday. "Been delayed from 845p, to 915p, to 1030p, to 1140, to 1218a. If you're planning on canceling, should've told us hours ago."
Although weather has been cited frequently for the delays, the weather in the New York region was spectacular over the weekend and through Monday, with sunny skies, low humidity and cool breezes.
Delta pilots published an open letter to customers on Thursday.
"We have been working on our days off, flying a record amount of overtime to help you get to your destination," the letter states. "At the current rate, by this fall, our pilots will have flown more overtime in 2022 than in the entirety of 2018 and 2019 combined, our busiest years to date."
US Transportation Secretary Pete Buttigieg said Saturday in an interview with The Associated Press that he is pushing the airlines to stress-test their summer schedules to ensure they can operate all their planned flights with current staffing, and to add customer-service workers.
That could pressure airlines to make more cuts in their summer schedules.
In Canada, a requirement to be vaccinated against COVID-19 for domestic travel and to work in the civil service will be suspended, a government source said on June 14.
The travel mandates had been blamed by some airline industry officials for adding to already long wait times at airports.
In recent weeks, Toronto's Pearson airport has had planes stuck at gates and hours-long security lines because of staffing shortages. Last week, Canada said random testing would be suspended at all airports until July 1, also with an eye on reducing airport congestion.
"It's hard to really justify our mandates anymore," said Dr Zain Chagla, an infectious diseases physician at St. Joseph's Healthcare Hamilton and an associate professor at McMaster University, to the CBC in Canada.
With infections declining, most provinces also have dropped their masking requirements, and the Trudeau government has come under increasing pressure from the opposition and industry to relax its mandates more broadly.
Agencies contributed to this story.