East Africa gains the upper hand on locusts
By OTIATO OPALI in Nairobi, Kenya | China Daily Global | Updated: 2022-06-21 11:05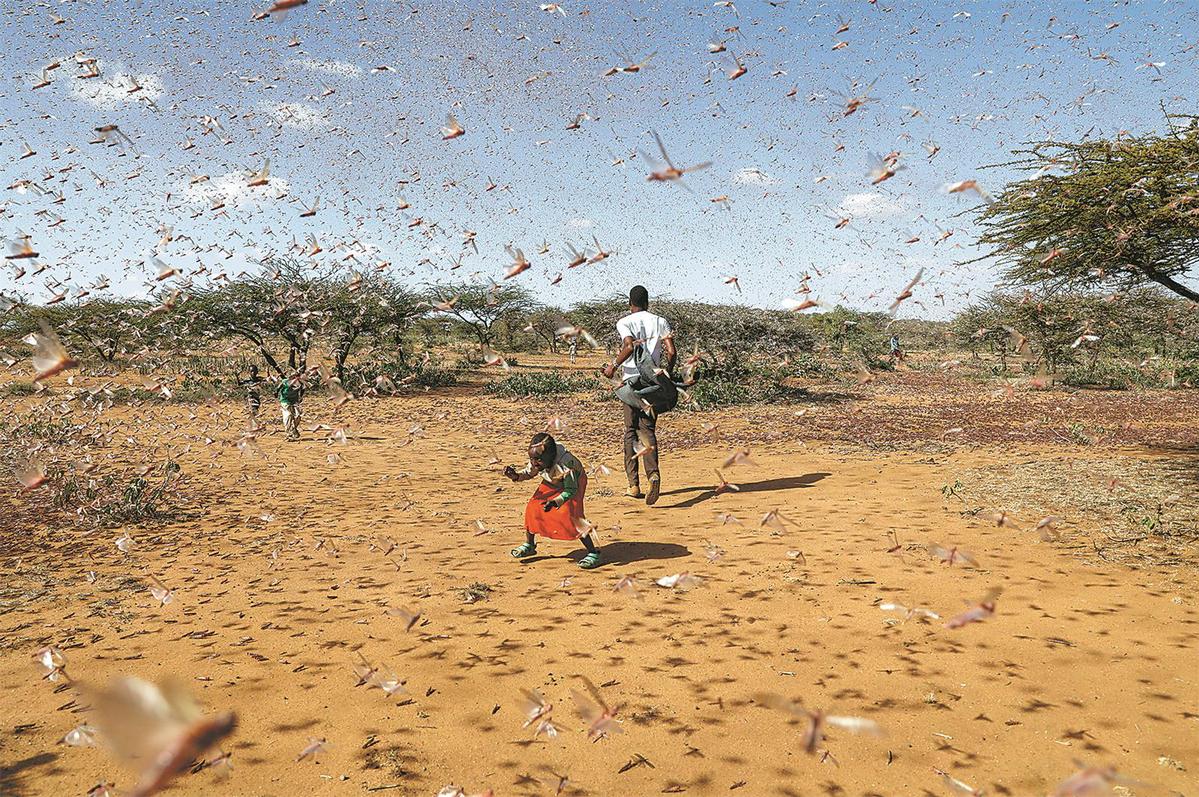 East Africa's yearslong battle against destructive swarms of locusts appears to be nearing an end with an encouraging assessment from the United Nations.
The world body's Food and Agriculture Organization has declared that the swarms-which fanned out across the region in 2020-are now under control.
"The upsurge is over following a massive and aggressive locust campaign in close cooperation with the governments in the region," Cyril Ferrand, the FAO's resilience team leader for East Africa, said in a statement on Saturday. "Second, the region is facing a severe drought situation, which means that conditions are no longer favorable for the desert locusts to breed."
Complacency risk
However, he warned against complacency and said the agency is still monitoring the pests, which have caused crop losses in the region.
"We are back to what we call the recession of desert locust, which means they are still present but they are under control and do not pose any threat to the region including Kenya, Somalia and Ethiopia," Ferrand said.
Since the infestation erupted in 2020, the FAO has been monitoring the pests and providing forecasts of their movements.
The affected countries have been sending data on the locusts to the FAO, which analyzes the information in conjunction with weather and habitat data and satellite imagery in order to assess the prevailing locust conditions. Throughout the outbreaks, it has been providing forecasts up to six weeks in advance.
Carla Mucavi, the FAO's country representative in Kenya, said the country is now free of desert locusts.
"We were able to mobilize the necessary expertise and resources and provide timely forecasts that helped Kenya in terms of training, surveillance, control, spraying the areas with pesticides, while minimizing the risk for the communities and their crops," Mucavi said.
She warned that East African authorities should not lower their guard against the insects.
Mucavi pointed out that despite climatic conditions being a contributing factor in the suppression of the locust swarms, the drought affecting the region has hit the same communities that were hurt by the desert locusts.
In a report released on Friday, the World Food Programme warned that the number of people pushed into hunger because of drought in the Horn of Africa could rise from the current 14 million to 20 million by the end of the year.
The agency said that the severe drought has caused 7.4 million people to be food insecure in southern and southeastern Ethiopia. In Somalia, 350,000 of the 1.4 million severely malnourished children could starve to death if nothing is done. In Kenya, about 3.5 million people are affected and this number will grow if the problem does not ease.