BRICS: The journey so far
Share - WeChat Promoting economic recovery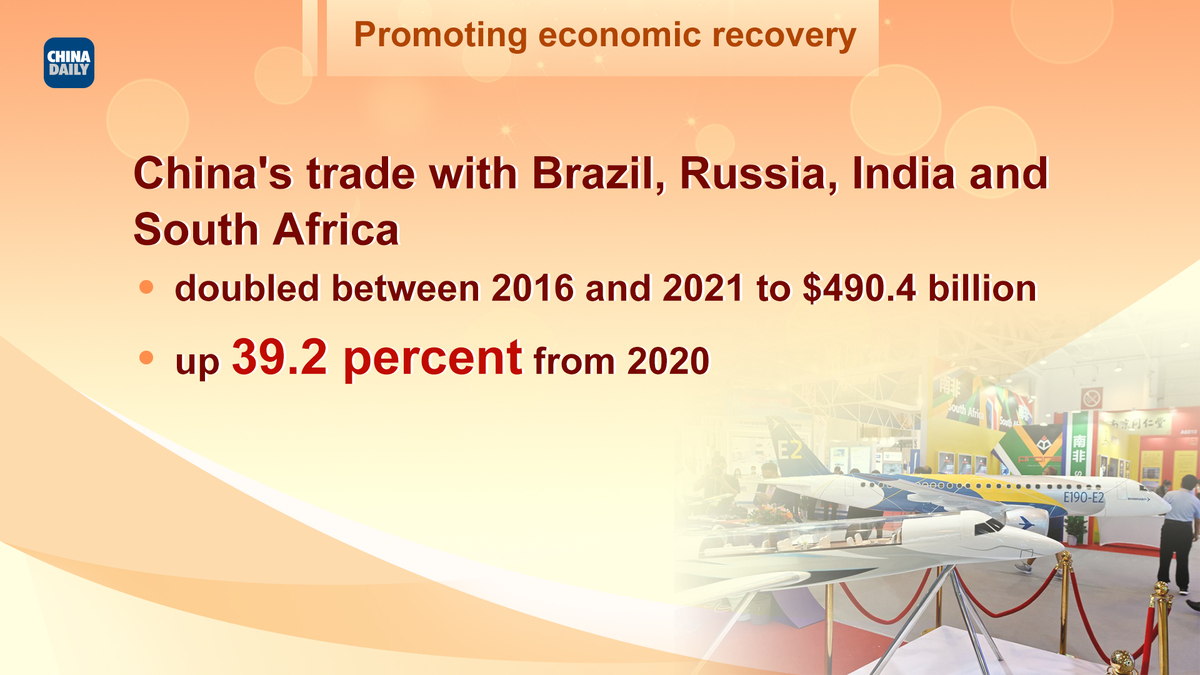 In the areas of economy, trade and financial services, the BRICS countries account for 42 percent of the world's population, 23 percent of global GDP and 18 percent of global trade.
Since its inception in 2009, the emerging-market mechanism of BRICS has grown from strength to strength as its members can always come together to tackle shared challenges and achieve common goals.
China's trade with Brazil, Russia, India and South Africa doubled between 2016 and 2021 to $490.4 billion, up 39.2 percent from 2020, according to latest statistics from the China Council for the Promotion of International Trade. Trade with Brazil hit a record high at $164.1 billion in 2021; trade with Russia rose 35.8 percent year on year to $146.9 billion; trade with India topped $100 billion for the first time, standing at $125.7 billion; and trade with South Africa jumped 50.7 percent.
With common goals for high-quality and more sustainable development, the BRICS countries have made effort to implement the Strategy for BRICS Economic Partnership 2025, and strengthen practical cooperation and exchanges on e-commerce, services trade, intellectual property rights protection, green development and other fledging fields.
At the moment, the pandemic is accelerating the widening of the North-South development gap. The BRICS countries work together to further stimulate global economic rehabilitation by stepping up macroeconomic policy coordination, and collectively stabilizing the global industrial and supply chains.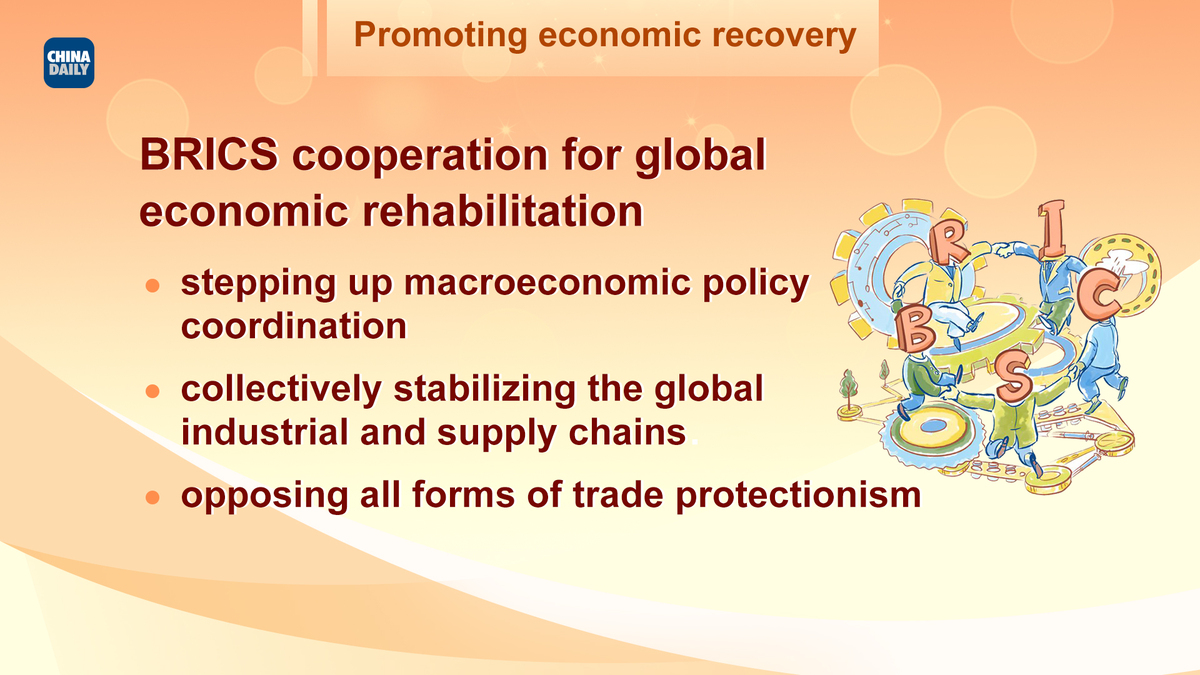 An open, fair and non-discriminatory business environment will not only benefit the BRICS members, but also the whole world. Thus the five leading emerging economies have striven to enhance global trade and investment liberalization and facilitation, and oppose all forms of trade protectionism. BRICS countries speak in one voice on issues concerning WTO reform. At the Informal BRICS Leaders' Meeting held before the 2018 G20 Summit in Buenos Aires, the five countries adhered to WTO multilateral trade rules, expounded common positions on issues such as reflecting the interests of developing countries and safeguarding the dispute settlement mechanism.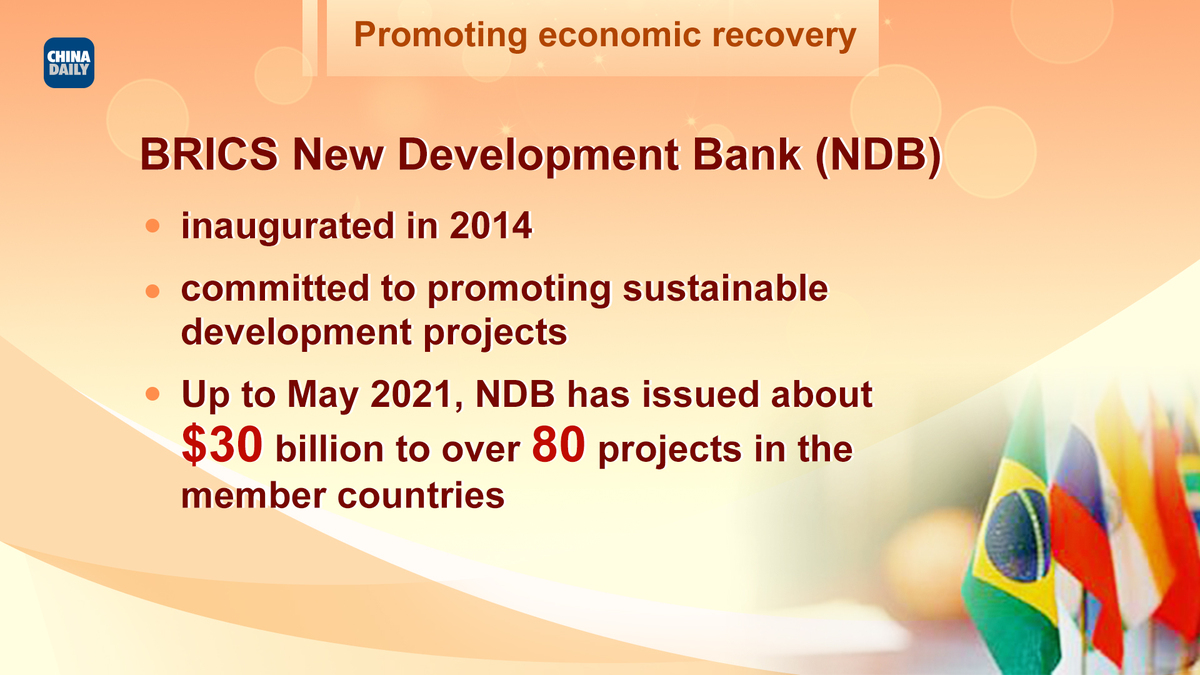 The BRICS New Development Bank is one of the significant outcomes of economic and financial cooperation between the BRICS countries. The NDB was inaugurated in 2014 based on the consensus of the leaders of the five countries and is committed to promoting sustainable development projects. It is the first of its kind that has been established by a group of emerging economies. Up to May 2021, about $30 billion has been issued to over 80 projects in the member countries. As BRICS cooperation deepens, the NDB will play an even more important role.