Designer pencils in a shop of creativity
Xinhua | Updated: 2022-06-22 07:09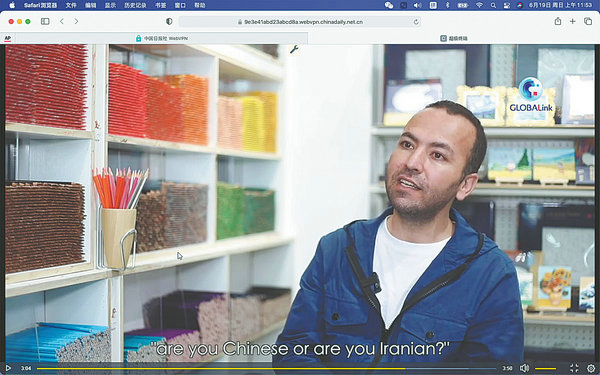 TIANJIN - What can a pencil become? Iranian designer Ali Jalali has found the answer in China.
A freelance designer, Jalali owns a studio of creative products made out of pencils in the northern city of Tianjin. Decorated with 200,000 pencils, the store is called "Kolofo", which he says phonetically resembles "colorful".
Jalali has always loved pencils. He's often seen with one, scribbling down inspirations sparked by his daily life. "There is a saying in China-'The palest ink is better than the best memory'," the 43-year-old says.
In addition to being a writing tool, the pencils at Jalali's store act as decorations on shelves, pegs to hang things on and even door stoppers. "I think pencils can be turned into all kinds of things. What I'm hoping for is to create something new every time," he says.
The studio is also a place for him to meet people, sometimes other designers, and to know more about Chinese culture and modern design concepts.
Jalali has been obsessed with the local traditions for a long time. After graduating from the College of Fine Arts at the University of Teheran in 2008, he came to China, yearning for inspiration from another culture.
He believes China's culture echoes that of Iran in many ways. "We, like the Chinese, have a spring festival called 'Nowruz'. There is also the concept of 'lucky money', a token of blessing the young receive from their elders during the festival."
Jalali supports frugality, which is a traditional virtue followed by Chinese people. The idea offers him inspiration.
One of his creations built on this less-is-more concept is a coffee mug made from coffee grounds.
"I think it is an amazing idea to upcycle coffee grounds into a cup," he says.
Despite the impact of COVID-19, Jalali's store has been seeing a steady flow of customers and growing sales revenue. While preparing to roll out his second store in Tianjin, he also plans to open a shop in his hometown in Iran.