Logistics and storage gain boost from ACR
By FAN FEIFEI | CHINA DAILY | Updated: 2022-06-22 09:46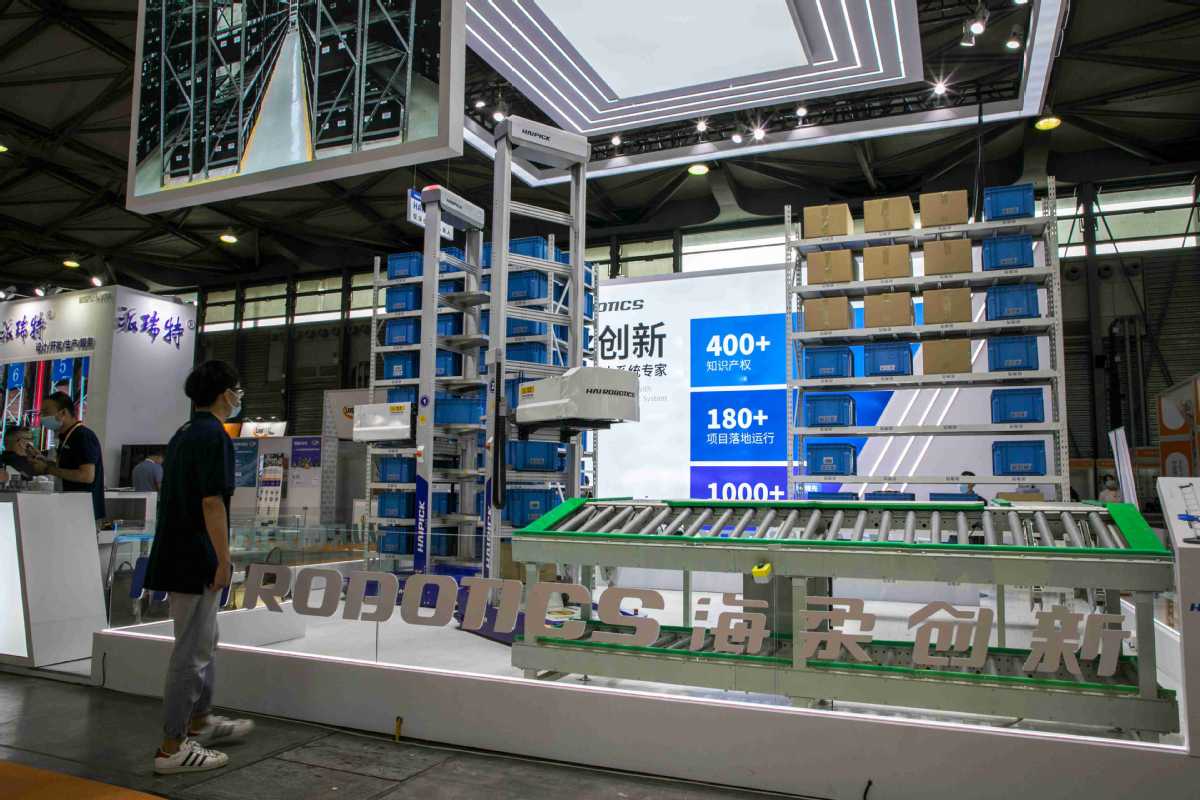 Automated logistics and warehousing systems, robots, and unmanned vehicles have played a vital role in ensuring the smooth operation of supply chains and improving delivery efficiency during this year's June 18 online shopping festival.
Shenzhen, Guangdong province-based warehousing logistics solution provider Hai Robotics said it has leveraged autonomous case-handling robots, or ACR systems, to handle the surging number of parcels during the midyear promotional campaign. The shopping festival was just a one-day event when it started but now spans about three weeks.
By leveraging advanced artificial intelligence-powered algorithms, the ACR system is able to enhance order fulfillment efficiency by three to four times, compared with traditional manual operations, said Liu Jingtao, vice-president of Hai Robotics.
"The highly digitalized ACR system can scientifically allocate storage locations for some sought-after items so that the products in huge demand can be stored close to where they are picked and sorted for deliveries," Liu explained, adding that the system optimizes the walking routes for robotics and reduces redundant inventory.
Liu said currently, overseas business accounts for 30 percent of its total sales revenue, and the company is speeding up expansion in the overseas market, with a goal of having half of its business coming from outside of China this year.
Founded in 2016, Hai Robotics is committed to providing flexible, intelligent and efficient warehouse automation solutions through robotics technology and AI algorithms.
The company has paired up with global leading logistics equipment and supply chain automation system providers such as MHS and BPS Global Group to offer warehouse automation solutions.
It has more than 500 projects globally and has overseas offices in the United States, Europe, Japan, Southeast Asia and Australia, serving customers from more than 30 countries and regions.
Hai Robotics announced last Wednesday it had received over $100 million in a D+ round of financing from venture capital firms, including Capital Today, 5Y Capital, Source Code Capital and Sequoia Capital.
"This round of financing will be spent on stepping up the R&D of warehousing logistics robotic systems and on global business expansion, in order to provide more efficient, intelligent and flexible products and power all our warehouses with robots, which can eventually address challenges brought by labor shortage and the aging population," said Richie Chen, founder and CEO of the company.
Logistics operations have developed a growing thirst for flexible automation. Global consultancy Gartner Inc predicts that 75 percent of large enterprises will adopt some form of intra-logistics smart robots in their warehouse operations by 2026.
JD Logistics, the logistics arm of Chinese e-commerce giant JD, now has nearly 1,400 warehouses and 43 Asian No 1 intelligent logistics parks across China, a highly collaborative system that ensures about 90 percent of its online orders are delivered the same day or the next day.
The smart logistics network provides strong support for stable service during the June 18 shopping festival every year. Smart technologies, ranging from automated sorting to unmanned warehousing and robots, are employed in highly automated warehouses to enhance logistics capacity.
JD's warehouses deeply integrate cutting-edge technologies-such as deep learning, big data, operations research, machine vision system recognition and digital twin modeling-enabling it to be able to deal with millions of stock-keeping units covering hundreds of categories.
The company announced in early June the opening of its first automatic warehouse in Los Angeles, the United States, which covers about 20,439 square meters.
The intelligent picking of parcels and automatic obstacle avoidance could be realized by the intelligent warehousing system, and overall operating efficiency has been enhanced by more than three times, the company said.
JD Logistics has opened automated warehouses in six countries including the United Kingdom, the US, Australia and the Netherlands, with the total number of bonded and overseas warehouses reaching nearly 80. Its global supply chain network now reaches over 220 countries and regions.
In addition, autonomous driving vehicles have been utilized to address last-mile delivery. Chinese self-driving startup Uisee has deployed different types of autonomous vehicles in many parts of the country when the supply chain is disrupted by the sporadic outbreak of COVID-19.
Zhang Xiaodan, marketing director of Uisee, said the application of unmanned vehicles in logistics scenarios can effectively reduce face-to-face contact and lower operational costs.
Chinese technology companies have invested heavily in the intelligent logistics sector on automated warehousing, driverless cars, drones and robots to gain an upper hand amid fierce competition, said Lu Zhenwang, CEO of Wanqing Consultancy in Shanghai.
In view of the current limitations on autonomous driving technologies and complicated traffic situations, unmanned delivery services are being used in some designated areas and venues such as hotels, supermarkets and universities, he added.