Macron in postelection talks with party leaders after election disappointment
By EARLE GALE in London | China Daily Global | Updated: 2022-06-22 10:30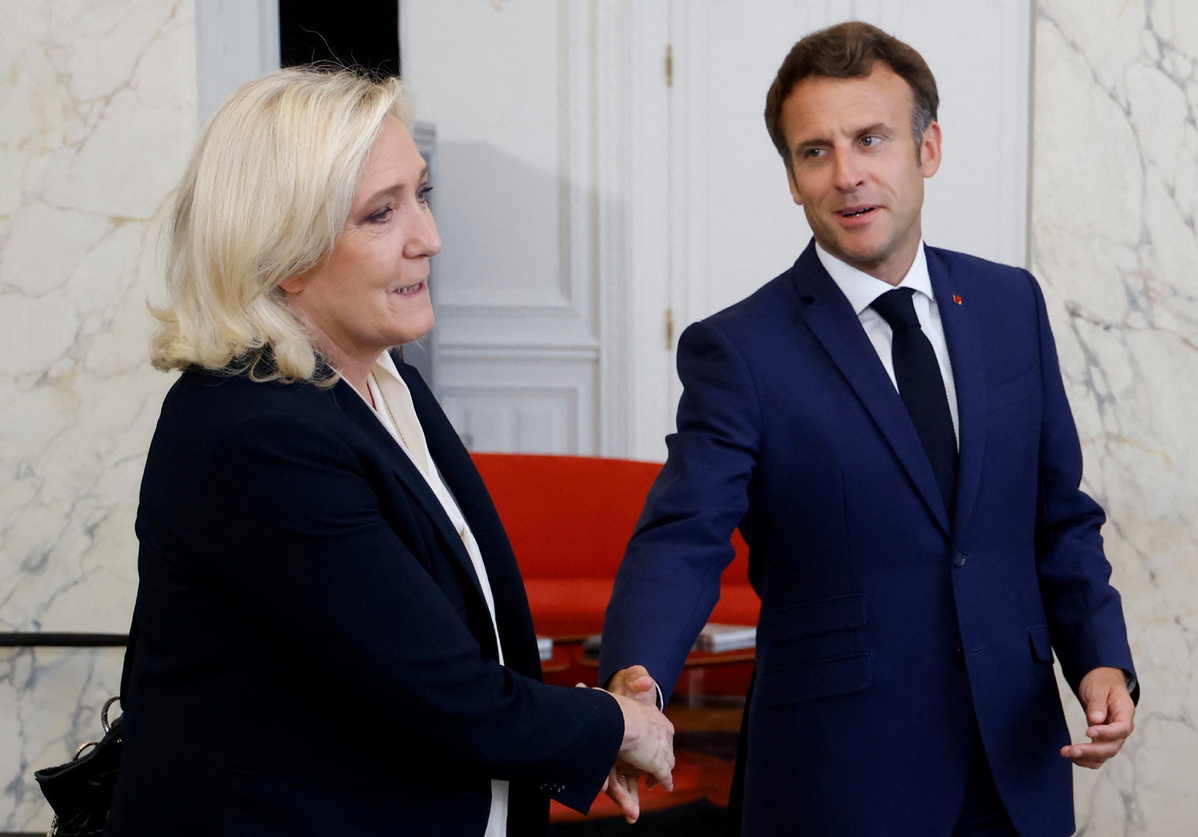 France's recently reelected president, Emmanuel Macron, met political allies and foes on Tuesday in the hope of forming a coalition government after his centrist party's disappointing performance in parliamentary elections over the weekend weakened his grip on power.
With Macron's coalition falling 44 seats short of a parliamentary majority, it now seems unlikely that he will be able to put together a sufficiently robust government to steer through the radical reforms he promised during April's presidential election.
Macron was to hold successive meetings with opposition members, including president of Les Republicains, Christian Jacob, head of the Socialist Party, Olivier Faure, and far-right leader Marine Le Pen. Other meetings were scheduled on Wednesday.
Macron was also to meet with representatives of his own party and allied movements.
Talks are aimed at finding "potential constructive solutions" to the situation, according to Macron's office.
Le Pen, who stood against Macron in the presidential election, said she and her National Rally coalition of far-right parties will not prop up Macron's government, Agence France-Presse reported. "The country is not ungovernable, but it's not going to be governed the way Emmanuel Macron wanted," Le Pen told reporters on Monday.
Jean-Luc Melenchon's left-wing and green grouping of parties also wants to keep its distance from Macron and his proposed reforms of the pension age, taxes and the welfare state.
Melenchon told AFP his coalition, which was formed specifically for the election, will remain together because it is a "rebellion (that) now has a face".
High abstaining rate
The lack of support for Macron's Ensemble alliance means the president could end up at the helm of a minority government as a result of Sunday's election, which saw 53 percent of eligible voters abstain.
The BBC reported that he will focus on trying to woo lawmakers from mainstream political parties and could end up securing arrangements on a bill-by-bill basis, as legislation edges through the National Assembly.
On his way out of Elysee Palace, Jacob said Les Republicains, which secured 61 seats, will remain an opposition force and will not enter into any "pact or coalition" with Macron's centrists. However, he opened the door to voting in favor of some measures if they are in line with his party's platform.
However, many political parties have said Prime Minister Elisabeth Borne must resign before they can consider propping the government up, even on a vote-by-vote basis.
The president's office confirmed on Tuesday that Borne had offered to resign in the immediate aftermath of the election, but Macron had rejected that offer.
Bruno Le Maire, France's economy minister, told Reuters that the French government will now need to think outside the box as it looks to form new alliances and working arrangements. "We will have to show a lot of imagination," he said.