US war on Chinese semiconductors is counterproductive
By Azhar Azam | chinadaily.com.cn | Updated: 2022-06-22 14:27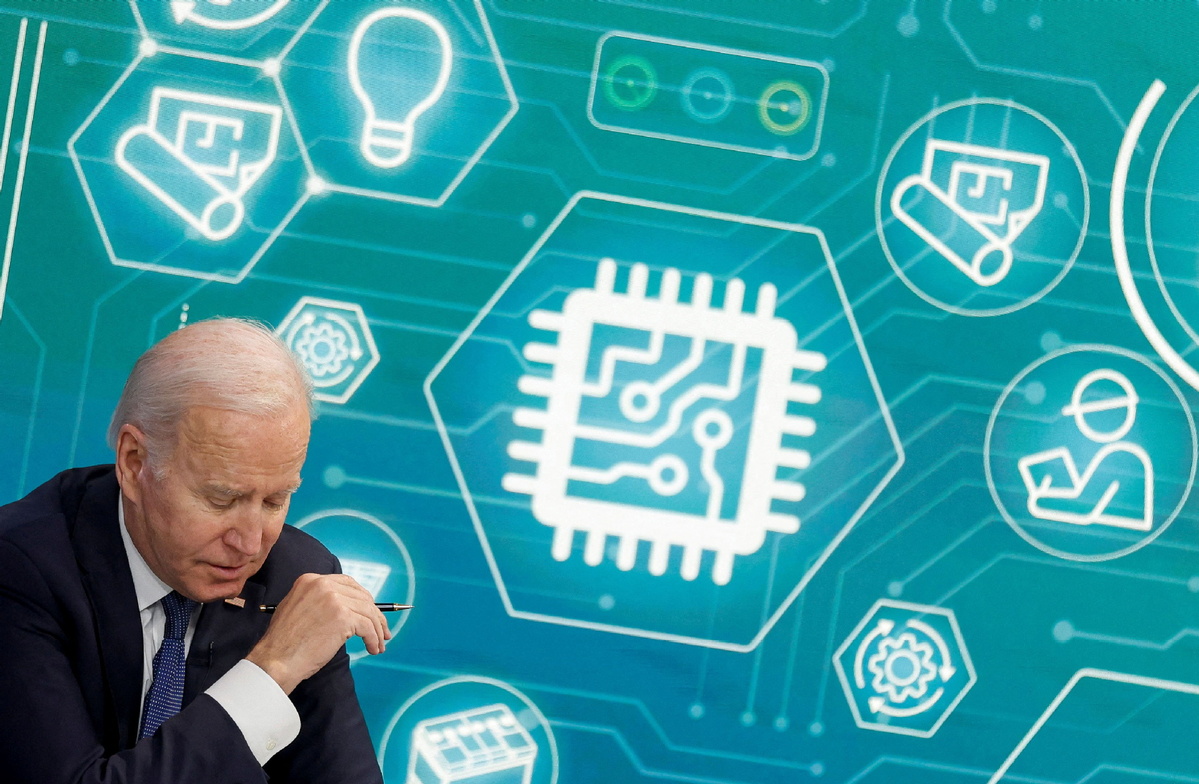 The global semiconductor industry sales booked record revenue of about $556 billion in 2021 with 26% increase in year on year sales, according to the US-based Semiconductor Industry Association (SIA). Amid a higher demand and the ongoing global shortage of chips embedded in the essential technologies of now and the future, industry shipped 1.15 million semiconductor units last year.

In 2021, China outpaced any other market in the world and accounted for more than a third of global chip sales including analog, logic and memory products at almost $193 billion. The data manifested the world's largest consumer economy's pivotal role in boosting the global semiconductor market through a whole-of nation effort to advance Beijing's chip sector. Across all segments – fables, IDM, foundry and OSAT – Chinese companies showed strong growth.

The US long-arm jurisdiction to restrict China's access to advanced chips shook the market, hampered chip production and caused a dearth of semiconductors around the world. As chip requirements for 5G devices were expected to surge the demand by 40% to 80%, the US' attempt to out-compete China added pressure on the semiconductor producers.
America's push to make microelectronics a national security and geopolitical issue; their sanctions on China's biggest chipmaker and smartphone manufacturers, Semiconductor Manufacturing International Corporation (SMIC) and Huawei; and their tech war forced customers to shift their orders to other suppliers and created a mess in the market.
Automakers, already facing supply chain hitches because of the pandemic, were hit hard by the chip shortage and the US trade war escalation with China. Many leading international carmakers such as Volkswagen, BMW, Nissan and Ford slashed their production rates. The fall of production severely impacted Toyota sales as the world's best-selling carmaker's profits shrank by 21% in the last quarter of 2021.

Washington's actions on Chinese technology firms recently urged the country's Treasury Secretary Janet Yellen to admit "a third of US inflation is new" and it's "all due to a shortage of semiconductors." This is in addition to the warning the lack of availability of chips may take a full percentage point off of the GDP in 2021.

For years, American semiconductor companies have been pulling roughly a quarter of their chip revenue from China. So, the Chinese customers, markets and innovation have contributed to the US economy and employment generation. As neither of the countries have true dependence in the semiconductor value chain, this technological interdependence benefited both the states given the extraordinarily complexity of manufacturing chips involving 300 different inputs.

Beijing is already making efforts to develop its semiconductor industry. In June 2014, the State Council of China released the National Guidelines for Development and Promotion of the Integrated Circuit (IC) Industry. The long-awaited policy to improve the country's semiconductor industry increased government investment, emphasized on creating segment winners and adopted a more market-based approach by giving the responsibility of allocating public funds to local private-equity companies.

The investments paid off as China's semiconductor sector, SEMI which was revealed last year, emerged as one of the world's largest in less than a decade. The industry body estimated Beijing's revenue from the IC industry would double from $128 billion from 2015-2020 to $257 billion by 2025. Noting Chinese wafer fab capacity had soared from 9% in 2010 to 17% in 2020, it forecasted China to sustain its world leadership in new fab projects and capacity growth with $20 billion investments in chip equipment for 2021.

Over the last 30 years, the US share of global semiconductor manufacturing capacity has dropped from 37% to 12%. Washington dominates the chip design market. US firms such as Intel, Micron, Broadcom and Qualcomm continue to produce chips overseas or contract out production to foreign firms over lack of domestic manufacturing capability.

The Biden administration seeks to overpower the US inability through $52 billion federal subsidies in a quest to cut dependence on China. While it roughly takes three to four years to establish a fab, the legislative measure puts American companies at disadvantage by making them uncompetitive internationally since the 10-year cost of fabrication plant ownership is as much as 50% higher than in China without any guarantee US automakers and other manufacturers would prefer buying the US-made chips.

Foreign companies are showing deep interest toward investing in China. Last month, Germany's Merck signed an agreement to open a semiconductor base in China. The largest single electronic business investment will be used to build a 69-acre plant in Zhangjiagang to house production plants for thin film materials and electronic specialty gases. It is another sign of trust in "the largest end market for semiconductors" and marks a bright future ahead in the sector.

China is estimated to have 55% and 85% of global rare earths mining and refining capacity respectively. The US is concerned domestic manufacturers do not produce high volume cutting edge ICs, the foundation of "paradigm-shifting" technologies. The US CHIPS Act focuses to fabricate these leading-node logic chips yet needs critical minerals from China, where their supply chain is concentrated and which holds enormous mineral reserves for manufacturing semiconductors.

The semiconductor industry in China, as a result, is unlikely to be barricaded by the US' effort to counter its growth. This was evidenced from the SEMI data in April: China's orders of chip-making equipment to overseas suppliers had increased 58% in 2021. This revenue increase of up to four-fold suggests the foreign firms won't concede the immense Chinese market. Instead, they have indicated to avoid sanctions by building capacity outside of the US.

It is advisable to the Biden administration to stop restricting the China-US technology cooperation, which in turn is blocking the US' own technology edge and driving inflation higher. The US president needs to understand that America's suppression of Chinese companies will not yield any results other than supporting other countries to take advantage of the spat and boost their chip strength. An end to this anti-technology approach could help the US to resume tech collaboration with China and gain mutual benefits.

Azhar Azam is a private professional and writes on geopolitical issues and regional conflicts.
The opinions expressed here are those of the writer and do not necessarily represent the views of China Daily and China Daily website.
If you have a specific expertise, or would like to share your thought about our stories, then send us your writings at opinion@chinadaily.com.cn, and comment@chinadaily.com.cn.