Shanghai nets range of multinationals
By WANG YING in Shanghai | China Daily Global | Updated: 2022-06-23 07:28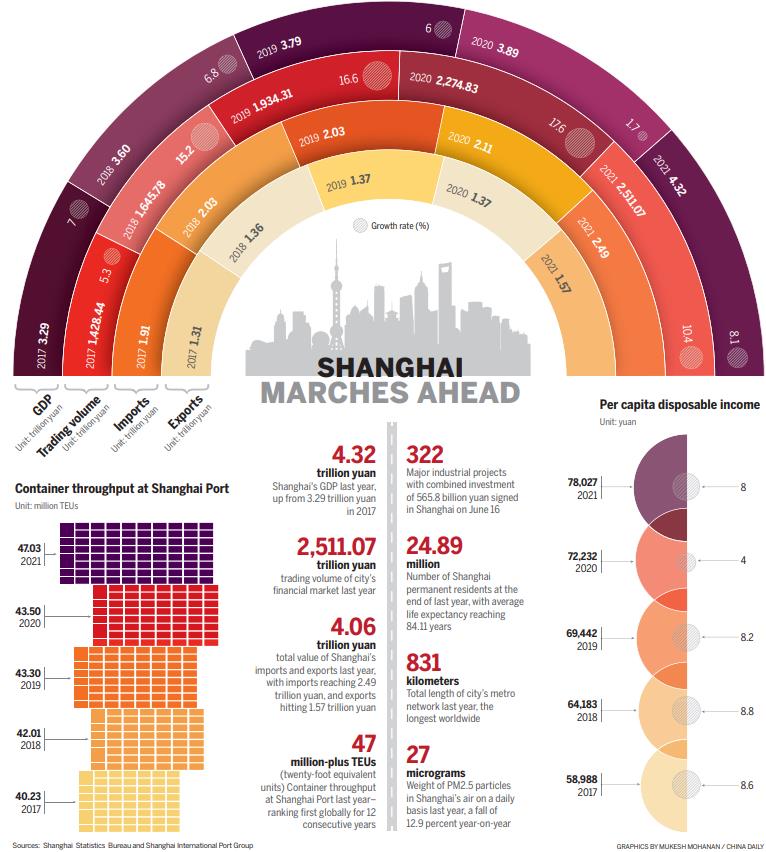 Deals signed
Although the local spread of COVID-19 has not yet been completely contained, business activity is bustling again in Shanghai.
On June 16, a ceremony was held to mark 322 major industrial projects with a combined investment of 565.8 billion yuan being signed in Shanghai. It also celebrated the start of construction on 48 other projects worth 162.7 billion yuan.
In total, 90 of the new projects involve the integrated circuits, biopharmaceuticals and artificial intelligence industries, with the city striving to accelerate their development in the past few years.
A number of the investments have been placed by multinationals.
Xiao Song, global executive vice-president of Siemens and chairman, president and CEO of Siemens China, said, "More than 80 percent of Siemens' major production in Shanghai has been restored so far, and we will continue to expand our investment in the city."
The German technology company has established a complete localized value chain in Shanghai, ranging from R&D to manufacturing and services.
Xiang Xiaofang, vice-president of Ford China, said the impact of the pandemic will not shake the company's confidence in China.
Ford, which has been in the Chinese market for 27 years, has produced millions of vehicles in the country, and continues to believe that China offers tremendous opportunities, according to Xiang.
"This year, we will continue our transformation in electrification and intelligentization in China, as well as providing Chinese consumers with Ford's best products and services," Xiang said.
Ming Cheng Chien, Asia-Pacific president for Lanxess, a German specialty chemicals company, said, "We are continuously seeking opportunities in China, and the Chinese government's efforts have allowed multinational corporations such as Lanxess to constantly find new opportunities, and raise assets and investments to coordinate with development of the Chinese economy."
As the world's largest chemical production and sales market, China not only supports this market globally, but also serves the worldwide supply chain, Chien said. For example, Shanghai Port, the world's largest container port, plays a vital role in maintaining global supply chain stability.
"We are glad the Chinese government and the Shanghai municipal authorities have taken effective measures to maintain the supply chain while combating COVID-19.Such action will not only support our domestic production, but also ensure Lanxess' global production," Chien said.
Confronting the challenges posed by COVID-19, Lanxess opened its Asia-Pacific application development center at Shanghai Chemical Industry Park last year.
Meanwhile, Zhou Zhaolin, vice-president of Milliken Chemical Asia, a company based in the United States, said it is expanding its packaging innovation center in Shanghai. The expansion is aimed at further enhancing collaborative innovation with upstream and downstream enterprises.
This month, Milliken resumed projects affected by the pandemic, including upgrading the center. Other works are being accelerated. According to Zhou, Milliken will continue to increase business investment in China.
Chemical manufacturer BASF China said the experience of the past few months has shown its employees' dedication and resilience despite changes and challenges posed by COVID-19.
The company said: "China, the biggest chemicals market in the world, is projected to account for 50 percent of the global chemical market share by 2030. BASF still has plenty of room for further growth in China. Our investments in local production and R&D will continue."
The German chemical giant resumed normal operations at its sites in Shanghai after coming out of closed-loop management on June 10.Its average production capacity in the city has been more than 70 percent since the middle of last month.
As a major foreign investor in China's chemical industry, BASF operates the Innovation Campus Shanghai, a global and regional R&D hub. Opened in November 2012, it is the company's largest such site in the region.
Over the past five years, the Innovation Campus Shanghai has applied for more than 220 patents, and it also plays an increasing role in developing innovation for the automotive, construction, and consumer goods industries, according to a written response from BASF China.