UAE embassy, UN in China stress women's empowerment
chinadaily.com.cn | Updated: 2022-06-24 11:15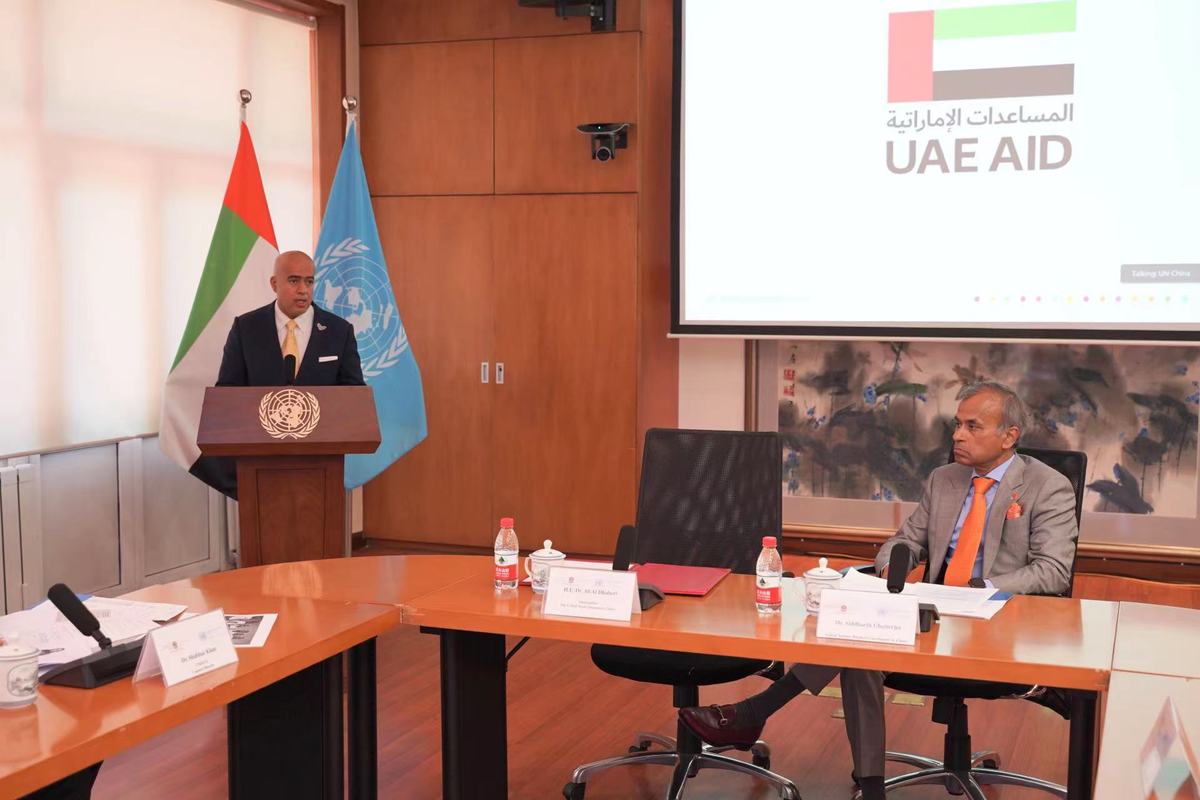 The embassy of the United Arab Emirates in Beijing and the United Nations in China co-hosted a high-level dialogue in Beijing, to address the importance of women's and girls' economic empowerment through education and skills development.
Participants included UN agencies, key stakeholders in China, members of the diplomatic community, and international organizations, with a shared interest in advancing Goal 5 of the Sustainable Development Goals, to achieve gender equality and empower all women and girls.
Gender equality and women's empowerment are a necessary foundation for a peaceful, prosperous, and sustainable world, with education key in attempting to reverse the gendered patterns of discrimination.
From 2000 to 2021, the gender gap in out-of-school rates has greatly diminished in all three stages of education, although regions have progressed at different rates.
Globally more girls are going to and staying in school than ever before. However, as many as 48.1 percent of girls remain out of school in some regions.
The dialogue saw opening remarks from Ali Obaid Al Dhaheri, the UAE ambassador to China, and Siddharth Chatterjee, UN resident coordinator in China, with both emphasizing the importance of women and girls having the opportunity to complete all levels of education, and acquire the knowledge and skills to compete in the labour market.
"The UAE believes in the unique and fundamental role women and girls play in achieving development and prosperity in their communities, and the only way a society can aspire to sustainable economic growth and development is through education, especially the education of women and girls," said Al Dhaheri.
"Today, the UAE has committed to ensuring women's inclusion in its foreign aid policy. Its prioritized themes are aligned with the UN SDGs and gender equality, the empowerment of women, in particular, are at the core of the UAE's foreign aid programming and projects."
"Education and skills development is the foundation of human development and women's empowerment. UNESCO estimates that just one additional year of schooling can increase a girl's earnings by 20 percent when she grows up. On the other hand, a World Bank study shows that limited educational opportunities for girls could cost countries between $15 to 30 trillion in lost lifetime productivity and earnings. Unfortunately, too many girls are still held back from acquiring their desired education," said Chatterjee.
"Greater action and investment are needed in the field of education and skills development for women. The dialogue today forms part of our efforts to reinforce the advocacy and work of the UN and our stakeholders, including member states like the UAE, to accelerate the global progress on the SDGs, and leave no one behind."
In responding to these challenges, the dialogue saw guest remarks from Reem Ketait, deputy assistant minister for political affairs at the UAE Ministry of Foreign Affairs and International Cooperation, and Li Ying, dean of the School of International Education, China Women's University and All-China Women's Federation Executive Leadership Academy.
"As a founding member of the Women Entrepreneurs Financing Initiative, the UAE has contributed $50 million in support of 300,000 women gaining access to finance, market, and networks throughout different regions in the world," said Ketait.
"China's investment in education, especially in women and girls' education, is one of the fundamental reasons and prerequisites for China's unprecedented achievements in poverty alleviation and development," said Li.
The dialogue also featured a panel discussion on the topic of "Accelerating SDGs progress: education and skills development for women's economic empowerment", with insights shared by Mei Ruo, director of Beijing Hongyan Social Work Service Center, Ching Tien, founder of Educating Girls of Rural China, Lin Liu, rural commissioner of Alibaba Group to Qinglong, Lin Jialei, program manager of Women's Economic Empowerment, UN Women China Office, Mouza Al Shehhi, director of the UN Women-UAE Liaison Office for the GCC, and Anna D'Addio, senior policy analyst from UNESCO.