US Supreme Court ends federal abortion right
By AI HEPING in New York | chinadaily.com.cn | Updated: 2022-06-24 22:34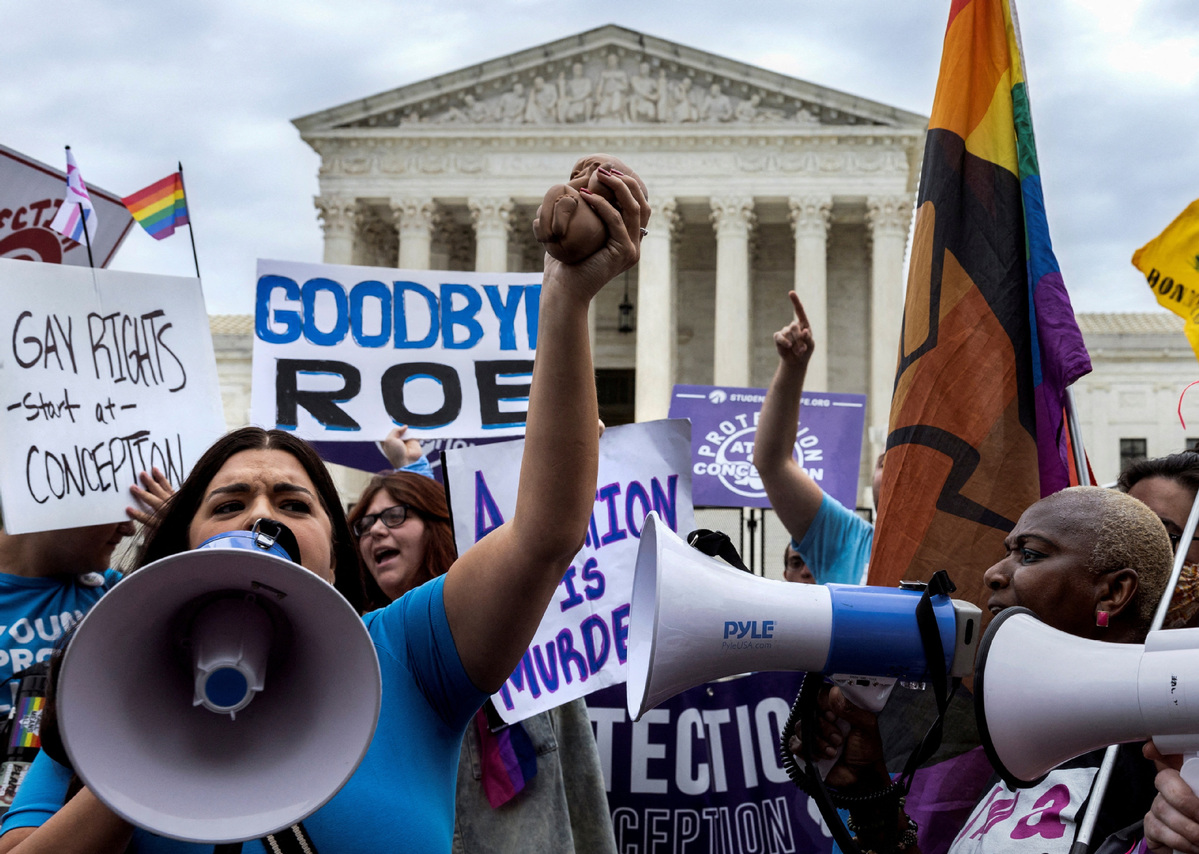 The US Supreme Court on Friday eliminated the constitutional right to abortion after almost 50 years, which is expected to lead to abortion bans in roughly half the American states.
All three of President Donald Trump's appointees were in the majority in the 6-to-3 ruling that overturned Roe v Wade, which will severely restrict or forbidden abortion in many red or conservative states.
Over the decades, the 1973 Supreme Court ruling that established abortion as a constitutional right has been one of the most polarizing decisions. Friday's high court ruling puts the court at odds with most Americans who favored preserving Roe, according to opinion polls.
The issue of abortion will now move to the states, and President Joe Biden said after the ruling that his administration would defend a woman's right to cross state lines to seek an abortion.
Attorney General Merrick Garland said in a statement that in addition to protecting providers and those seeking abortions in states where it is legal, "we stand ready to work with other arms of the federal government that seek to use their lawful authorities to protect and preserve access to reproductive care".
The ruling came more than a month after the leak of a draft opinion by Justice Samuel Alito indicating the court was prepared to overturn Roe.
"We hold that Roe and Casey must be overruled. The Constitution makes no reference to abortion, and no such right is implicitly protected by any constitutional provision," Alito wrote.
Authority to regulate abortion rests with the political branches, not the courts, he wrote.
Chief Justice John Roberts voted with the majority but said he would have taken "a more measured course," stopping short of overruling Roe outright. The court's three liberal members dissented.
Biden said Friday that "it's a sad day for the court and the country" after the Supreme Court ruling.
"Now with Roe gone, let's be very clear, the health and life of women across this nation are now at risk," he said from the White House.
He added that "the court has done what it's never done before — expressly taking away a constitution right that is so fundamental to so many Americans''.
Garland also said the Justice Department "will not tolerate'' violence or threats of violence'' because of the court decision.
He said that the federal Food and Drug Administration has approved the use of Mifepristone for medication abortions.
"States may not ban Mifepristone based on disagreement with the FDA's expert judgment about its safety and efficacy," Garland said.
Outside the Supreme Court, hundreds of abortion supporters gathered after the ruling was issued. One chanted into a bullhorn, "legal abortion on demand" and "this decision must not stand". Some shouted "the Supreme Court is illegitimate''.
"It's a painful day for those of us who support women's rights," Laura Free, an Ithaca, New York, resident and women's rights historian who came to Washington to do research. "When she learned of the decision," she told The Associated Press, "I had to come here."
A group nearby demonstrated in favor of the ruling, holding signs saying, "the future is anti-abortion″ and "dismember Roe".
Garrett Bess, with Heritage Action for America, a lobbying arm of the conservative Heritage Foundation, said his organization would be working in states to continue efforts to limit abortion.
"This has been a long time coming and it's a welcome decision," he said.