Roe decision moves into US midterm elections
By AI HEPING in New York | China Daily Global | Updated: 2022-06-25 06:58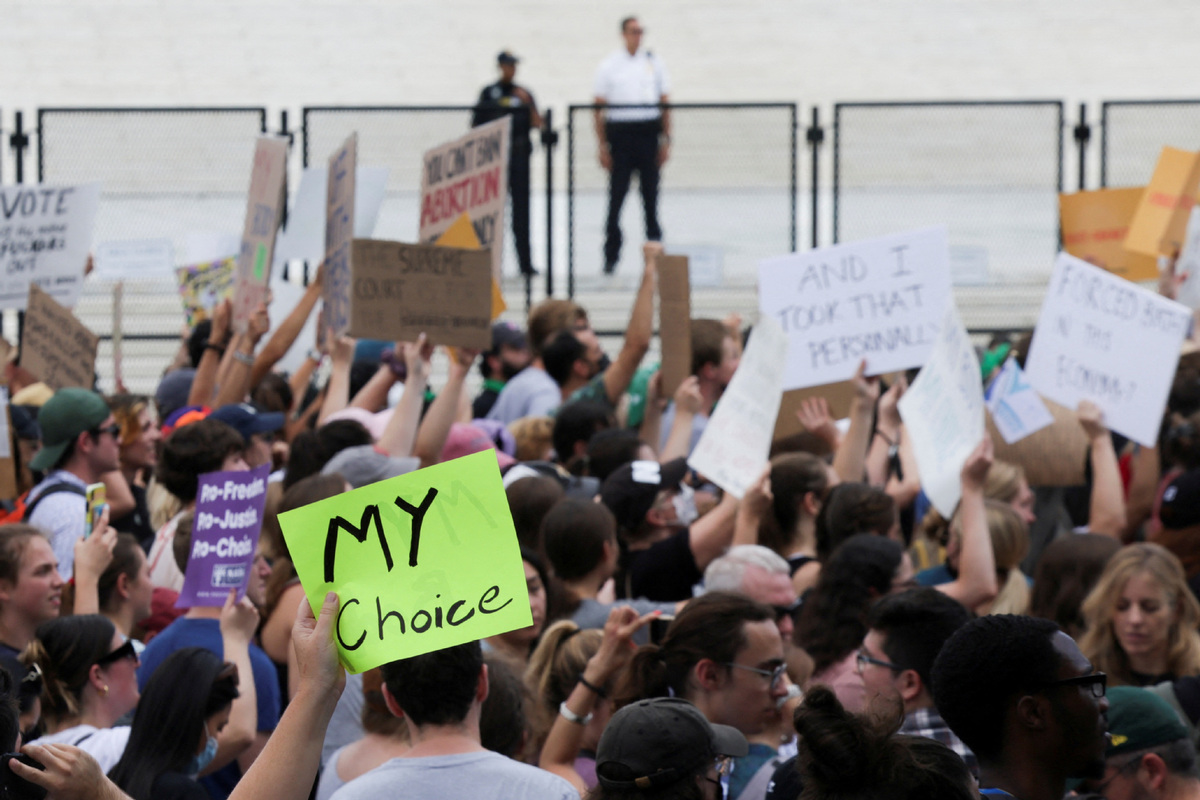 Within hours after the Supreme Court's ruling on Friday that overturned the constitutional guarantee to an abortion, Democrats and Republicans made the decision a major issue for the Congressional elections in November.
President Joe Biden said in remarks following the court's ruling that voters must elect more Democratic politicians to enshrine abortion protections in federal law. "This fall, Roe is on the ballot," Biden said from the White House.
"Today's decision dramatically escalates the stakes of the 2022 elections, and we're making sure Americans have the tools they need to channel their anger into action," said Christie Roberts, executive director for the Democratic Senatorial Campaign Committee (DSCC). "This on-the-ground organizing work will help elect Democrats who will fight to protect women's right to make their own health care decisions and ensure the GOP's cruel agenda to making abortion illegal and punish women is front and center for voters across the Senate battlegrounds."
Committees that help elect Republicans insisted that voters will remain focused on economical burdens that have been placed on them and the "radical position" Democrats have taken on abortion.
"This ruling does nothing to change the fact that voters' top concerns are rising prices, soaring crime, '' said National Republican Congressional Committee (NRCC) spokeswoman Samantha Bullock. "
"Today's Supreme Court ruling returns the issue of abortion to the states and allows voters to decide whether they agree with Democrats' extreme support for taxpayer-funded late-term abortion," said Bullock.
National Republican Senatorial Committee (NRSC) spokesman Chris Hartline hailed the court's decision and insisted the justices "ruled that abortion laws should be decided by the duly-elected representatives of the people, not unelected judges".
Following the ruling, the Democratic National Committee (DNC) launched a website to help voters shift their "anger into action" and a "nationwide organizing campaign to elect and reelect Democratic candidates who will defend women's rights to make their own health care decisions."
Democrats are battling the highest inflation in four decades, high gas prices and low poll ratings for Biden.
"Democrats needed an energizing, organizing dynamic and this provides it," said Fred Yang, a veteran Democratic pollster and strategist who is working in several competitive House and Senate races around the country.
Analysts said Democrats also want to use the Roe decision to win support from independents and even some Republicans — especially women — upset at seeing the legal right to abortion removed after 50 years.
A Gallup released earlier this month found that for the first time since 1996, more voters say they will only vote for a candidate who supports access to abortion than say they will only vote for one who opposes such access. What's more, the percentage saying they'll only vote for a pro-abortion candidate is higher than the percentage saying they'd only vote for an abortion opponent in any previous poll.
In November, control of the House and Senate are at stake along with thousands of legislative seats and the governor's office in 36 states. Republicans are expected to win the House and stand a good chance in the Senate. But the races for state legislatures and governorships that could protect or rescind abortion access will receive much greater attention.
"We've needed something affirmative to say and an issue where we can say affirmatively, we're going to protect your rights," Yang said. "This is it."
But Charlie Cook, a nonpartisan analyst who has spent decades studying campaigns and elections said he is skeptical Friday's decision will drastically change a political climate dominated by economic issues that work to the benefit of Republicans.
"If this were a level playing field, it might have greater impact," Cook told the Los Angeles Times. "But when you've got the economic situation we've got, with a majority — in some cases a big majority — expecting a recession, high inflation, interest rates shooting up, it's hard for abortion or guns or Jan 6 to cut through all this.
"It's like Democrats have dug themselves into a 10-foot hole," Cook said. "Abortion can fill a foot of it. Jan 6 can fill a foot. But they're still in a deep hole."