Violence mars protests as tempers flare after rights rollback
China Daily | Updated: 2022-06-27 08:44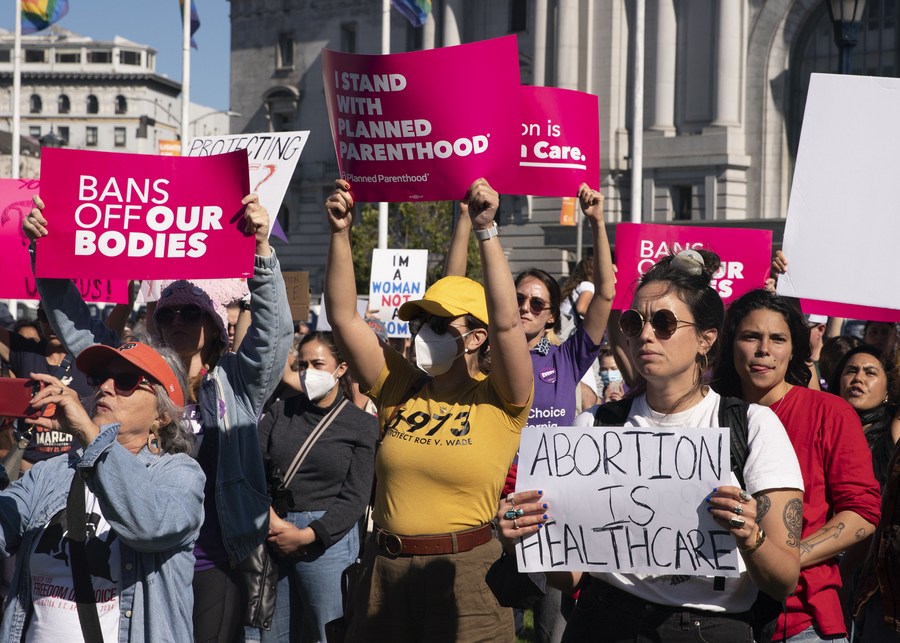 Violent and disruptive acts have marred the otherwise peaceful protests that broke out across the United States in response to the Supreme Court's rollback of the constitutional right to an abortion.
US Capitol Police arrested two people on Saturday afternoon for "destruction of property" after "they were accused of throwing paint over the fence by the US Supreme Court", the department tweeted.
Chanting demonstrators gathered outside the top court for a second day, after Friday's Supreme Court decision to overturn the Roe vs Wade ruling.
When abortion rights supporters demonstrated outside the Arizona Capitol in Phoenix following the decision, they were sprayed with tear gas by state troopers trying to break up the protest.
Law enforcement officials said that what had begun as a peaceful protest of 7,000 to 8,000 people "evolved into anarchical and criminal actions".
Protesters were banging on the windows of the state Senate, with some attempting to break the glass and causing the glass doors to warp, according to the officials, who did not give details about any arrests.
At a protest in Cedar Rapids, Iowa, on Friday, a pickup truck driver plowed into a group of demonstrators before fleeing the scene.
The driver of the Ford truck rammed into several protesters, all of them women. At least one woman was injured, but not critically.
"He tried to murder them," said Lyz Lenz, a journalist and witness to the attack. "These women see him coming and a bunch of people put their hands out to stop him. And he just keeps going."
Ten people were arrested on Friday night in Eugene, Oregon, during a demonstration called a "Night of Rage" in response to the court's decision, according to a police statement.
Those arrested ranged in age from 18 to 29. Nine people were charged with disorderly conduct, with one also charged with resisting arrest.
Police said demonstrators started gathering on Friday before 9:30 pm in front of a medical building in the city's downtown. The protesters wore black clothing, masks and hoods, and they appeared to have backpacks as well.
Another demonstrator was charged with harassment, police said.