Innovation drives MNCs in nation
By ZHONG NAN | CHINA DAILY | Updated: 2022-06-27 09:17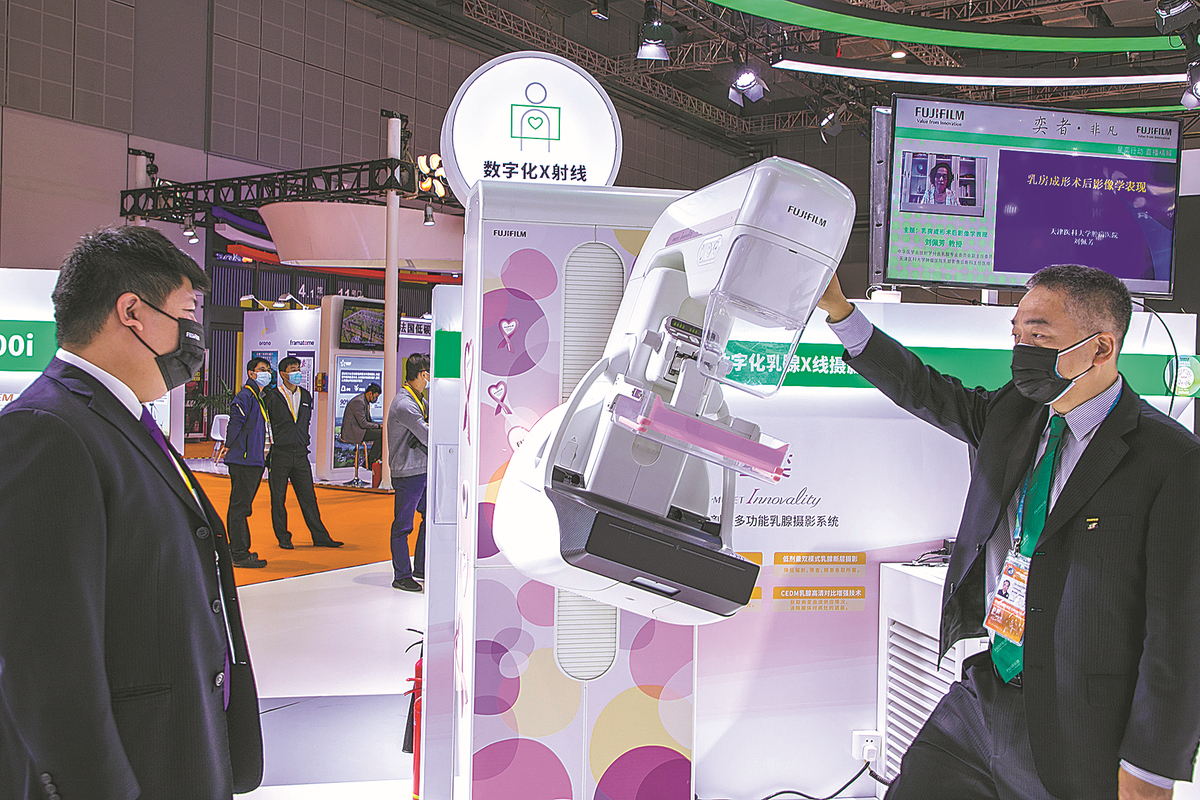 Kenichi Tanaka, president of Japan's Fujifilm (China) Investment Co Ltd, said that although some companies plan to implement the "China plus one" strategy by diversifying their supply chains to mitigate operational risks, China still has advantages in its complete industrial chains and broad market prospects.
"China and Japan share a lot of complementarities in the development of innovative economy, which is conducive to the sustainable development of enterprises," Tanaka said.
Fujifilm, he said, will continue to cooperate with local partners and promote "local production for local consumption" by strengthening R&D, manufacturing and marketing capabilities.
The company opened a new innovation and collaboration center in Suzhou, Jiangsu province, in April, providing a variety of media development and optimization services to customers throughout China.
It is not just certain MNCs that are sanguine about China. Data confirm a broader trend. For instance, in the first five months of this year, foreign direct investment flowing into the Chinese mainland, in actual use, expanded 17.3 percent year-on-year to 564.2 billion yuan ($84.04 billion), data from the Ministry of Commerce showed.
In the services sector alone, foreign capital in actual use grew by 10.8 percent year-on-year to 423.3 billion yuan in the January-May period. High-tech industries, high-tech manufacturing and high-tech services grew by 42.7 percent, 32.9 percent and 45.4 percent, respectively.
Investment from the Republic of Korea, the US and Germany climbed by 52.8 percent, 27.1 percent and 21.4 percent, respectively.
Sheng Qiuping, vice-minister of commerce, said the Chinese market will remain open and unleash more opportunities for global companies, as the fundamentals of the Chinese economy will continue to improve.
China will reinforce the role of fair competition to support the growth of a unified domestic market to further integrate its economy globally and expand high-level opening-up, he said.
Earlier this year, China fully implemented the negative list for foreign investment, expanded the encouraged investment catalog, improved services for investment promotion, and added more cities to the pilot program of opening the services sector.
The updated negative list for 2022 comprises 117 items, down from 123 in the 2020 version. A negative list indicates areas where investment is prohibited or restricted; all other areas are presumed to be open.
In April, the Communist Party of China Central Committee and the State Council, China's Cabinet, jointly released a guideline on accelerating the establishment of a unified domestic market that is highly efficient, rule-based, fair for competition and open.
The guideline includes plans covering six areas like market regulation and supervision, and measures against unfair competition and market intervention. It is in line with President Xi Jinping's economic thoughts on building a unified, open, competitive and orderly market system, where all businesses, whether foreign or local, receive equal status and enjoy equal opportunities in the marketplace.
That China's approach has been effective is borne out by Tesla Inc's Shanghai factory, which started production in just 12 months, said Sherri He, managing director for China of Kearney, a US-based management consulting firm.
Tesla's China plant produced over 484,000 vehicles in Shanghai in 2021, accounting for 52 percent of its global sales. Some 160,000 of these vehicles were exported, showing that much of the production met local demand, she said.
Although China's cost competitiveness in labor has gradually declined, there are many other areas where the country has improved its competitiveness, she said. For example, its middle-income group is growing. Domestic demand is burgeoning. Higher value-added industries now boast technology-backed supply chains.
Concurred Greg Holman, president for China unit of Stryker Corp, a US-based medical technology provider. "Even though the COVID-19 pandemic has presented temporary challenges, they do not change our commitment to China. We will open our China Innovation Center in Shanghai next year."
Holman's view is shared by Bettina Schoen-Behanzin, regional representative for Asia of Freudenberg Group, a German conglomerate operating manufacturing and technology service businesses in 60 countries and regions with about 50,000 employees. She said continued investment in both high-tech manufacturing infrastructure and local R&D facilities is integral to the company's long-term approach and innovation strategy in China.
The company commissioned a new plant-its largest filter production facility in the world-in Foshan, Guangdong province, in October, and will open another two factories in Chongqing and Changchun, Jilin province, in the second half of this year to meet the growing needs of the local market.
SurTec, one of Freudenberg's subsidiaries based in Germany, will also inaugurate its new technical center in Hangzhou, Zhejiang province, in the second half.
Lisy Lee, chairman for China of Petronas, Malaysia's State-owned energy group, which supplies liquefied natural gas, petrochemicals, crude oil and lubricants to China, said the company is seeking to grow its position as a reliable LNG solutions provider to China.
Petronas will also continue to work closely with a spectrum of Chinese customers ranging from State-owned enterprises and other major corporations.
Lee said Petronas Chemicals Group Berhad, one of the group's business units, plans to expand its specialty chemical business in China, on top of core commodity trade with the country.
The Regional Comprehensive Economic Partnership agreement, the world's largest free trade agreement that took effect in Malaysia on March 18, shows the commitment of all participating countries, including China, to choose to open up markets rather than be protectionist during the pandemic, she said.
Businesses from the RCEP member countries such as Petronas have been able to gain greater access to a broader range of markets, including China, Lee said.