Oil painter's new works express feelings for home city
Share - WeChat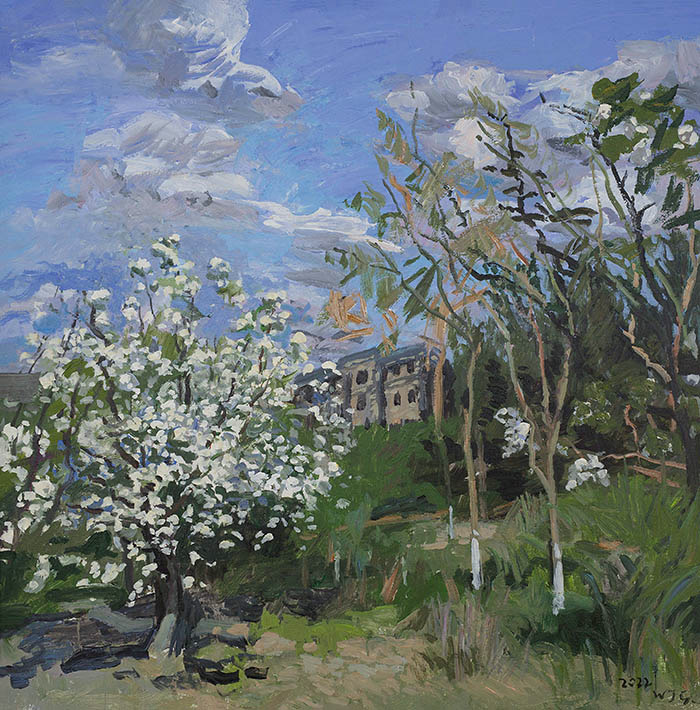 "The sunshine of Changchun has been an integral part of my early memories," says Wang Jianguo, an oil painter and professor of the Jilin University of Arts in Changchun, Jilin province.
"During those days, there were few people in the city and lot of trees. When the spring came, lilacs were in full bloom everywhere, and the floral fragrance was fresh and elegant."
Throughout the decades, Wang has been documenting his home city's transformation with vivid colors. Right in the Spring, an ongoing exhibition at the Post Modern Gallery in Changchun, shows over 90 oil paintings Wang made in the last five years. He focuses on the city buildings and historic industrial sites to depict the state of mind of people, through which he expresses hopes of the rejuvenation of an industrial city marked with past glories.
"I witnessed the city's heyday of prosperity and also its crisis and challenges. The cityscape for me is an infusion of the past and present, realities and memories to which I feel a deep attachment," Wang says.
The exhibition runs through July 26.