Chinese consumers more cautious, price-sensitive
By Yang Yang | chinadaily.com.cn | Updated: 2022-06-27 17:29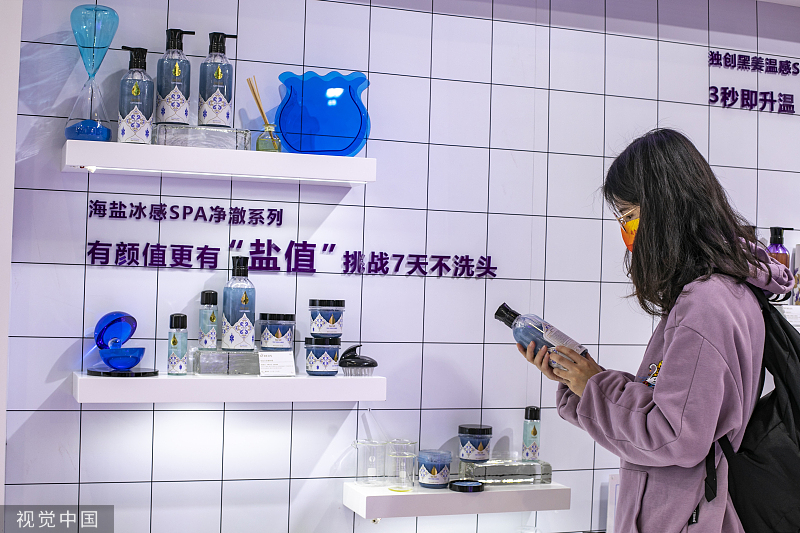 Chinese consumers have become more cautious and price-sensitive as turbulence becomes the new normal due to the COVID-19 pandemic, an industrial report said.
Beverage products witnessed 5.9 percent growth in 2021, reversing the downward trend of a 4.1 percent fall in 2020, according to a report on Chinese consumers released by Bain & Company and Kantar Worldpanel on Tuesday.
Packaged food went in the opposite direction in the same period, with sales volume down 2 percent, average selling price up 0.8 percent, and overall sales down 1.2 percent.
Data shows the overall sales of China's fast-moving consumer goods market increased by 3.1 percent in 2021, continuing the trend of fast-moving consumer goods market growth being lower than that of GDP during the epidemic.
In 2021, the sales volume of personal care and home care products maintained growth of 3.6 and 7.5 percent, respectively. The sales of shampoo increased over 10 percent in the same period.
From March 26 to April 22, sales of fast-moving consumer goods increased by 5.6 percent year-on-year and the average selling price fell by 5.7 percent, the largest price decline in recent years, reflecting increasing sensitivity of consumers to prices.
E-commerce platforms including Pinduoduo, Douyin and Kuaishou are also becoming more popular among consumers. Emerging channels such as live broadcasts and community group buying platforms will help brands expand their layout and influence, penetrate lower-tier cities in a more direct way and soon enter first- and second-tier cities.
Consumers are expected to be more sensitive to price increases in many categories in the rest of 2022.
The long-term fundamentals of the Chinese market remain solid and there is reason to remain optimistic about the return of its healthy growth in 2023, the report said.