Ambassador calls for closer Scottish links
By WANG MINGJIE in Edinburgh, Scotland | China Daily Global | Updated: 2022-06-28 09:37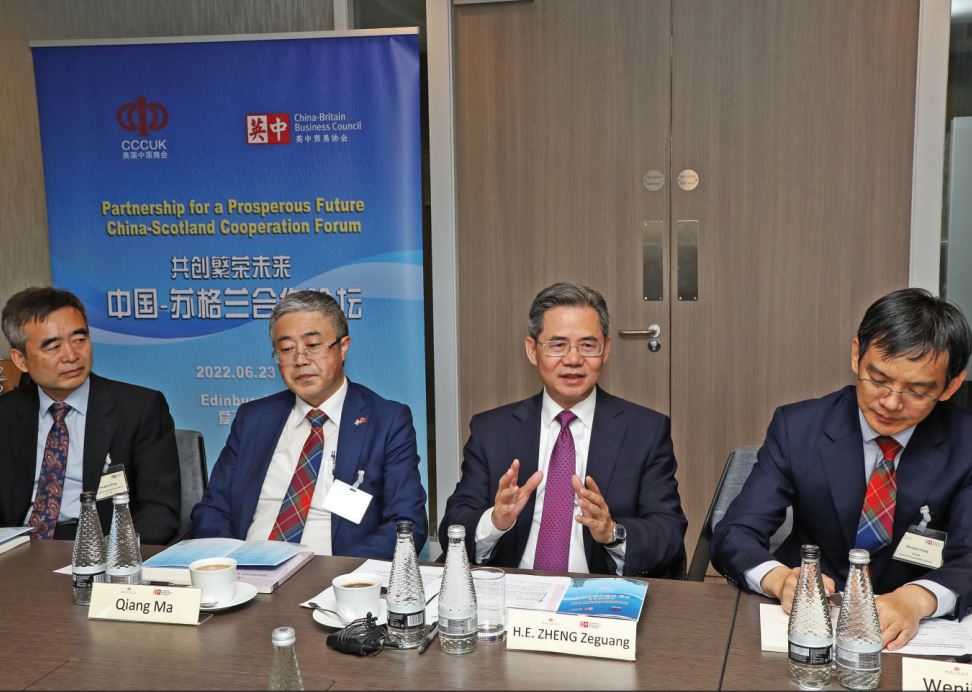 Businesses from both sides urged to promote exchanges and cooperation
China and Scotland enjoy enormous scope for cooperation in trade and economy, education, culture, green energy, infrastructure, agriculture, and creative industries, China's top diplomat in the United Kingdom has said.
"The Scottish economy is unique and resources are abundant. During the past two years, cooperation between the two sides has continued to grow, fully demonstrating its strong resilience," said Zheng Zeguang, China's ambassador to the UK.
The ambassador made the remarks in Edinburgh during the China-Scotland Cooperation Forum, organized by China Chamber of Commerce in the UK(CCCUK) and the China-Britain Business Council (CBBC), with the aim of enhancing business ties between the two countries.
During the past 50 years, since the establishment of China-UK ambassadorial diplomatic relations, Zheng said, China and Scotland have seen fruitful cooperation in economy and trade. He urged both Chinese and Scottish companies to seize opportunities and strengthen confidence in a better future, so as to create more trade opportunities and broader space for investment.
While encouraging Scottish and Chinese companies to expand their cooperation, the ambassador said: "They should focus on green and low-carbon development, build on existing partnerships in areas of wind power and electric vehicles and strengthen cooperation in low-carbon technologies, energy storage, new energy, climate investment and financing and green finance"
He called on businesses from both sides to play an active part in the exchanges and cooperation between sister provinces and cities as well as educational institutions, with a view to promoting practical city-to-city cooperation and collaboration between universities in education and research.
Sherard Cowper-Coles, chair of the CBBC, said that Scottish exports to China have been growing rapidly, from 113 million pounds ($139 million) in 1996 to 1 billion pounds today.
"Cooperation between Scotland and China is increasingly close and with a bright future in many areas including education, culture and tourism," he added.
Fang Wenjian, chairman of the CCCUK, said Chinese enterprises are actively contributing to local employment, and that the number of Chinese companies in Scotland with an annual turnover exceeding 5 million pounds is now 14.
"These large companies not only pay considerable amounts of tax each year, but also continue to play an important role in providing local employment opportunities in Scotland," Fang added.
One noticeable trend of Chinese investment in Scotland is a shift from traditional areas to more diverse sectors, expanding from fields such as finance, energy, and manufacturing to renewable energy, food and beverages, cultural and education, technology, and tourism, Fang said.
Graeme White, global head of inward investment, strategy and new investment at Scottish Development International, said: "The Scottish government's core message today is that we want to work more deeply and in partnership (with China) and to see more and more people and companies from China working with, studying in, visiting and investing in Scotland."
Scotland's exports to China continue to grow year-on-year, with food and drink exports to China nearly doubling in 2021, and China now accounts for 4 percent of Scotland's food and drink exports, according to White.
He pointed out a key area where Chinese companies are already involved, which is Scotland's journey to net-zero.
The Scottish government has shown leadership in setting world-leading targets, including 50 percent of Scotland's total energy demand (electricity, heat and transport) to be supplied by renewable sources by 2030, net-zero greenhouse gas emissions by 2045, and 75 percent emissions reduction by 2030, White said.
He said he is confident that there will be ample opportunities for Scottish and Chinese businesses to work together as both nations endeavor to achieve their long-term ambitions on climate change.