Some resorting to pawn shops as US inflation rises
By HENG WEILI in New York | China Daily Global | Updated: 2022-06-28 10:23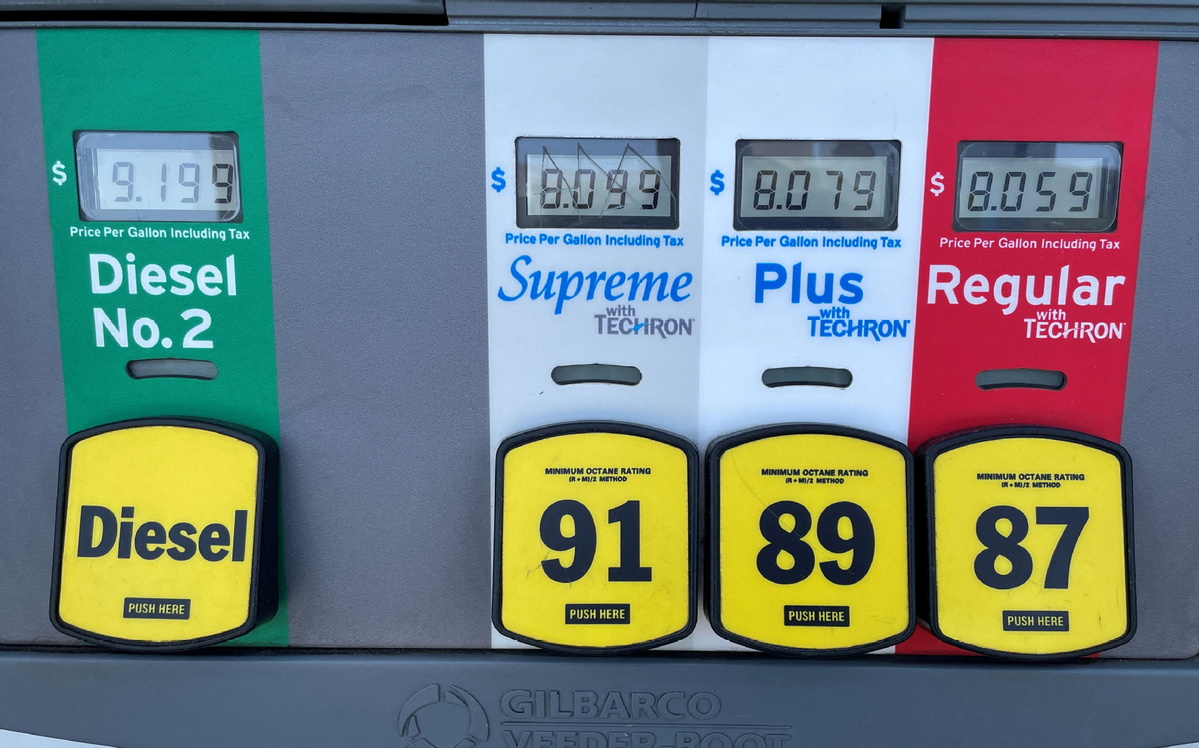 With fuel and food prices soaring, some people in the US are lugging their belongings to pawn shops to raise cash.
"They're coming in and they're pawning their personal items to help them out, and we're here to help them out," Eilsel Garcia, owner of Pawn Texas in Lubbock, told Fox 34 News.
"People have to go to work sometimes and this morning I had a customer come in and they were on 'E' (empty on their fuel tanks), and they pawned some personal items to help them out. So, they're really struggling. Sometimes it's an inheritance from their grandma or their mom or even a wedding ring."
Items for sale include firearms, tools, computers, phones, video game consoles, and even items with sentimental value, like inherited heirlooms, newsweek.com reported.
"Gas and groceries are a daily occurrence; I've got to feed my family; I can't get to work," said Patrick Wade, owner of P&J Pawn in Dallas, in telling NBC-DFW some of the reasons people give when selling at his shop.
"Our gas budget has almost doubled, and it's still rising so," Mindi Diamond told WOWK. a CBS affiliate in Huntington, West Virginia.
Diamond said she is considering trading in her sport-utility vehicle for a more fuel-efficient car.
For the second straight week, the nation's average gas price has declined, falling 8.8 cents from a week ago to $4.88 per gallon Monday, according to fuel price-tracking site GasBuddy.com.
Still, the national average is up 28.3 cents from a month ago and $1.79 per gallon higher than a year ago. The national average price of diesel has fallen 2.7 cents in the last week to $5.79 per gallon.
"With Independence Day a week away, gas prices have continued to fall for the second straight week as the price of oil has faltered, ushering in the drop we're seeing. The good news is we could also see a third straight week of decline," said Patrick De Haan, head of petroleum analysis at GasBuddy.
"While prices will be at their highest July Fourth level ever, they'll have fallen close to 20 cents since our peak in early June."
The consumer price index (CPI) rose 8.6 percent in May, according to the US Bureau of Labor Statistics. The energy index rose 34.6 percent over the last year, the largest 12-month increase since the period ending September 2005. The food index increased 10.1 percent for the 12 months ending May, the first increase of 10 percent or more since the period ending March 1981.
Inflation has made the average American household spend an extra $460 per month, according to Moody's Analytics senior economist Ryan Sweet.
Using May CPI data, Sweet compared average household spending in May to what would have been spent in 2018 and 2019, when annual inflation averaged 2.1 percent.
Joshua Hobson, manager at Tri-State Pawn and Jewelry in Huntington, West Virginia, told WOWK: "We have been seeing some new faces. It's usually just kind of the regulars and stuff that kind of use us for a bank essentially, but there are a lot of new people that are coming in.
"Groceries went through the roof of course," Hobson said. "So everyone's just like struggling to eat. They are obviously going to find food to eat first before that, then they'll come here and get money for their utility bills, gas, et cetera."
"That's a shame they have to do that, especially if it's personal," resident Larry Adkines told the TV station. "You know they really need something, and they love what they have, and they have to sell it."
At Valley Pawn in Sun Valley, Nevada, manager Matt Ludlow said he's hearing more about the need for collateral loans because of gas prices.
"Right around when it (gas prices) hit above $5," he said to KOLO-TV, an ABC affiliate in Reno, Nevada.
"Pay the rent, increases in gas prices and food; it's what I've been hearing from a lot of people, especially when it's something hard to let go, that they didn't want to sell," said Jacob Peterson, owner of Reno Gold Exchange.
In San Antonio, Texas, Ian Aikman at River City Pawn told NBC affiliate WOAI, "We're seeing, I mean, as young as 20 all the way up to the 60s that are having a hard time right now."
In Illinois, the owner of Decatur Jewelry and Pawn told NBC affiliate WAND of a surge in customers.
"Our influx of customers to either sell us products or get a loan on them has increased 30 percent in the last few weeks," Perry Lewin said.
"Lot of customers that have been pawning for many years already have a lot of their items in pawn. Now with gas prices suddenly increasing, inflation and food prices going through the roof, they're really having to scramble to think of anything they can bring in to pawn," he said.
For some, hocking personal items is a way to buy food.
"A lot of customers when they get their money and sign their ticket they say, 'Thank you for being there. If it wasn't for you, I wouldn't know how I'd pay my bills,'" Lewin said.
"We see new customers through the door every day," said Diane Taylor from Traders Loan & Jewelry, a modern pawnshop reminiscent of the Old West, about 20 miles northwest of Los Angeles.
"Here in California, high gas prices are in the headlines. People bring their items here and get the cash they need to fill the gap without the hassle," Taylor told The Pawnbroker Network.
At $6.30 a gallon, the Golden State has the highest gas prices in the US.