NATO bulks up in major overhaul
By CHEN WEIHUA in Brussels | China Daily | Updated: 2022-06-29 10:23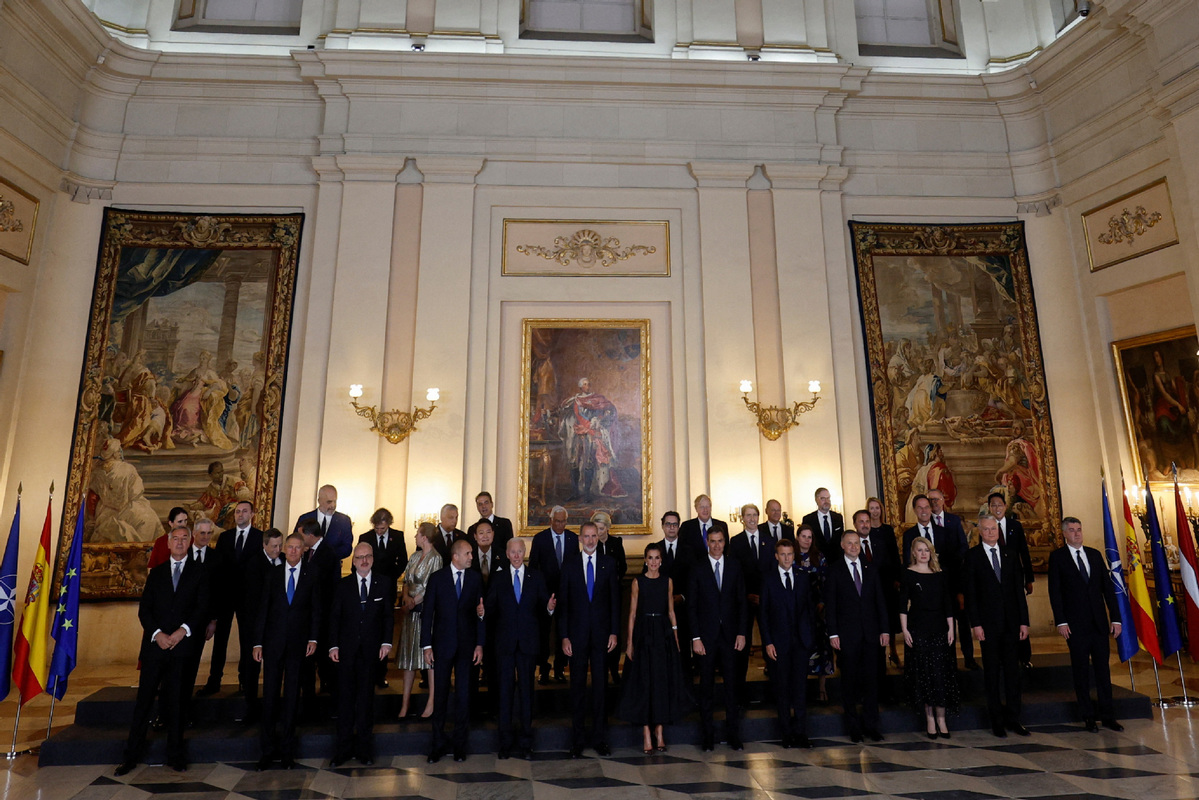 Personnel in high-readiness forces to reach 300,000, alliance chief says
NATO will dramatically increase the ranks of its high-readiness forces from 40,000 to 300,000 as part of the biggest overhaul of its collective deterrence and defense since the Cold War, the trans-Atlantic alliance's chief said on Monday.
The organization will also boost its ability to reinforce in crises and conflicts, such as with more prepositioned equipment and stockpiles of military supplies and more forward-deployed capabilities, NATO Secretary-General Jens Stoltenberg said.
Stoltenberg said the three-day NATO summit in Madrid, which ends on Thursday, will be "transformative" and "with many important decisions" including NATO's new strategic concept for a new security reality, a fundamental shift in its deterrence and defense and support for Ukraine.
"Our new concept will guide us in an era of strategic competition," he told a news conference previewing the summit.
Stoltenberg said he expects that NATO allies will make clear at the summit that Russia is "the most significant and direct threat to our security".
"It will address China for the first time. And the challenges that Beijing poses to our security, interests, and values," he said, without giving details.
Stoltenberg said that NATO allies will consider their response to Russia's and China's increasing influence.
Shada Islam, a Brussels-based commentator on Europe-Asia affairs, said that she is not surprised at the NATO narrative.
"NATO's narrative on China has been hardening over the years in keeping with the trend in the US and in many EU member states which see China as a partner, competitor and systemic rival," she said.
Shen Dingli, a professor and former executive dean of the Institute of International Studies at Fudan University in Shanghai, said that NATO's characterization of Russia is pretty much the same as that found in US government documents, while its language about China differs from that of the administration of US President Joe Biden.
"It will be the first time for NATO to single out China as a challenge for the future, but NATO does not believe China poses a bigger challenge than Russia, reflecting the divisions on the issue between the US and NATO," said Shen, clearly referring to a recent speech by US Secretary of State Antony Blinken in which he called China a bigger long-term challenge than Russia.
On Monday, European leaders voiced views on China that contrast with the line from Washington.
"I think the last thing we could, we should do is turn our backs to China the way we are turning our backs to Russia," Belgian Prime Minister Alexander De Croo told the Brussels Forum.
At the same forum, European Commission Executive Vice-President Frans Timmermans said he disagreed with the US approach of "slamming the door on China".
Unresolved issue
The NATO summit this week will also discuss the applications by Sweden and Finland to join the security alliance, an unresolved issue due to Turkey's opposition.
Turkey, a NATO member, claims that the two Nordic countries have ties to the Kurdistan Workers' Party and the Syrian People's Defense Units, which Turkey regards as terrorists.
Stoltenberg said that it is too early to say what kind of progress can be made at the summit.
Stoltenberg met Swedish Prime Minister Magdalena Andersson late on Monday. In a statement, he said that the security concerns of all allies must be taken into account as part of the NATO accession process.
He told Magdalena that Turkey's concerns are "legitimate and must be addressed", adding that no ally has suffered more at the hands of terrorists than Turkey.