National spirit showed during catastrophic floods in China
By Zou Yuanmei | chinadaily.com.cn | Updated: 2022-06-29 14:36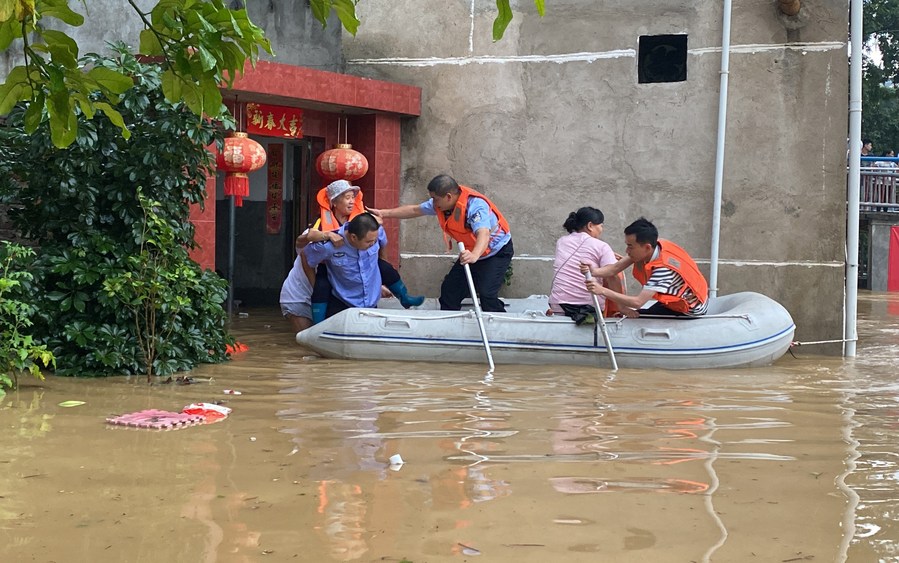 Since June 17, there have been problems caused by the several heavy downpours in different regions of China, especially in my hometown, Leping, East China's Jiangxi province. Problems like urban and rural water accumulation which have disrupted people's normal life and has caused serious property loss for both the country and its people.
These problems are exerting extreme pressure on the local government and relevant departments in Leping because of the unexpected flood crisis being greater than ever before. The water level of Le'an river in Leping exceeded its historical highest measurement record by more than 1 meter according to the local government. Thus, the task of flood control to save people's lives and property the local government is faced with is more serious than ever before.
In such a circumstance, both the local government and all sectors of society pay ample attention to the flood control and disaster-relief work because they know this continuous rainfall, which is causing severe damage, is a serious threat to their lives.
On the one hand, the flood posed a threat to the lives and health of the local people. Many residents were trapped by the floodwaters in low-lying areas. They can only live on the higher floors of their homes without food supply from the lower floors because those floors were inundated by the raising floodwaters. Therefore, they cannot go out and buy food or groceries. On the other hand, it also caused damage to many different properties. Many houses and growing crops in fertile fields were destroyed due to the huge impact of the flood and, because the flood came so quickly and heavily, many goods in warehouses and stores, electric wires and vehicles were caught in the floodwaters without being transferred or protected by sealing or covering measures.
To deal with this situation, the government in Leping initiated a flood control response on June 20. Nearly ten thousand officers and soldiers didn't go home for days to fight the flood, all while eating fast food and sleeping on wooden benches fitted into beds. They have been assigned to build temporary sand beams to heighten dams, help distribute bottled water and instant noodles and bread to trapped people via lifeboats and evacuate the masses after the prompt analysis of the rainfall information and disaster situation. In addition, various chambers of commerce, associations, non-governmental organizations and entrepreneurs have actively donated money and supplies to the disaster area to support the local government and people.
Thanks to the endeavors of the local government and all sectors of society, the guaranteed safety of people's lives and property has been greatly increased and a lot of moving stories about flood fighting and rescue have also appeared during this process. For example, Shi Jun, a staff member of the Bureau of Industry and Information Technology of Leping, was sent to the community of Lilin town and took the initiative to command the flood-control and disaster-relief work of the whole community. After days and nights of high-intensity work coupled with long-term immersion in floodwaters, his legs and feet became swollen by infection and he had to be treated in the hospital.
There are many other stories like his, and they are all heroes of the flood fighting and rescue. Some of them stood in the heavy rain to warn pedestrians that the road ahead is flooded and impassable, some of them delivered supplies day and night, some of them evacuated people in high-risk areas and the list goes on. It is because of their efficient and effective work that the safety of people's lives and property has been marvelously guaranteed.
Now the floodwaters are gradually receding, but post-disaster reconstruction work continues. The local government is focusing on the disinfection and mud cleaning to prevent diseases and help people resume normal production and life, providing disinfectants, bleaching tablets and other disinfection materials. Professionals are dispatched to disaster-hit areas to provide guidance on disinfection and health education. Also, in response to the problem of agricultural losses caused by the flood, the government is actively distributing disaster relief seeds and is contacting agriculture, finance, insurance and other related departments to help put the relevant insurance pay out in place as soon as possible.
Meanwhile, people from all walks of life actively donated money and supplies to help the reconstruction of disaster areas. As of June 24, the Red Cross Society of Leping received donations and supplies worth 627,176 yuan (US $93,575). Now the value of donations and supplies is far greater than before, and the number keeps growing, which shows these people's concern for the disaster areas and their sense of responsibility.
The catastrophic flood is an incredibly powerful force of nature because of its mighty impact; however, we human beings are invincible with our unity. In this severe flood disaster in China, the local people are working together in harmony under the guidance and help of the government. It shows the national spirit of unity and such a unique spirit can only be led and protected by the government. Without the government, the safety of people's lives and interest cannot be guaranteed, thus the national spirit can be at stake.
Over the recent years, whether responding to local floods or global pandemic disasters, the Chinese government did a great job of protecting the interest and security of their people. They did all this in spite of tremendous pressure and with the support of its people and help from all sectors of its society because of its attitude of service to the people and their lives first. This is the embodiment of strong national cohesion which cannot be swept away by flood or other disasters. After all, the flood may wash away houses, but it cannot destroy our national spirit.
The author is a student at Shandong University. The opinions expressed here are those of the writer and do not necessarily represent the views of China Daily and China Daily website.
If you have a specific expertise, or would like to share your thought about our stories, then send us your writings at opinion@chinadaily.com.cn, and comment@chinadaily.com.cn.