Silence gives way to defiance after hate crime
Share - WeChat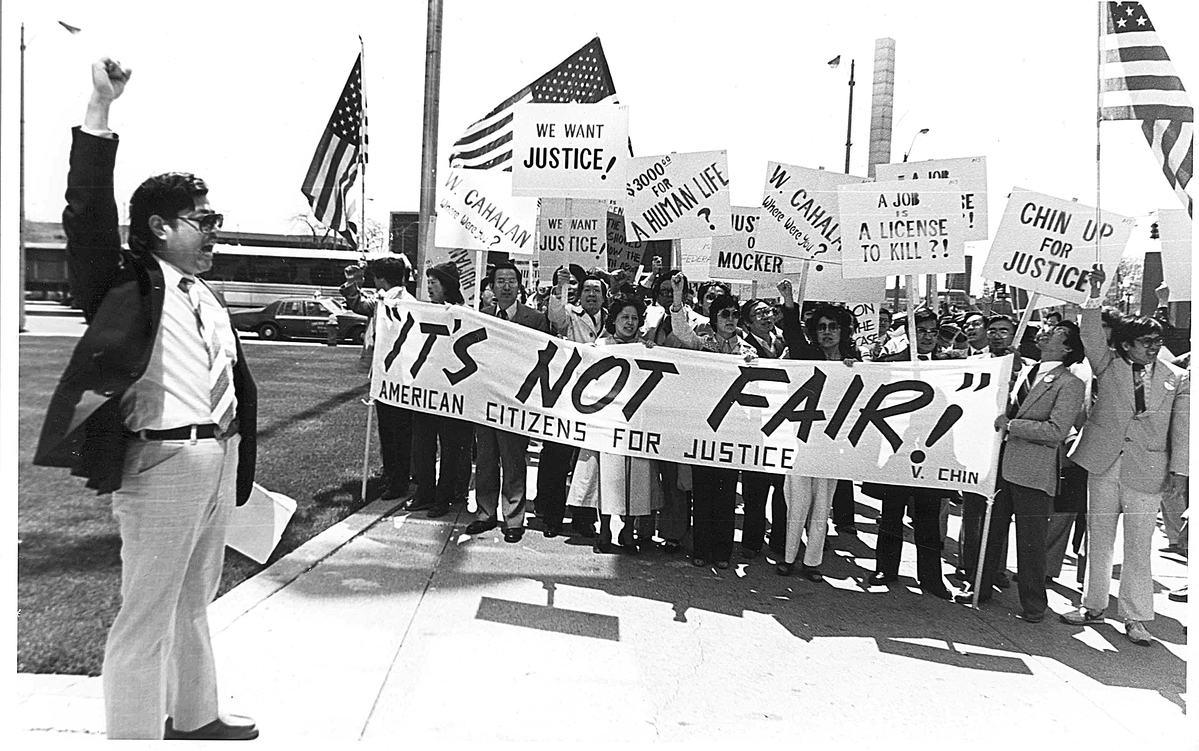 How outrage over Vincent Chin's slaying 40 years ago fired up Asian solidarity in US
Editor's note: On June 19, 1982, Vincent Chin was savagely beaten in an attack in Detroit that led to his death days later. His killers, two white men, never spent a day in jail. This page looks back at the moment when Asian Americans finally found their voice, both in their cries for justice for Chin and an end to long-standing racism. This is the final report in a three-part series on race issues in the US.
May 9 fell on a Monday in 1983 and, typically for the time, most Chinese restaurants in the United States would close their doors that day. But, in Detroit, they had another reason to do so. The Chinese restaurateurs, chefs and waiters in the Michigan city shut down not for a well-earned break but to demand justice for the broken skull of a fellow Chinese American. The brutal murder of Vincent Chin, whose white killers never spent a day in jail, led to a nationwide outcry. What's more, the anger from that day jump-started a movement asserting the rights of Asian Americans.
In Detroit's John F. Kennedy Square, nearly 1,000 people gathered for what was believed to be the industrial city's first protest with a predominantly Asian base. Low-wage manual laborers were joined by senior scientists and "comfortable professionals"-to use the words of Helen Zia, one of the event's key organizers-who were with the city's major auto manufacturers known as "the Big Three". Grandparents who pushed baby strollers and who had never protested, bar the grievances they bottled up inside, found themselves chanting calls for change alongside the baby-boomer generation who had grown up seeing "the mistreatment of our parents and grandparents" and who were ready to "assert every right that every other American has", said Zia, who counts herself among that questioning generation.
The placard-waving crowd covered the spectrum of Asian Americans in Detroit. Aside from Chinese, there were Japanese, Koreans, Filipinos and Vietnamese, among others. "People had overcome language and generational barriers and a lot of historic distrust to show that there's strength in numbers," said James Shimoura, whose grandfather came from Japan around 1913. As a young attorney, Shimoura lent legal support to Vincent's mother, Lily Chin.
"I want justice for my son. Please help me so no other mother must do this," the bereaved mother told her supporters on that memorable Monday.
The pain was excruciating: a year before, on June 19, 1982, Vincent celebrated his upcoming wedding at a bachelor party in a local club, before getting into a brawl with Ronald Ebens, a supervisor at a Chrysler plant, and his stepson Michael Nitz. After all of them were thrown out by the owner, Ebens and Nitz drove around the neighborhood for half an hour looking for Chin, even paying another man $20 to get in the car and help "get the Chinese". They eventually spotted Chin in the parking lot of a McDonald's restaurant.
While Chin tried to escape, he was held firm by Nitz as Ebens repeatedly bludgeoned him with a baseball bat as if he was swinging "for a home run", according to one of the two off-duty police officers who witnessed the killing. Four days later, Lily Chin removed her unconscious son from life support. The 400 guests for the 27-year-old's forthcoming nuptials attended his funeral.
Horrific as it was, the killing was met with silence from the local Asian community, a reaction that was hardly surprising to Zia.
"The Asian population in America had been kept very small by immigration laws until 1965, so small that it could be easily targeted and taken out," she said. "In fact, there had been burnings of Chinatown throughout the 19th and early 20th centuries. And all Japanese Americans on the West Coast were arrested and thrown into camps during WWII.
"So the idea was to never make waves, and never be the nail that sticks up, because you will be hammered down."
But the "mind-boggling injustice", as Shimoura puts it, had ultimately led people to overcome their fears. "The criminal case was never tried since the whole system broke down from the very beginning," he said.
Without consulting Lily Chin, the county prosecutor, who technically represented the interests of the Chin family, offered Ebens and Nitz a plea bargain, which the two accepted; their original charge of second-degree murder was reduced to manslaughter.
After pleading guilty to the reduced charge, the two were given three years' probation and a $3,000 fine, at a brief sentencing session in a county court with the participation of only the killers' lawyer and Judge Charles Kaufman. In the courtroom, the judge made the now-infamous remark that "these weren't the kind of men you send to jail … You don't make the punishment fit the crime; you make the punishment fit the criminal."
As a family friend put it, "Vincent's life was worth less than a used car".
Zia placed the sentence in the context of a city in which black people made up 60 percent of the population. In Detroit, "an African American could go to jail for crossing the street in the wrong place, or having a car with an expired registration". That meant there "was a complete recognition of what the judge meant by that remark", she said.
Zia later found herself reaching out to black communities and political leaders whose support was "crucial for us to get a civil rights trial".
The colossal effort also involved Ronald Hwang, then president of the Detroit chapter of the Association of Chinese Americans. Hwang's father, a senior Ford engineer, emigrated to the US from China in the 1940s, a time followed by an era of heightened racism against Asians, due as much to the dominant anticommunist, Cold War mentality as to the Korean and Vietnam wars.
But Chin's death, "a direct result of what was going on in Detroit" to quote Hwang, contains another recurring factor-scapegoating.