Minorities increasing gun purchases
By MAY ZHOU in Houston | China Daily Global | Updated: 2022-07-01 11:30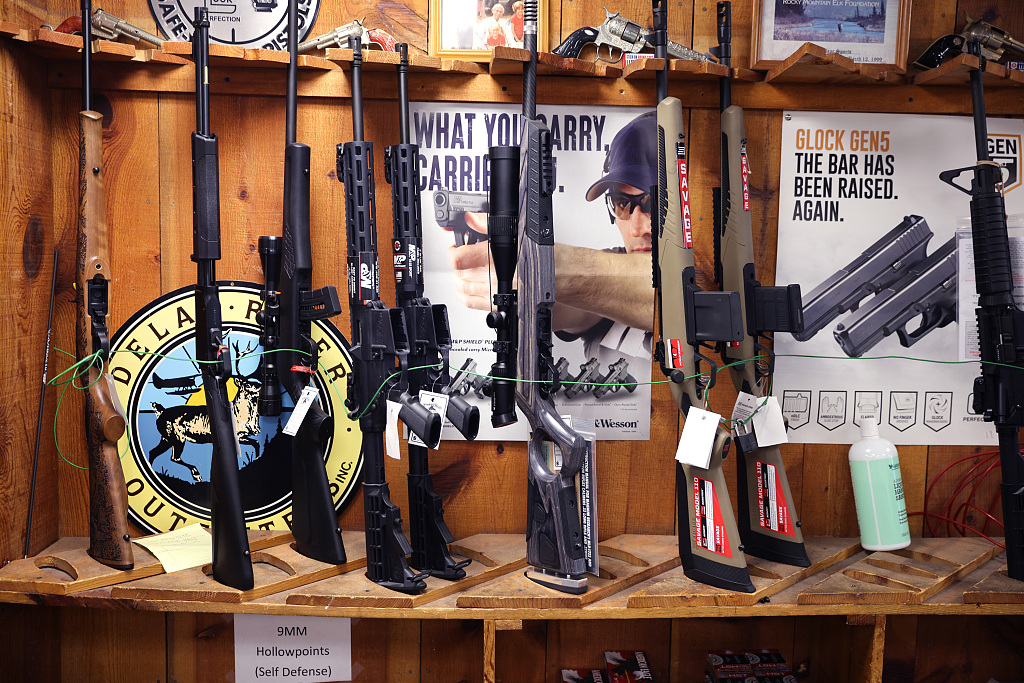 When the elementary school shooting at Uvalde, Texas, occurred in May, where 19 students and two teachers were killed, gun control advocates pointed out guns should be more strictly regulated to prevent another similar tragedy from happening.
However, the tragedy prompted Jessie Jia, a mother of three and business owner in Houston, to buy her first gun this year. For her, a gun will help protect herself and her family.
Jia's reasoning resonates the core message of the gun industry's marketing strategy in the last two decades and that is self-dense.
In 2020, a study published by David Yamane, a sociology professor at Wake Forest University, examined advertising in Guns magazine from 1955 to 2019. The study found that in the late 1980s, the emphasis of the US gun culture has shifted from hunting and recreational shooting to armed self-defense.
The themes in gun advertising were about equal in mix in 2010. From then on, self-defense has become and is now the dominant message in gun advertising, the study revealed.
Another study by Yamane and others examined advertising in The American Rifleman found similar result.
Joseph Pierre, a professor in the psychiatry and biobehavioral sciences department at University of California, Los Angeles (UCLA), said according to a 2019 study most research comparing gun owners to non-gun owners suggests that ownership is rooted in fear, which has been used as marketing tool by the gun industry.
Such marketing strategy has apparently worked as evident in the ever-growing sales of guns and the surging new gun ownership among victims of violence. That is why each time a mass shooting happens more people buy guns, according to gun industry experts.
The Firearm Industry Trade Association (NSSF) reported that American gun sales in 2021 increased 269 percent, from $19.1 billion to $70.52 billion. That trend corresponds to the rising frequency of mass shootings.
Another report by NSSF showed that 3.2 million Americans became new gun owners in 2021. Its survey showed that in the first six months of 2021, about 90 percent of gun retailers reported an increasing number of African Americans buying firearms.
Philip Smith, who started the National African American Gun Association in 2015, told NBC News that the murder of George Floyd and the shootings of black men and women by police officers, vigilantes, and the like, sparked the surge.
"There's been a polarization racially and politically that's driving that narrative for Black people purchasing guns for protection," Smith said. "Folks are saying they don't want to be out in public without a gun or they might end up like Ahmaud Arbery or Trayvon Martin or countless others who have been killed in the streets."
Two days after an 18-year-old white man was accused of shooting and killing 10 black people in a supermarket in Buffalo, New York, in June, Michael Moody, a federal government worker in Washington changed his mind about possessing a firearm and decided that he "needed a gun", reported NBC.
He found that many other African American shared the same sentiment while chatting with other buyers queuing at a gun shop.
"It's getting bad when someone specifically targets black people to shoot. We have to be prepared to fight back. And you can't survive bringing a knife to a gunfight," Moody said.
Smith said his organization has gained more than 1,000 members each month since 2020. Currently, there are 48,000 members nationwide.
Hate crime is also driving up gun purchases among Asian Americans who have been targeted in attacks by racists who unjustifiably blame them for the COVID-19 pandemic.
The civic organization Stop Asian Hate reported that from March 19, 2020, to December 31, 2021, a total of 10,905 hate incidents against Asian American and Pacific Islander (AAPI) persons were reported.
NSSF said about 80 percent of gun retailers reported an increase of Asian Americans purchasing firearms in the first six months of 2021.
A 2021 study by University of Michigan found that Asian Americans who experienced more racial discrimination were more likely to purchase a gun and more ammunition during the pandemic. More than half (55 percent) of Asian Americans who purchased a gun after the beginning of the pandemic were first-time gun owners.
The trend led to the establishment of the Asian Pacific American Gun Owners Association (APAGOA) following a shooting in Atlanta in which six of the eight victims were Asian women.
Patrick Lopez, in a recent dialog with the United States Concealed Carry Association, said the surge in anti-Asian violence and Asian American gun ownership prompted him to establish APAGOA since he couldn't find such an organization in the US.
"These folks are purchasing firearms for the first time because they are scared. Shouldn't there be some resources there for them to help make sure they are using their firearms safely and responsibly?" Lopez respond as to why he set up the California-based organization.
In a little more than one year, APAGOA has become a member of NSSF and participated in a couple of gun shows. It also filed an amicus brief in a Supreme Court Second Amendment case to support gun rights last July.