Shootings at US schools hit 20-year high
By BELINDA ROBINSON in New York | CHINA DAILY | Updated: 2022-07-02 10:06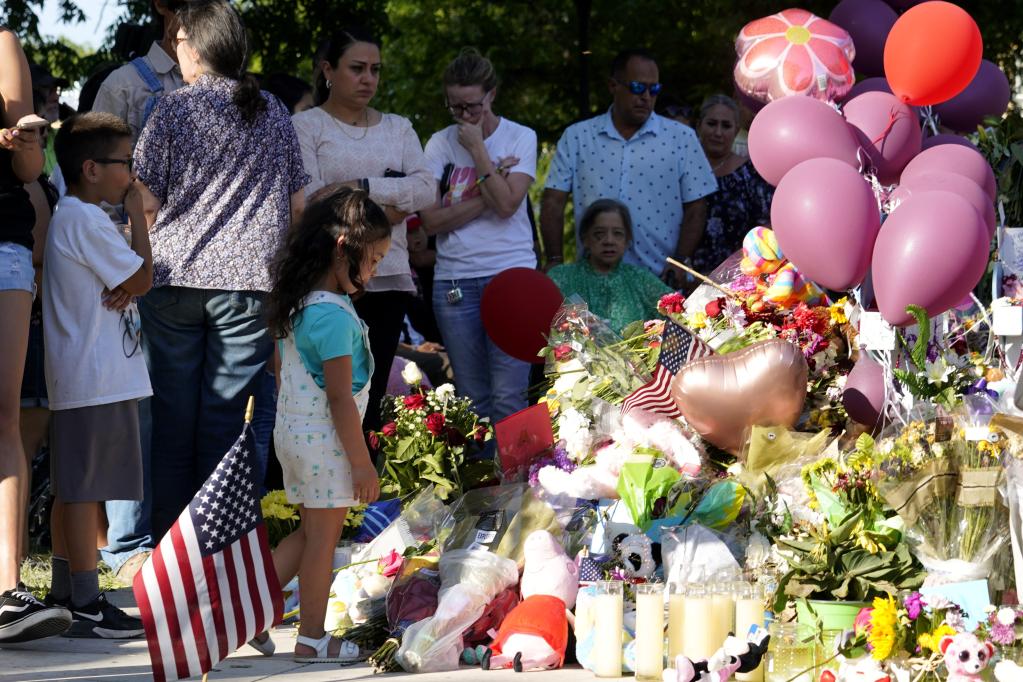 Compromise legislation takes effect a month after 19 children killed in Uvalde
School shootings in the United States rose to their highest number in 20 years between 2020 and 2021, according to a new report.
The National Center for Education Statistics, or NCES, released a report on safety in schools on Tuesday, which found that there were 93 school shootings at public and private schools nationwide. These led to 43 deaths and 50 injuries, despite the country being in a pandemic and many children learning remotely.
The incidents represented the highest increase of school shootings since data collection began and was in sharp contrast to the school years of 2000 to 2001, when there were 23 shootings.
Concern over school shootings rose following the mass shooting at Robb Elementary School in Uvalde, Texas, after an 18-year-old man opened fire with an AR-15 rifle, killing 19 students and two teachers in May.
"Although the rate of nonfatal violent victimization at school for 12- to 18-year-olds was lower in 2019 than in 2009, there were more school shootings with casualties in 2021 than in any other year since data collection began in the early 2000s, increasing from 11 in 2009 to 93 in 2021," said NCES Commissioner Peggy Carr in a news release.
The report, part of a joint effort with the Bureau of Justice Statistics, looked at school shootings between July 1, 2020, to June 3,2021. It found that there were an additional 53 school shootings during this time but with no fatalities.
The report's authors also found that the year 2020 to 2021 was the first since data collection began in which fewer than half of schools that had shootings were high schools.
The 31-page report defined school shootings as those where there was a shooting with a firearm, where a gun was brandished on school property and when a gun incident took place on school property during remote learning amid the coronavirus pandemic.
It also found that from 2009 to 2020, the rate of students being victimized by nonfatal crimes fell from 51 to 11 per 1,000 students. But the amount of cyberbullying increased significantly in the same period from 8 percent in 2009 to 2010 to 16 percent in 2019 to 2020.
To ramp up gun safety after a spate of deadly mass shootings nationwide this year, a bipartisan group of lawmakers in Congress passed the first package of gun safety legislation in nearly 30 years.
The bill included $300 million to boost school security. It also included enhanced background checks and will also consider juvenile records.
President Joe Biden signed the bill into law on June 25.
Safety equipment
Schools are also spending vast amounts of money to improve safety. Last year, schools and colleges spent $3.1 billion on additional security equipment, reported The New York Times. In 2017, the amount spent on similar equipment was $2.7 million, according to market research company Omida. Safety equipment that schools are buying include high-resolution security cameras, alert systems, weapons detectors and wireless panic buttons.
Mo Canady, executive director of nonprofit National Association of School Resource Officers that trains school-based law enforcement officers and school administrators, estimates there are 25,000 to 30,000 SROs in schools nationwide.
"Just comparing the same time frame in the fall of 2019 to the fall of 2021, gun-related incidents are up significantly in and around school campuses," Canady said.
He added that many school resource officers are trying to help children avoid violence by "spending more time in the informal counseling role helping students with issues that they're having whether it's at home or school" and trying to help counsel them through that.