Chinese rice expected to play a part in food security of Botswana
By WANG XIAODONG | China Daily Global | Updated: 2022-07-04 09:31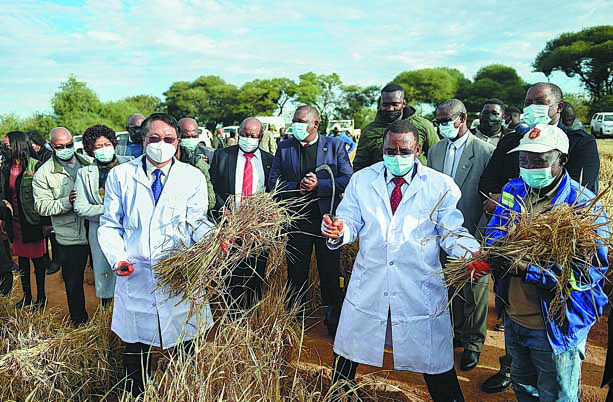 Botswana has successfully tested, in cooperation with China, its first rice types suitable for growing on dry land-a breakthrough that is expected to greatly contribute to the southern African country's food security.
The three types-known as AA073, AA128 and AA212-were selected from seven, all sourced from China, that took part in the trial. The three proved to be drought resistant and able to reach grain filling stage-a stage of growth after fertilization that determines the size and density of grain-for harvesting during the two-year-long trial, according to Botswana University of Agriculture &Natural Resources, a major participant in the research.
The rice types have produced an average yield of 9 metric tons per hectare in Gaborone, the capital of Botswana, the university said in a statement.
The research proved that despite the popular belief that rice cannot grow on dry land, these rice types can do so, and they do not have high water requirements, according to the university's statement.
"The trials aim to bring rice production to the farmers so that they become self-reliant in the production of food security crops for the nation," it said.
Further trials of the rice types will be extended to other areas of the country.
The university also said Chinese participants such as the Shanghai Agrobiological Gene Center and agricultural authorities in Jiangsu province provided advice to enable the trial's success.
Wang Xuefeng, China's ambassador to Botswana, hailed the achievement while attending a ceremony marking the trial's success on June 27 and said China would like to continue working with Botswana to intensify bilateral cooperation in agriculture. Wang also said China is willing to share its successful experiences in ensuring food security to help Botswana tackle the impacts of climate change, improve agricultural production and achieve food self-sufficiency as soon as possible.
Botswana's Acting President Slumber Tsogwane, who also attended the ceremony and harvested the drought-resistant, water-saving rice with Wang, said the trial's success is of great importance in helping Botswana to improve food production, reduce reliance on imports and ensure food security, according to a statement from the Chinese embassy in Botswana.
Trial of the rice types started following the signing of a memorandum of understanding in 2020 between Botswana University of Agriculture& Natural Resources and Africa Agriculture, a Botswana-based company, to cooperate on improving the country's agricultural production.
Seven rice types were initially tested in the 2020-21 season for their production potential, but some of them could not complete the grain filling process due to the climate, and pests were also discovered, according to the university.
The three types that eventually proved successful were selected to be grown during the 2021-22 season, and they all performed well, including two that proved to be particularly good for the area near Gaborone.