AK Medical enjoying healthy implant growth
By LIU ZHIHUA | China Daily | Updated: 2022-07-05 10:36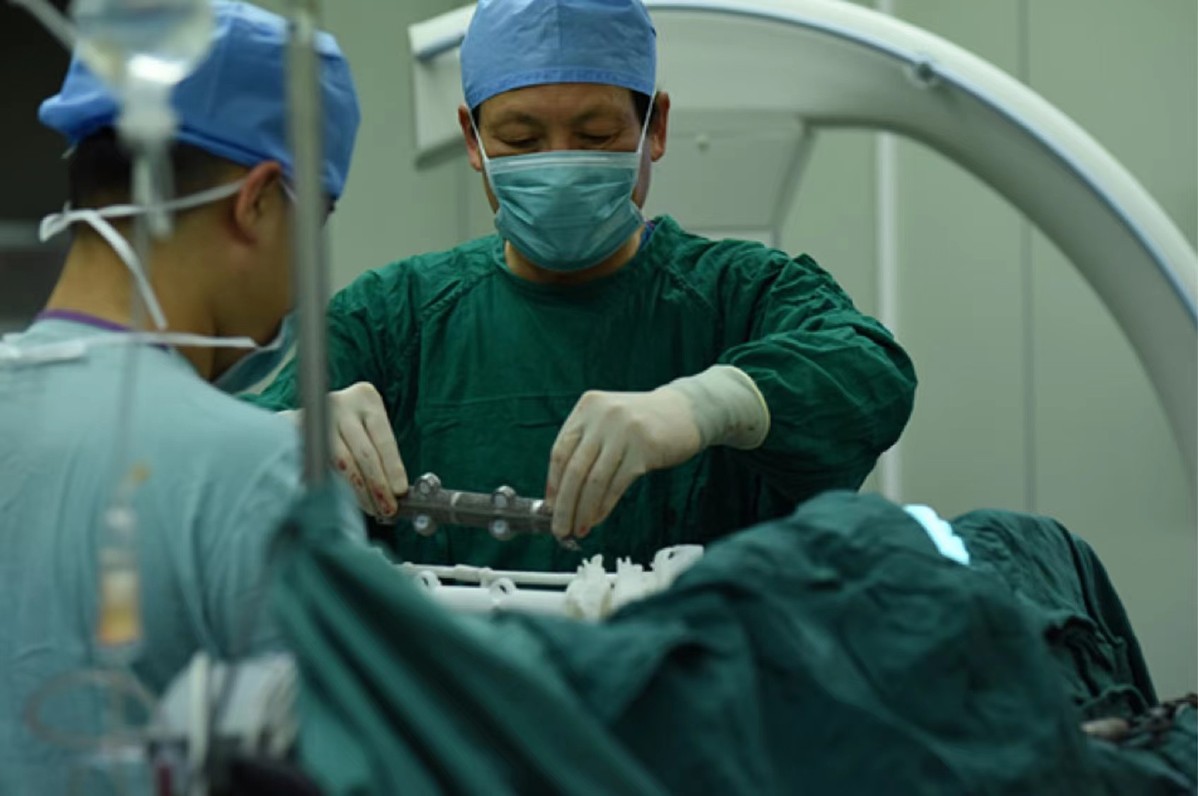 Bulk-buy programs provide important devices, drugs more cheaply for market
Editor's note: China aims to nurture 10,000 "little giants" from 2021 to 2025 amid an ambitious plan to trigger the vitality of small and medium-sized enterprises in its sprawling industrial economy. "Little giants" typically specialize in niche sectors, command high market shares and boast strong innovative capacity. To be termed a "little giant", a Chinese firm must see a minimum 5 percent year-on-year average growth rate of its main business income or net profit in the past two years. More importantly, it must have two valid invention patents or other similar proof of its innovation capabilities, and at least 3 percent of its top line must be dedicated to R&D, among other financial and operational criteria. China Daily explores how they help the world's second largest economy stabilize its industrial and supply chains, navigate headwinds from the COVID-19 pandemic and achieve breakthroughs in technology bottlenecks.
Last year was full of challenges and uncertainties for many businesses because of the COVID-19 pandemic. For AK Medical Holdings Ltd, a leading domestic medical device company focused on the orthopedics sector, the headwinds have been even stronger.
The pandemic has led to cancellations and delays of many medical procedures. Moreover, the volume-based procurement policy, which integrates larger purchasing volumes with discounts for medicines and medical devices, officially extended to the joint implant sector nationwide in September before pilot programs had been implemented in quite a few provinces such as Anhui, Jiangsu, Zhejiang, Fujian and Shandong.
Its financial report for last year showed the company's revenue plunged 26.5 percent year-on-year to 761 million yuan ($113.76 million), while gross profit came in at 499 million yuan, down 30 percent. That marked the company's first revenue decline since it was listed in Hong Kong in 2017.
Analysts said the centralized bulk-buy programs in China are part of the nation's broader efforts to slash healthcare costs while encouraging homegrown innovations by domestic enterprises, as only enterprises with the ability to reduce costs and improve product quality can prosper in a domestic market that is becoming increasingly transparent and fair for healthy competition.
"Chinese medical device enterprises have made remarkable progress in innovation and commercialization since the newest round of national medical product regulatory reforms were launched in 2015," said Shi Lichen, founder of medical consulting firm Beijing Dingchen Consultancy.
"However, Chinese enterprises still need to ramp up research and development to make more clinical demand-oriented genuine innovations, and fulfill unmet clinical needs in China's huge and fast-growing domestic healthcare market," Shi said.
To cope with the situation, AK Medical has been stepping up efforts in technological innovation and product optimization to pursue continuous growth and strengthen its presence in global markets.
"The bulk-buy programs for joint implants, and costs related to the relocation of a subsidiary had some impact on the company's revenue growth for the short term, but that has also motivated us to make more moves to enhance the layout of our production capability while reinforcing the scientific and technological competence of our products," said Li Zhijiang, chairman of AK Medical.
Joint implants are important treatment modalities for various joint diseases caused by injuries and aging. The National Healthcare Security Administration said artificial hip and knee joints make up more than 10 percent of China's high-value medical supply market.
The centralized procurement program conducted by the administration in September 2021 planned to purchase 540,000 sets of artificial joints in the first year starting from March 2022, which accounts for about 90 percent of the total yearly demand from medical institutions nationwide for such products.
During the bidding, prices for artificial joints were slashed 82 percent on average. Among them, prices for hip joints plummeted to 7,000 yuan from 35,000 yuan, while knee joints slumped to 5,000 yuan from 32,000 yuan.
AK Medical has won purchase orders in all the four types of joint products involved in the bidding-three types of hip joint products and one type of knee joint products, which account for about 20 percent of the national artificial joint market.
"The implementation of the bulk-buy policy has set a clear vision for the industry to grow, and it is obvious that only companies having strong innovation and R&D capabilities to come up with new technologies and new products ceaselessly can win the increasingly fierce competition," said Li, who is also CEO of the company selling products to more than 30 countries and regions.
"We must keep investing in R&D and maintain our vitality," he added.