China, Thailand set out closer future plans
By ZHAO JIA | chinadaily.com.cn | Updated: 2022-07-05 23:22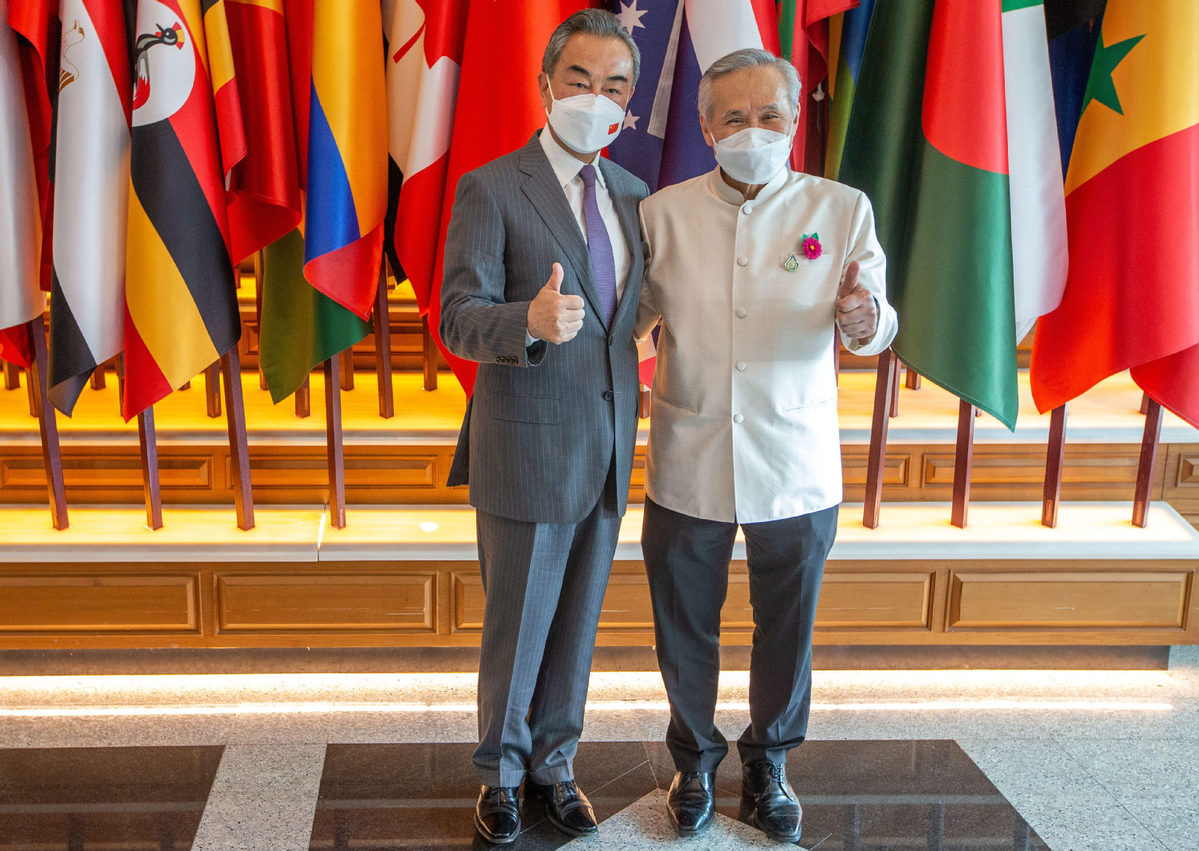 Visiting State Councilor and Foreign Minister Wang Yi has called on China and Thailand to strengthen strategic coordination and contribute more to regional and global peace and stability, while on a visit to Bangkok.
He made the remarks on Tuesday when holding talks with Thai Deputy Prime Minister and Foreign Minister Don Pramudwinai.
Noting that China and Thailand are a close family, Wang said the two countries had helped each other fight the pandemic with bilateral pragmatic cooperation, showing more vibrancy and resilience.
As Thailand assumes the chairmanship of the Asia-Pacific Economic Cooperation, or APEC, this year, Wang said Beijing will firmly support Bangkok in its hosting of the APEC Economic Leaders' Meeting.
China supports Thailand in leading the meeting to focus on Asia-Pacific development, and the construction of a free trade area of the Asia-Pacific, as well as making an Asian contribution to global governance, Wang added.
For his part, Don thanked China for providing strong support for Thailand to combat the pandemic, facilitating customs clearance of Thai agricultural products exported to China, and the return of Thai students to China.
He hoped the two countries would jointly promote the APEC meetings to focus on openness, connectivity and balance, and to achieve positive results on the Asia-Pacific free trade area and also the bio-recycling green economy, so as to facilitate post-pandemic recovery.
This year marks the 10th anniversary of the establishment of the comprehensive strategic cooperative partnership between the two countries.
The two sides pledged that they would take the anniversary as an opportunity to jointly build a community with a shared future for China and Thailand, and to usher in a more stable, prosperous and sustainable future for the two countries.
Both sides agreed to accelerate the connection between the China-Laos railway and Thailand's railway, and to comprehensively promote China-Laos-Thailand tripartite cooperation so as to substantially elevate the sub-regional cooperation.
The two sides agreed to strengthen cooperation on cyber security and to jointly crack down on all forms of telecommunications fraud.
They also exchanged views on international and regional issues of mutual concern.