Hero cop's bravery lauded
By Zhang Lei | CHINA DAILY | Updated: 2022-07-06 08:40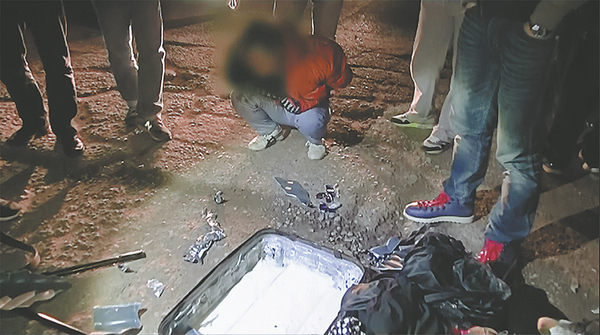 However, the case was far from over, and it was necessary to consolidate evidence and weigh samples. In a confined and narrow space, he was exposed to the drugs for 14 hours. Continuous contact with the drug particles in the air caused a splitting headache and dizziness, he recalls. After weighing the drugs, his urine tested positive for traces of morphine.
Facing the increasingly cunning modus operandi of their foes in recent years, Bi and his team need to constantly sharpen their investigative skills.
In 2021, Bi expanded his intelligence networks, explored innovative data screening models, and used intelligent anti-drug systems to conduct detailed screening and serialization, based on the hierarchical relationships among drug traffickers. The in-depth research, and conclusions it generated, helped to smash a drug gang involving more than 130 people.
Bi has witnessed too much of society's darkness. "Sad" is a word he uses the most. Whenever he sees young people who have gone astray because of drug use, he always feels uncomfortable.
Bi still remembers a 9-year-old boy, who, after his mother was arrested, followed him to the police station and told him calmly that he spent more time at the police station than at home because his mother was a drug dealer.
In recent years, drug trafficking has presented challenges with the introduction of different, new types of drugs-especially those that are good at disguising their nature and are difficult to identify. Often they appear light and nontoxic, deceiving young people with their strong curiosity and weak judgment, Bi says.
"They see it as trendy and cool. A crackdown on drug crimes is not enough, publicity and guidance are of vital importance, so that the majority of young people can understand the danger of drugs. It's through knowledge that they can truly reject drugs."
As an ambassador of the "Beijing youth model" and an anti-drug campaigner in Beijing's Fengtai district, he goes around promoting anti-drug campaigns. In the past year, he conducted more than 20 lectures for government agencies and schools online and in person that have reached more than 10 million young people.
In addition to preventing and combating crime, it is equally important to help drug addicts kick their habit and reintegrate into society. Bi developed a family liaison system, popularizing the characteristics of drug use among the family members of drug users. He urged their family members to look out for them and developed a supervision method, helping people affected by drug crime to return to society through the warmth of family.
Since the outbreak of the COVID-19 pandemic, a drug addict under Bi's supervision has lost his source of income and has been experiencing thoughts of suicide. Bi has talked him out of it and offered him comfort many times through WeChat messages and numerous phone calls, and also lent him 4,000 yuan ($597) to temporarily tide him over financially.
"Policing is not only a job, but also a sense of mission," Bi explains. After having a child, Bi's sense of mission became stronger.
Looking at his 2-year-old child, he feels the need to protect "the flowers of the country".
On July 1, 2021, China became the first country in the world to implement control on the entire category of synthetic cannabinoids, according to the National Narcotics Control Committee.
"I hope that through the efforts of our generation, the next generation can stay away from drugs and grow up healthily. It's worth it," he says.
Contact the writer at zhanglei@chinadaily.com.cn